Sports news
World Series Game 4: Rangers rout D-backs, on verge of first title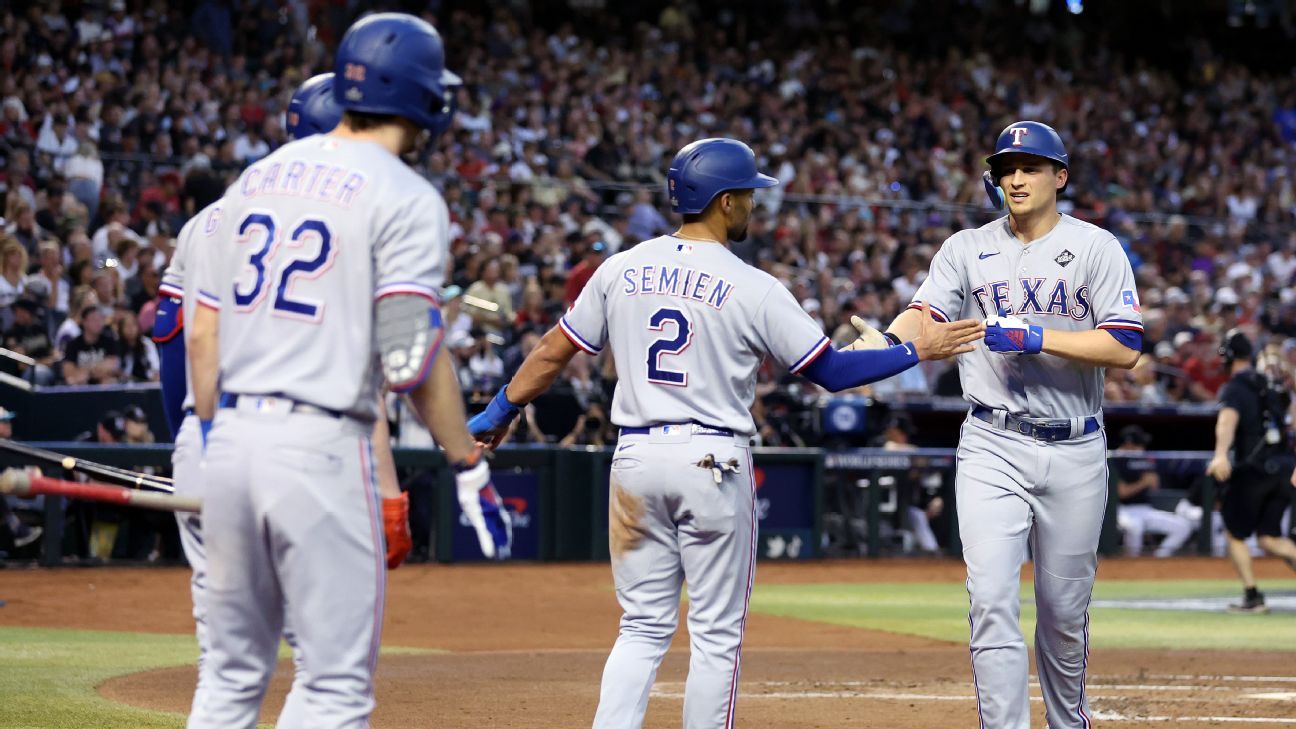 Marcus Semien smashes 3-run homer to make it 10-0 Rangers (0:42)
Marcus Semien gives the Rangers a staggering 10-0 lead in the third inning with a three-run home run. (0:42)
Oct 31, 2023, 11:23 PM ET
The Texas Rangers are one win from their first World Series title.
Game 4 of the 2023 World Series featured the Rangers putting up 5-spots in the second and third innings en route to an 11-7 victory over the Arizona Diamondbacks.
Is Wednesday the day MLB crowns a new champion? Or will the Answerbacks, well, answer back? Here's how Game 4 went down, what it tells us about the series so far, and what it means going forward.
Key links: Full playoffs schedule and results

Takeaways
Texas: We wondered when the depth of this Rangers lineup might finally show up — and it arrived when Texas needed it most. Moments after learning that they had lost Adolis Garcia, who was in the midst of a remarkable postseason, the Rangers put up 10 runs within the first three innings. Corey Seager hit a 431-foot homer, Marcus Semien drove in five runs with a triple and a home run, and Travis Jankowski — the speedy, glove-first outfielder who replaced Garcia in right field — added a two-run double. They helped Andrew Heaney cruise through five innings and led the Rangers to their 10th consecutive road victory in these playoffs, adding to what was already a record. One more, and they'll be World Series champions for the first time. — Alden Gonzalez
Arizona: The bullpen game simply didn't work. After this one, there might be a louder cry for good pitchers like Zac Gallen to throw on short rest if this is going to be the alternative. But at some point, the Diamondbacks were going to have to unload their bullpen in order to steal a game. At least now they have their top three pitchers going on full rest in the final three games — if we get that far. Offensively, there isn't much to take away from Game 4 as Arizona was down 10-0 after 2½ innings. It made the rest of the game meaningless, other than keeping an eye on bullpen usage for both teams (though the D-backs did show some late life, scoring seven times with the game out of reach). Now all eyes will be on Gallen, who has been fighting himself early in games this postseason. He can't let perfect be the enemy of good in Game 5. By Nov. 1, there is no perfect for pitchers. There's just good enough — and that's what the Diamondbacks are counting on. That and a more lively offensive night. — Jesse Rogers
One big question: Will the Rangers close things out and win their first championship in Game 5? By the end of Game 4, Diamondbacks fans were so appalled by what happened on the field they'd taken to folding Stand Up 2 Cancer placards into paper airplanes and trying to throw them onto the field. Like the team for whom they rooted Tuesday, most of the planes spiraled out of control and went splat almost immediately. Arizona's season is on the line Wednesday, and the Rangers can round out a perfect postseason on the road in the most epic fashion: with the franchise's first championship in 63 years of existence. Zac Gallen is the Diamondbacks' first line of defense, and he'll oppose Nathan Eovaldi, the precise person the Rangers want on the mound for a start of this magnitude. — Jeff Passan
One big number: 5. Marcus Semien's five RBIs from the leadoff spot would be impressive enough in any World Series context. And the fact that he was a major part of an onslaught that moved the Rangers one win from their first World Series title is plenty impressive as well. So too is the historical aspect of the feat: Semien became the third leadoff batter with five RBIs in a World Series game since the stat became official in 1920, joining Dan Gladden (1987) and Davey Lopes (1978). More than any of this, though, is simply that Semien, after a mostly brutal postseason at the plate, got to join the Texas hitting party. That he did it a couple of hours after Texas had to remove cleanup hitter Adolis Garcia from the roster because of an oblique injury makes it all the sweeter for one of Bruce Bochy's foundation players. Even without Garcia, this was the Rangers attack that bludgeoned so many opponents into submission this season. — Bradford Doolittle

The most astounding stats from Texas' Game 4 blowout win
• The Rangers became the first team in World Series history to score five or more runs in consecutive innings in the same game. Only two other teams had scored five or more runs in multiple innings at any point in the same World Series game.
• Texas also became the third team to score 10 or more runs through the first three innings of a World Series game, joining the 2001 Diamondbacks and 1968 Tigers.
• In the second inning, the Rangers hit for the cycle as a team — the first to do so within an inning of a World Series game since the 1991 Braves.
• Marcus Semien is the third leadoff hitter to drive in five runs in a World Series game since RBIs became an official stat in 1920.
• Semien and Seager are the second pair of No. 1 and No. 2 hitters to drive in seven-plus RBIs in a World Series game, joining Tony Womack and Danny Bautista for the 2001 D-backs.

Relive the action