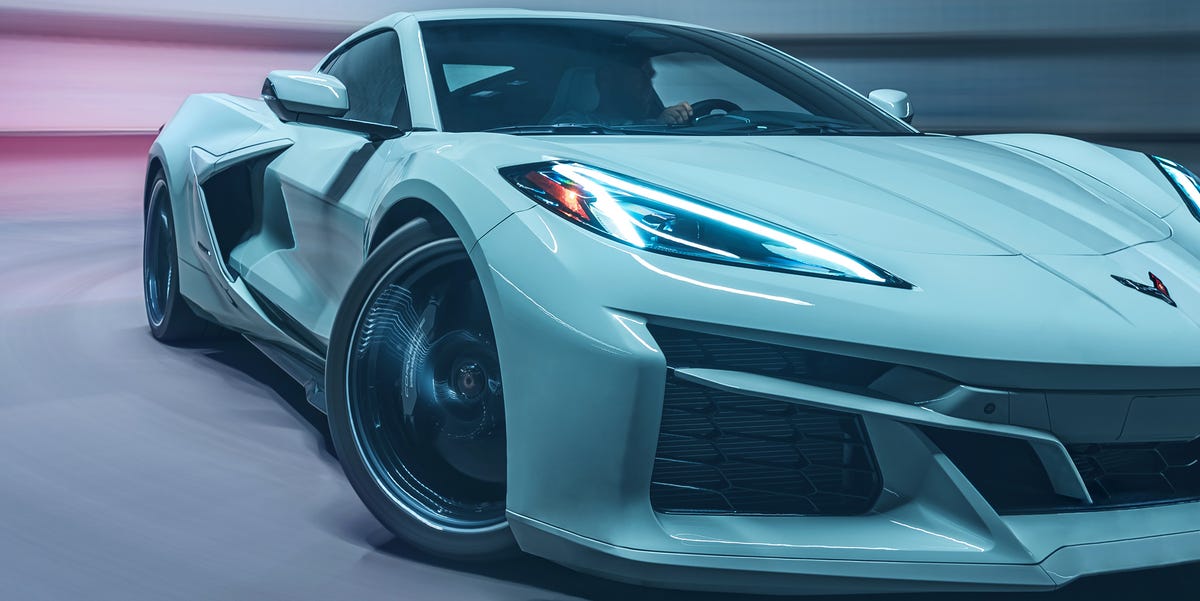 From the November 2023 issue of Car and Driver.
To paraphrase Charles Darwin, evolve or die. That imperative applies to cars as well as animals and plants. Take the automotive species known as Corvette: In a bid to stay relevant, it branched off of its evolutionary tree for 2020 when the C8 generation sprouted an engine behind the seats and turned into something not unlike an Italian supercar. The C8 deepened its Ferrari-ness with the Z06 and its naturally aspirated flat-plane-crank V-8, an engine that yawps like it escaped from a Maranello dyno cell. Now comes the next evolution of the C8, the 2024 E-Ray, with a hybrid powertrain, all-wheel drive, and standard all-season tires that bring it ever closer to being a four-season supercar. And don't worry about it trading away performance in the name of saving fuel; it's fast. Very, very fast.
HIGHS: Massive and instant thrust, all-weather traction, sure doesn't drive like a hybrid.
Unlike the growing population of hybrid supercars, such as the Ferrari 296GTB and the McLaren Artura, the E-Ray can't be plugged in, and its motor is purely a power adder rather than an efficiency enhancer. The E-Ray's genetic makeup comes courtesy of both the base Stingray and the Z06. The Stingray donates its 495-hp pushrod 6.2-liter V-8, performance exhaust, and eight-speed dual-clutch automatic. The Z06 lends its wider body, optional carbon-ceramic brakes, and steamroller-size tires—275/30ZR-20 fronts and 345/25ZR-21 rears. The hybrid system consists of a compact electric motor driving the front wheels that lives in a small space in front of the passenger cell, a 1.1-kWh battery stuffed into the tunnel that runs between the passengers, additional coolers to control battery temperature, and the software to make it all work.
The hybrid system fattens the power curve by 160 horsepower for a system total of 655 horses—just 15 shy of the Z06's output—and spins up 125 pound-feet of torque on its own. Hybrid propulsion isn't the only first for a Corvette, though. The E-Ray is also the first Vette with all-wheel drive, as well as the first that combines carbon-ceramic brakes with all-season tires. The E-Ray comes standard wearing specially developed high-performance Michelin Pilot Sport All-Season 4 rubber. While you may think, "Those are the widest all-seasons ever," we're here to remind you that the Lamborghini LM002's tires are as wide as the E-Ray's rears.
When the temperature heads south, the all-seasons promise more grip than the E-Ray's optional Michelin Pilot Sport 4S summer running shoes. After spending time with the E-Ray, we understand not wanting to park it when cold weather hits. With bags of instant low-end torque supplied by the electric motor, big V-8 horsepower, and the traction of all-wheel drive, the E-Ray delivers mega performance that's effortlessly accessible. Our gorgeous Cacti Green test car arrived fitted with the summer Michelins (a $500 option) and track alignment settings dialed into its suspension. Thusly set up, it used its adjustable launch-control system to best advantage, ripping off a 2.5-second 60-mph time—the quickest we've ever recorded for a Corvette and 0.1 second better than the fleetest Z06 we've tested.
The E-Ray's 10.6-second, 128-mph quarter-mile dash is 0.1 second and 3 mph behind the quickest Z06s over that distance; beyond that point, the Z06 gradually stretches its lead. The E-Ray's 1.08-g skidpad fling and 152-foot stop from 70 mph are behind the best the Z06 (with the Z07 track package) mustered, no doubt owing to the E-Ray's lesser tires and 3965-pound curb weight—roughly 300 pounds of additional mass compared with the Z06. Both cars, according to Chevy, pull to similar top speeds: 183 mph for the E-Ray and 189 for the Z06 with the most aggressive aero add-ons.
The E-Ray, however, has inherited more than just Z06-like performance from its talented parents; its Stingray genes are obvious as well. Unlike the shrieking, feral Z06, the E-Ray is a domesticated beast, manifesting much of the over-the-road sophistication and refinement that we've marveled at in the base C8 with the Z51 package.
LOWS: Engine note lacks low-rpm drama, cabin could use more sound deadening.
The E-Ray rides almost as well as the Z51 Vette—thanks, magnetorheological dampers—though the hybrid's huge tires thwack tar strips more loudly and also transmit more of the road's graininess into the cabin. On twisty roads and off-ramps, the E-Ray answers the helm with virtually the same authority as a standard Stingray, going where you point it with a similarly settled, imperturbable feeling and far more grip than you can sanely exploit. Braking is powerful and fade-free with a slight softness at the top of the pedal travel where regen initiates.
We also sampled an E-Ray on all-season tires at the car's official launch in Colorado and found its steering response and handling only a touch less crisp. According to the Corvette engineers, the all-seasons give up 0.1 g in maximum grip to the summer Michelins, a difference that was impossible to feel while pushing hard on the winding roads around Colorado Springs.
To prove its claim that the E-Ray is trackable, Chevy let us log some laps on Pikes Peak International's roval. Wearing its summer tires on optional carbon-fiber wheels, the E-Ray enjoys high limits. Its stable handling, ample grip, and faultless brakes make it easy to channel your inner Max Verstappen. Press the Charge+ button, and the system keeps the battery feeding juice to the electric motor no matter how many laps you run. Shut off Charge+ when the battery is at 100 percent, and you have roughly two laps of full hybrid power—enough extra boost to add about 10 mph at the end of the curving back straight. And should you feel the need to hoon, know that the E-Ray can perform lurid, extended drifts—something we pulled off within the confines of the track's skidpad area. On the street, Charge+ tops up the battery from 70 percent—we almost never saw less than that—to full in a minute or so. Hybrid assist dials back as speed increases, decoupling completely at 150 mph.
The hybrid system's Stealth mode also enables you to sidestep the V-8's startup bark, which is loud enough to wake all the dogs in the neighborhood. You can slink away in dead silence on electric power and continue making like an EV for about five miles as long as you don't exceed 45 mph. Tickle the accelerator a bit too much, and the engine fires up. Among the other firsts, EV mode puts you behind the wheel of the first front-wheel-drive Corvette.
In normal driving, the V-8's engine note is as muted in Tour mode as it is in a Z51 equipped with the performance exhaust, which is standard here. The e-motor assist is so well integrated that without watching the readouts in the display, you'd never know when it's contributing power. The system also seems to pay dividends in fuel efficiency. The EPA fuel-economy estimates for the E-Ray match those of the Stingray at 16 mpg city, 24 mpg highway, and 19 mpg combined which means that, unlike the Z06, there won't be a gas-guzzler tax. In our 75-mph highway fuel-economy test, the E-Ray managed 23 mpg, and it averaged 16 mpg overall.
Provisioned with the 2LZ trim package, our test car bordered on luxurious. Of course, its domesticated nature goes full beast at any speed with a flex of your right foot. That, along with its newfound ability to accelerate hard in any sort of weather, makes the E-Ray both intriguing and compelling.
VERDICT: A highly evolved, thoroughly refined supercar that goes from sweet to beastly at the push of the throttle.
One thing we'd add to the E-Ray? More sound insulation. At 70 mph, 76 decibels of road noise reverberates through the cabin, marring an otherwise comfortable long-distance cruiser. Beyond that, all's right, including the price: $106,595, or $113,985 as tested—not cheap, but a shocking amount of supercar for the money. Even with a six-figure price, the value trait carries on in this latest evolution of the Corvette species.
---
Counterpoints
E-Ray? When Sting-E was right there? Besides being more fun to say, putting the electric emphasis at the back is more representative of how the electric motor integrates into the Corvette's primarily gas-powered drivetrain. It's a power add-on, not the headlining act. If you don't call it out, your friends will never know it's there until you beat them in a drag race. The E-Ray's performance runs parallel to the Z06's. It's just more stealthy around town. Think of this as a baby step on the road toward future tech. —Elana Scherr
To appreciate the $106,595 Corvette E-Ray, you must overlook the $114,395 Corvette Z06 and the siren song of its 670-hp flat-plane-crankshaft V-8. Ignore that, and the 655-hp E-Ray delights. Its 495-hp V-8 and 160-hp electric motor complement each other like Michael Jordan and Scottie Pippen in their prime. As impressive as the E-Ray is, the Z06's $7800 upcharge strikes me as a small price to pay for such a big-time baller. —Greg Fink
Specifications
Specifications
2024 Chevrolet Corvette E-Ray
Vehicle Type: mid-engine, front-motor, front/all-wheel-drive, 2-passenger, 2 door targa
PRICE

Base/As Tested: $106,595/$113,985
Options: 2LE Equipment package, $5500; Carbon Flash forged aluminum wheels, $995; Performance package, $500; Black exhaust tips, $395
POWERTRAIN
pushrod V-8, aluminum block and heads, direct fuel injection, 495 hp, 470 lb-ft + 1 AC motor, 160 hp, 125 lb-ft (combined output: 655 hp; 1.1-kWh liquid-cooled lithium-ion battery pack)
Transmission, F/R: direct-drive/8-speed dual-clutch automatic.
CHASSIS

Suspension, F/R: control arms/control arms
Brakes, F/R: 15.7-in vented, cross-drilled, carbon-ceramic disc/15.4-in vented, cross-drilled, carbon-ceramic disc
Tires: Michelin Pilot Sport 4S ZP

F: 275/30ZR-20 (97Y) TPC
R: 345/25ZR-21 (104Y) TPC
DIMENSIONS

Wheelbase: 107.2 in
Length: 184.6 in
Width: 79.7 in
Height: 48.6 in
Passenger Volume: 51 ft3
Cargo Volume: 13 ft3
Curb Weight: 3965 lb
C/D TEST RESULTS

60 mph: 2.5 sec
100 mph: 6.0 sec
1/4-Mile: 10.6 sec @ 128 mph
130 mph: 11.0 sec
150 mph: 16.2 sec
Results above omit 1-ft rollout of 0.2 sec.
Rolling Start, 5–60 mph: 3.1 sec
Top Gear, 30–50 mph: 1.7 sec
Top Gear, 50–70 mph: 2.0 sec
Top Speed (mfr's claim): 183 mph
Braking, 70–0 mph: 152 ft
Braking, 100–0 mph: 300 ft
Roadholding, 300-ft Skidpad: 1.08 g
C/D FUEL ECONOMY

Observed: 16 mpg
75-mph Highway Driving: 23 mpg
75-mph Highway Range: 420 mi
EPA FUEL ECONOMY

Combined/City/Highway: 19/16/24 mpg
Director, Buyer's Guide
Rich Ceppos has evaluated automobiles and automotive technology during a career that has encompassed 10 years at General Motors, two stints at Car and Driver totaling 19 years, and thousands of miles logged in racing cars. He was in music school when he realized what he really wanted to do in life and, somehow, it's worked out. In between his two C/D postings he served as executive editor of Automobile Magazine; was an executive vice president at Campbell Marketing & Communications; worked in GM's product-development area; and became publisher of Autoweek. He has raced continuously since college, held SCCA and IMSA pro racing licenses, and has competed in the 24 Hours of Daytona. He currently ministers to a 1999 Miata and a 1965 Corvette convertible and appreciates that none of his younger colleagues have yet uttered "Okay, Boomer" when he tells one of his stories about the crazy old days at C/D.