Entertainment
Taylor Swift, Travis Kelce's PDA signals NFL player is 'endgame' for pop star: expert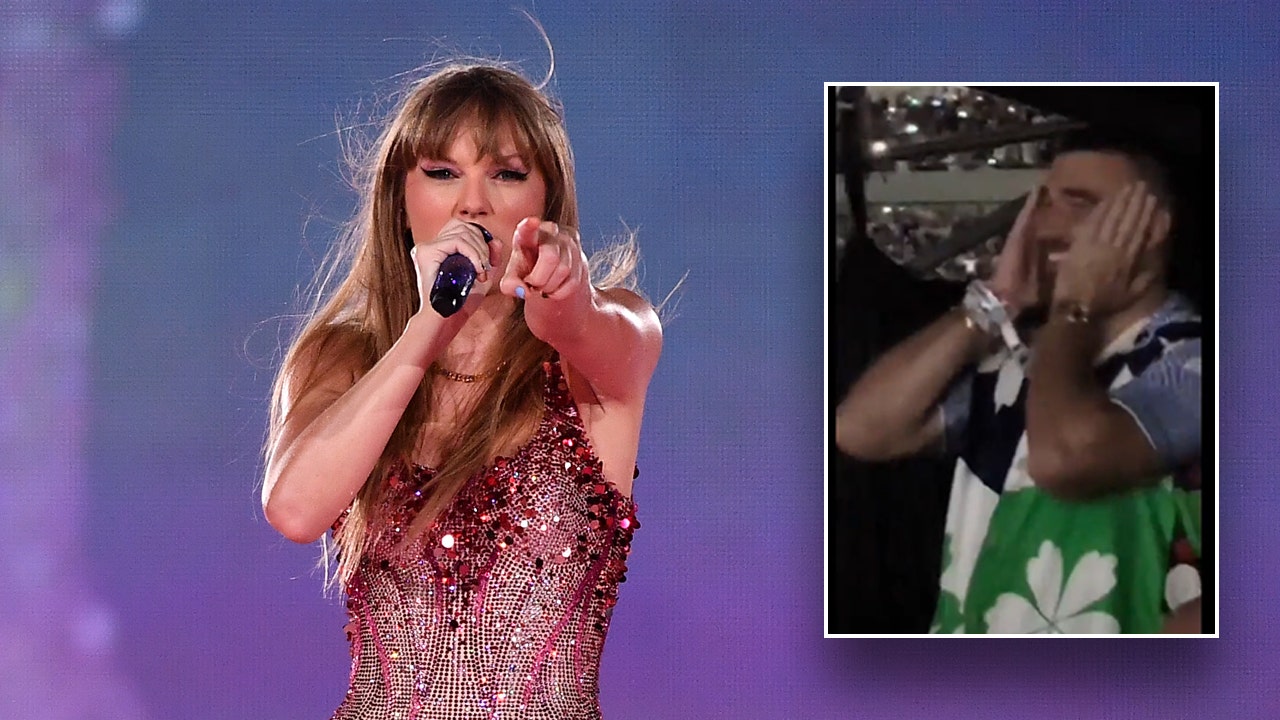 Taylor Swift continues to surprise fans with her very public relationship with Kansas City Chiefs star Travis Kelce.
Kelce, 34, traveled to Argentina to watch Swift, 33, begin her international leg of "The Eras Tour." The NFL tight end was spotted enjoying the second night of the tour in Buenos Aires alongside Swift's father in a VIP tent.
Swift's willingness to be open with the world regarding her relationship with Kelce signals this might be "endgame" for the global pop star, a relationship expert told Fox News Digital.
Kelce was caught on video blushing as Swift changed the lyrics to her song "Karma" to include a subtle hint to their relationship. "Karma is the guy on the Chiefs, coming straight home to me," Swift sang to the crowd of nearly 70,000 people as she let out a laugh. When Swift changed up the "Karma" lyrics, her father could be seen hitting Kelce's arm – neither seemed to expect the moment.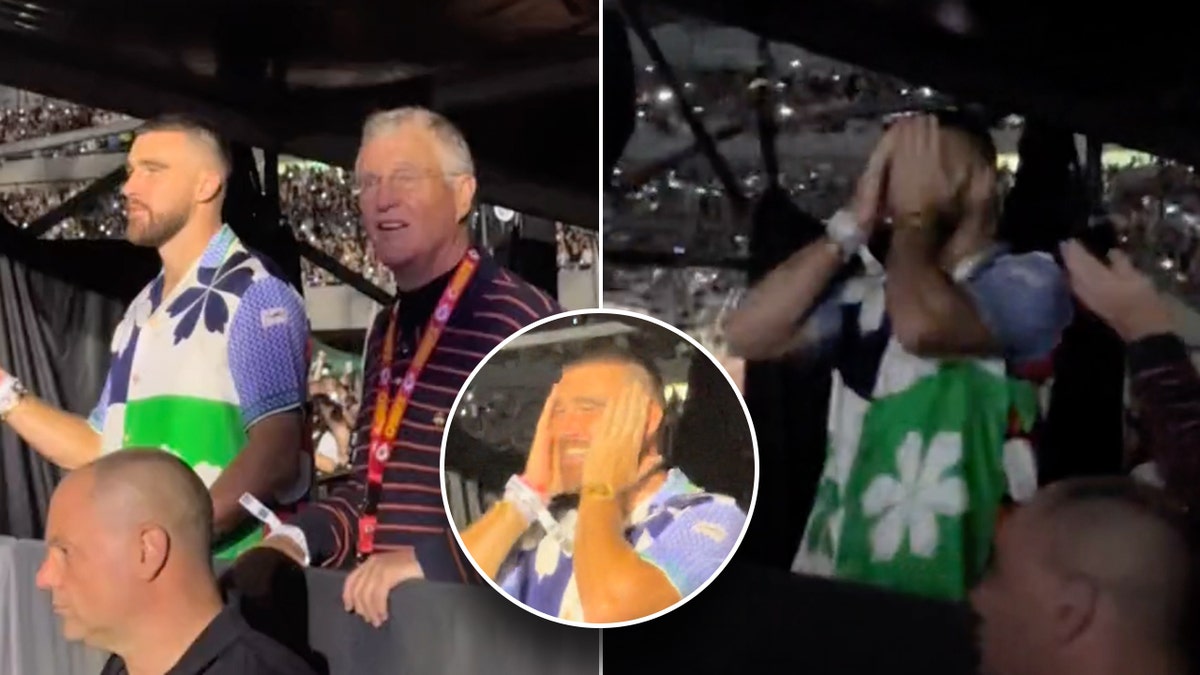 Travis Kelce appeared giddy and shocked when Taylor Swift changed the lyrics to her song "Karma" to include a reference to him. (@flormosso/TikTok)
Earlier in the night, Swift chose to sing "Endgame" from her "Reputation" era. Parts of the song feature sports-themed lyrics including: "I wanna be your endgame/I wanna be your first string/I wanna be your A-Team."
TAYLOR SWIFT RUNS TO KISS TRAVIS KELCE AFTER HE ATTENDS HER SECOND ERAS TOUR SHOW IN ARGENTINA
Following the conclusion of the concert, Swift ran to Kelce for a kiss in front of the fans in the obstructed view area – who were in full view of the backstage. Fans cheered upon Swift's exit from the stage and the screams got louder as Swift's PDA shocked the group.
WATCH: TAYLOR SWIFT RUNS TO KISS TRAVIS KELCE AFTER 'ERAS TOUR' PERFORMANCE
"I do think that this was a strategic move," celebrity matchmaker Alessandra Conti told Fox News Digital. "And I also think that Taylor feels comfortable enough to present this relationship because I think she sees this as 'endgame.' I think she thinks Travis is the one and that's why she's being so public and open about it."
There was likely a conversation between Swift and Kelce ahead of their public displays of affection, Conti noted.
"I think that Taylor Swift and Travis Kelce sat down and had an incredibly honest and almost businesslike conversation about the trajectory of their relationship because they are both huge public figures," she explained.
"I do believe that they sat down, and they said, 'Hey, listen, let's put this on the table. What level of public, what are you comfortable with sharing?'"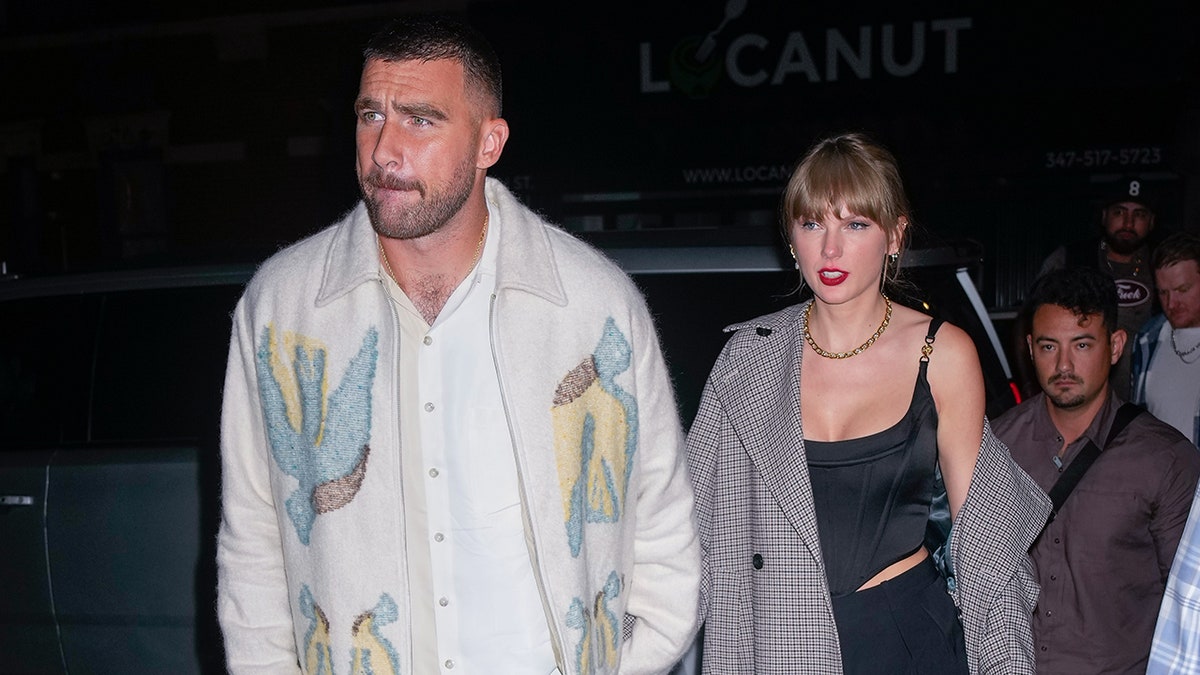 Travis Kelce and Taylor Swift have been spotted out together several times since going public with their romance on Sept. 24. (Gotham/Getty Images)
Actress Hilarie Burton Morgan also surmised the two might be engaged by May.
"They are going to have the most flannel lined, pie and red ribbon kinda Christmas….and then these babies are gonna be engaged by May," Burton wrote on X, previously known as Twitter.
She then responded to a fan who said, "Ok I guess it's for real, she's never done that for any guy" – referring to the "Karma" lyrics change.
"Because every other guy made her feel like she had to downplay her own work," Burton wrote. "This big ol beefy tree of a man is holding up signs and singing along! Catching her as she runs offstage?!?!"
"Get you a man who lights up when you win."
WATCH: TAYLOR SWIFT CHANGES THE LYRICS TO HER SONG 'KARMA' TO INCLUDE NOD TO TRAVIS KELCE
Swift has been known to keep her relationships extremely private, besides the lyrics she shares in her songs. The "Midnights" singer doesn't typically speak about her romantic life in the press, and she's been known to run from a car into an event with a boyfriend instead of allowing photographs from paparazzi.
In fact, the public knew very little about her six-year relationship with actor Joe Alwyn. The two began their relationship secretly, with Swift later revealing the timeline of their love affair in a diary entry included with the deluxe edition of her "Lover" album.
"I'm essentially based in London, hiding out trying to protect us from the nasty world that just wants to ruin things," the pop star wrote in an entry dated January 2017. "We have been together and no one has found out for 3 months now."
In 2019, Swift explained why she chose not to share details of her time with Alwyn with the public, telling The Guardian, "I've learned that if I do, people think it's up for discussion, and our relationship isn't up for discussion."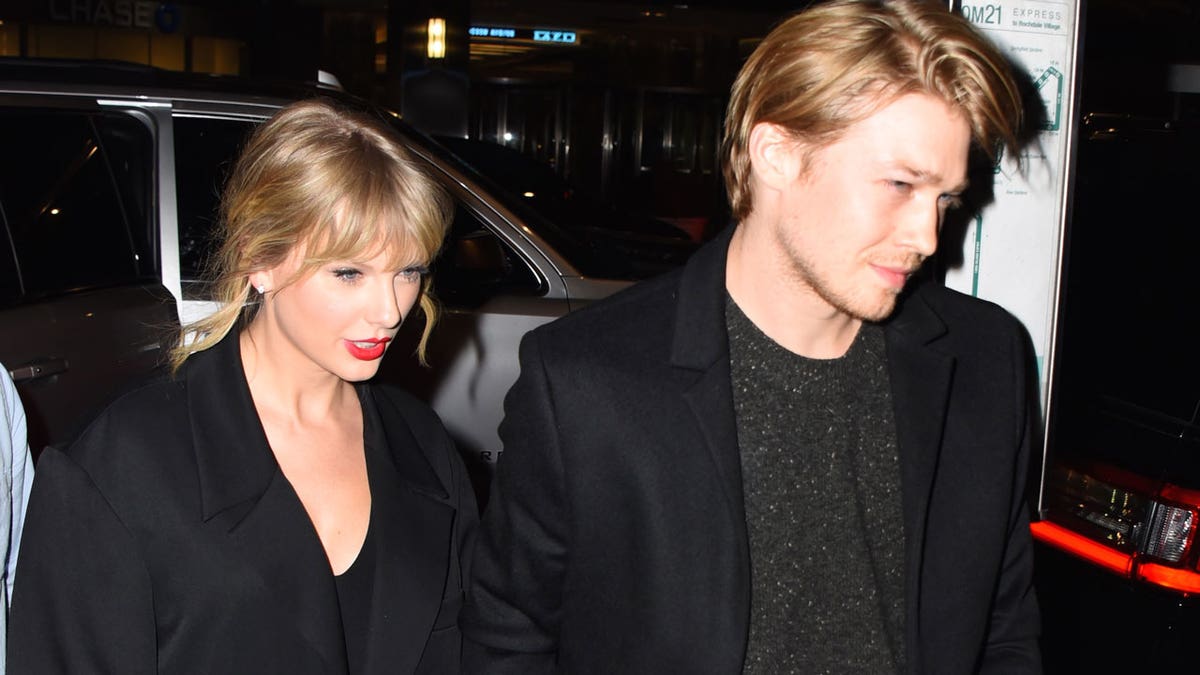 Taylor Swift and Joe Alwyn began dating in 2016 and kept their relationship private before calling it quits six years later. (Getty Images)
LIKE WHAT YOU'RE READING? CLICK HERE FOR MORE ENTERTAINMENT NEWS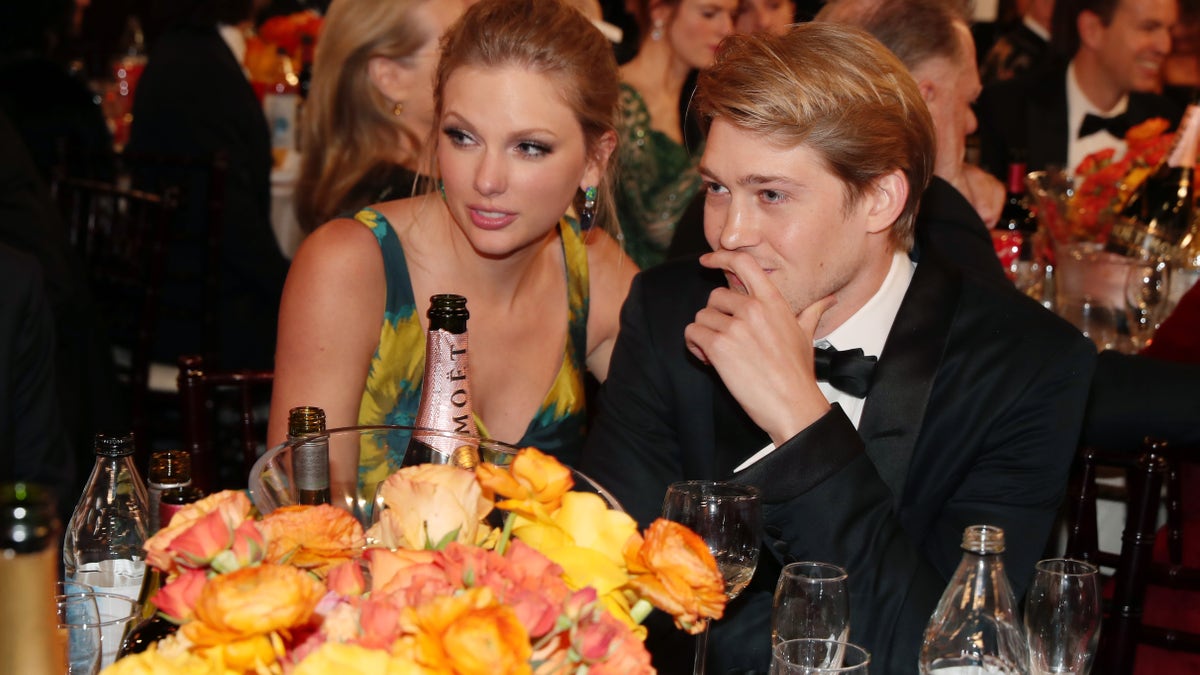 Taylor Swift and Joe Alwyn were rarely spotted together in public during their six-year relationship. (Getty Images)
Even the end of Swift's relationship with Alwyn was shrouded in secrecy. The news was shared with the world in April, right after Swift kicked off "The Eras Tour," but few details were shared.
"They had plenty in common and fell in love in a safe bubble while she was retreating from the world during 'Reputation,'" a source told People magazine at the time. "Then, the pandemic hit, and they were locked down together and able to continue growing their relationship in this insulated way. But he didn't really 'know' her yet outside of that bubble."
Alwyn reportedly struggled "with Taylor's level of fame and the attention from the public."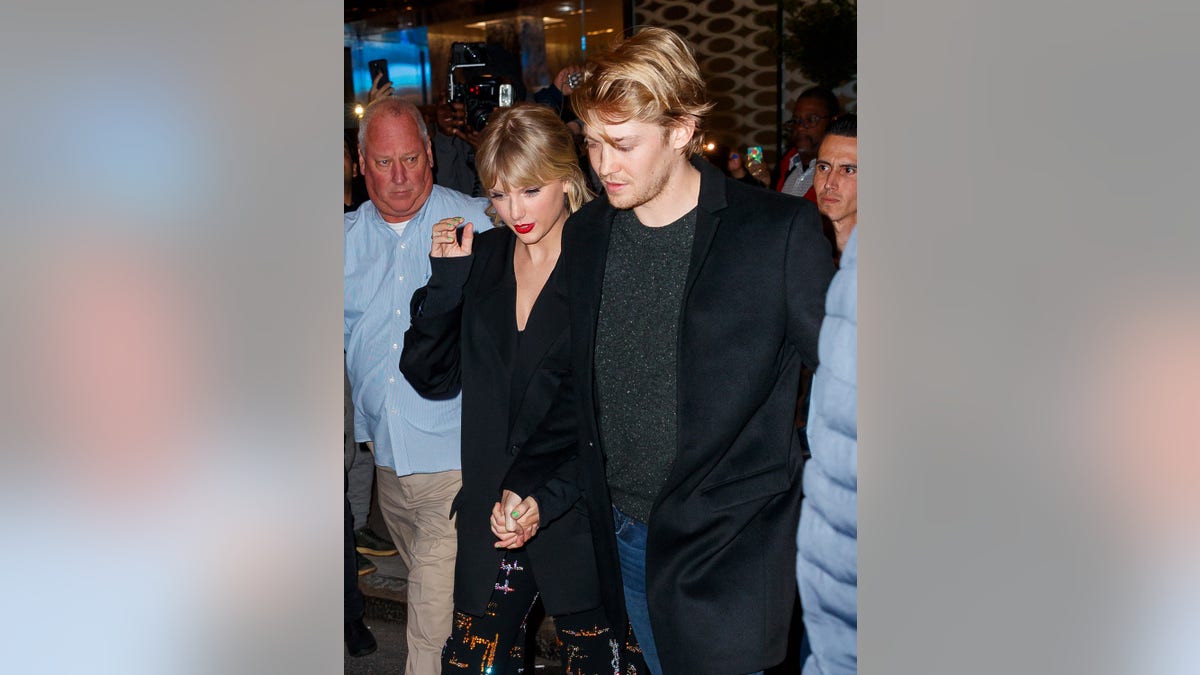 Taylor Swift and Joe Alwyn photographed in New York City in 2019. (Getty Images)
Swift and Alwyn hiding "every element" of their life together likely "affected" Swift, Conti told Fox News Digital.
"[The relationship] almost made her feel shameful about her fame, which you shouldn't feel ashamed that you're very well known."
Despite not having to hide her romantic feelings for Kelce, there are cons to Swift's new approach to love.
"If things don't ultimately work out, then it does become a major issue," Conti explained. "And, you know, people take sides and a lot of public figures feel like they owe an explanation to their fans, or maybe they stay in a relationship even if they're not feeling fulfilled because they don't want to let anyone down. So there are a lot of cons to having a public relationship as well."
CLICK HERE TO SIGN UP FOR THE ENTERTAINMENT NEWSLETTER
Swift's stance on privacy when it comes to her romantic relationships has seemingly changed in a matter of months. Although it's unclear when Kelce and Swift first began dating, she very quickly became a fixture at the football player's games during her two-month break from touring.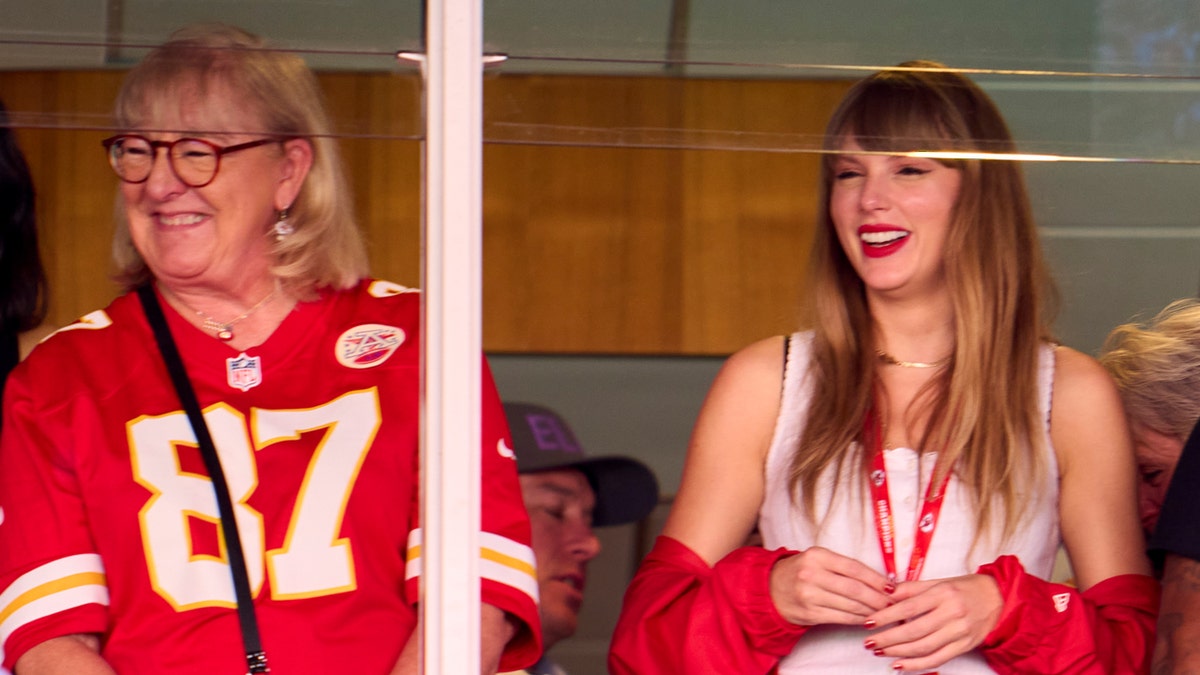 Taylor Swift and Travis Kelce's mother, Donna, sit together throughout the Kansas City Chiefs' game on Sept. 24. (Cooper Neill)
Swift also shocked fans by appearing alongside Kelce's mother at Arrowhead Stadium to cheer on the Chiefs against the Chicago Bears on Sept. 24.
Since that first football game, Swift has been photographed spending time with Donna Kelce and Kelce's father, Ed Kelce. After arriving in Argentina on Nov. 10, Kelce attended a dinner with the "Karma" singer and her father, Scott Swift.
Scott and Kelce continued to bond as they watched Swift's nearly four-hour set list from a VIP tent. Scott could be seen wearing a Kansas City Chiefs lanyard in support of the NFL star.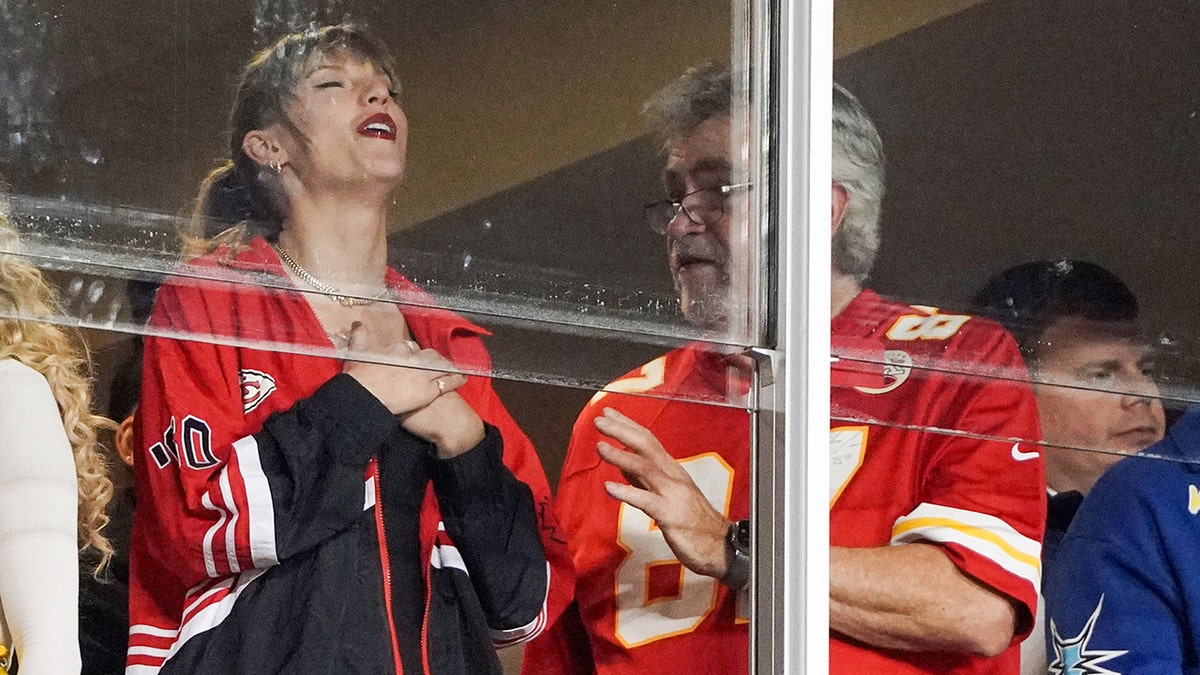 Taylor Swift laughs while talking to Ed Kelce during an NFL game between the Kansas City Chiefs and Denver Broncos. (Denny Medley-USA TODAY Sports)
While it seems quick for Swift and Kelce to be spending time meeting the parents, Conti speculated that the relationship might have been happening behind closed doors for quite some time.
"I don't necessarily think that they started dating when the public learned that they started dating," she told Fox News Digital. "I think that their courtship had happened months prior to that when the public first saw them getting together."
WATCH: TRAVIS KELCE BLUSHES AS TAYLOR SWIFT CHANGES LYRICS TO REFERENCE HIM
Additionally, the relationship expert pointed to their ages and what they might be looking at for the future to indicate why they've moved into the meeting the parents phase so fast.
"I do believe that Travis is in his marriage and family era," Conti told Fox News Digital. "He's dating with the intention of marriage."
"Taylor already … dated a man for six years with no ring and no future," she continued. "I really don't think that Taylor is wasting her time anymore."