Entertainment
Suzanne Somers, 'Three's Company' actress, dead at 76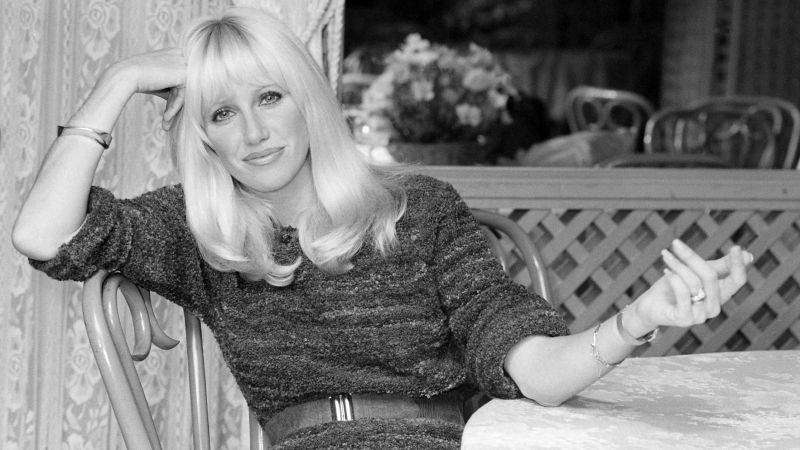 CNN
—

Suzanne Somers, the actress who lit up the small screen on "Three's Company" and one of TV's most iconic fitness pitchwomen, has died, according to a statement provided to CNN from her longtime publicist R. Couri Hay.
She was 76.
"Suzanne Somers passed away peacefully at home in the early morning hours of October 15th. She survived an aggressive form of breast cancer for over 23 years," Hay wrote in a statement shared on behalf of the actress' family.
The statement said Somers "was surrounded by her loving husband Alan, her son Bruce, and her immediate family."
"Her family was gathered to celebrate her 77th birthday on October 16th. Instead, they will celebrate her extraordinary life, and want to thank her millions of fans and followers who loved her dearly," the statement added.
In July, Somers revealed a recurrence of breast cancer.
"Since I have been taking time off from work, many of you have asked for more details about my health. As you know, I had breast cancer two decades ago, and every now and then it pops up again, and I continue to bat it down," she wrote on Instagram. "This is not new territory for me. I know how to put on my battle gear and I'm a fighter."
She was first diagnosed with the disease in 2001, she revealed in an interview with Larry King.
Somers' multifaceted career spanned decades, but she was best known for her role as Chrissy Snow on the hit ABC sitcom "Three's Company" that ran through the late '70s and early '80s.
She went on to author multiple books, including Bestsellers "Sexy Forever," "Knockout" and "Ageless." She also her own talk show and became a wellness entrepreneur, built largely off the success of her famous partnership with ThighMaster, which turned her into something of a fitness icon.
Somers began acting in the early 1960s with a series of uncredited film roles. In 1973, she earned her first on-screen credit as "blonde in a T-Bird" in George Lucas's Oscar nominated film "American Graffiti."
Throughout the early '70s, Somers appeared in various TV shows including "One Day at a Time," "The Love Boat" and "Starsky and Hutch" before landing her breakout role as Snow.
Starring alongside the late John Ritter and Joyce DeWitt, Somers played the buoyant typing receptionist for five seasons between 1977 and 1981. The sitcom was a huge success and catapulted Somers into stardom.
"Being on the No. 1 show in the country, there was a collective consciousness because about half of everybody watching television on Tuesday nights were watching Three's company," she said in 2015 during a CNN interview. "I feel very fortunate that I got in at that moment in time."
Somers said she worked hard to bring dimension to her bubbly blonde character in a 2012 interview.
"I understood something way back when I was on 'Three's Company.' When I got the part I was flat broke, I was so happy to get the part but I kept thinking, ugh dumb blondes are so irritating, how do I make her likable? I think that I achieved that. It took a while for people to realize I was acting."
Her time on "Three's Company" ended in 1981 after Somers had asked producers for a raise to match Ritter's salary the year prior.
"I did not plan to be this person. I really liked being Chrissy Snow on TV. I didn't plan to be the unofficial first feminist when I demanded equal pay," she told Entrepreneur in 2020, adding, "Men were all making 10 to 15 times more than me, including John Ritter, and the network decided to make an example of me so that no other woman would have the audacity to ask for parity. I lost that great job and I was so devastated at the time, but life is about veiled gifts. I was suddenly kicked out on the streets, but I kept reinventing myself, and my husband and I decided we wouldn't work for anyone ever again."
She went on to become a popular entertainer in Las Vegas following her exit from the sitcom. In 1987, Somers was named Las Vegas Female Entertainer of the Year alongside Frank Sinatra.
"What was it unfair what happened to me at ABC? Yep. It was unfair, but life isn't fair and you have to get over things and move forward," she said.
Somers later starred as Sheriff Hildy Granger in the comedic TV series "She's the Sheriff" from 1987 to 1989. In the 1990s, Somers appeared in various TV movies and as a guest star on TV shows, including "Full House," the "Larry Sanders Show" and "The Simpsons."
In 1991, that scripted TV magic Somers found in "Three's Company" struck again, as the actress landed the role of Carol Foster Lambert in the family-friendly ABC sitcom "Step by Step." Somers appeared as Lambert on the show until 1998.
She also hosted her popular namesake morning talk show, "The Suzanne Show," on Lifetime, where she covered emerging trends in health and wellness.
A focus on health and family

Outside of her acting career, Somers focused her energy in the wellness space. Doubling as a fitness personality in the '90s, Somers starred in the infomercial for at-home workout device the ThighMaster.
Somers recalled in an interview years later that the concept for the infomercial was inspired by a new pair of Manolo Blahnik shoes she was showing off to her husband at the time.
"I walked out of my dressing room in my underwear and I said to my husband, 'Like my new shoes?' And he said, 'Great legs!' And I went, 'Oh my God, that's the commercial!' That's how we started the commercial if you recall," Somer said, adding they went on to sell "10 million ThighMasters right out of the gate."
Somers authored more than two dozen wellness books, many of which became New York Times best sellers. In recent years, she partnered on several natural beauty products.
Somers spoke and wrote often about growing older without fear.
"Today I love aging, because I have found a new way to age," she told Palm Springs Life in 2015. "My weight is what it was in my 20s, and since doing 'Dancing With the Stars' this season, my body has changed for the better. Alan says it's like having a mistress," Somers joked. "And I am OK with it."
Married for five decades, Somers and Hamel remained very much and love and the two took great pride in their family.
"Other than that," she said, "my work in health is my greatest accomplishment."