Sports news
Schwarber ties Jackson as Phillies take 2-0 lead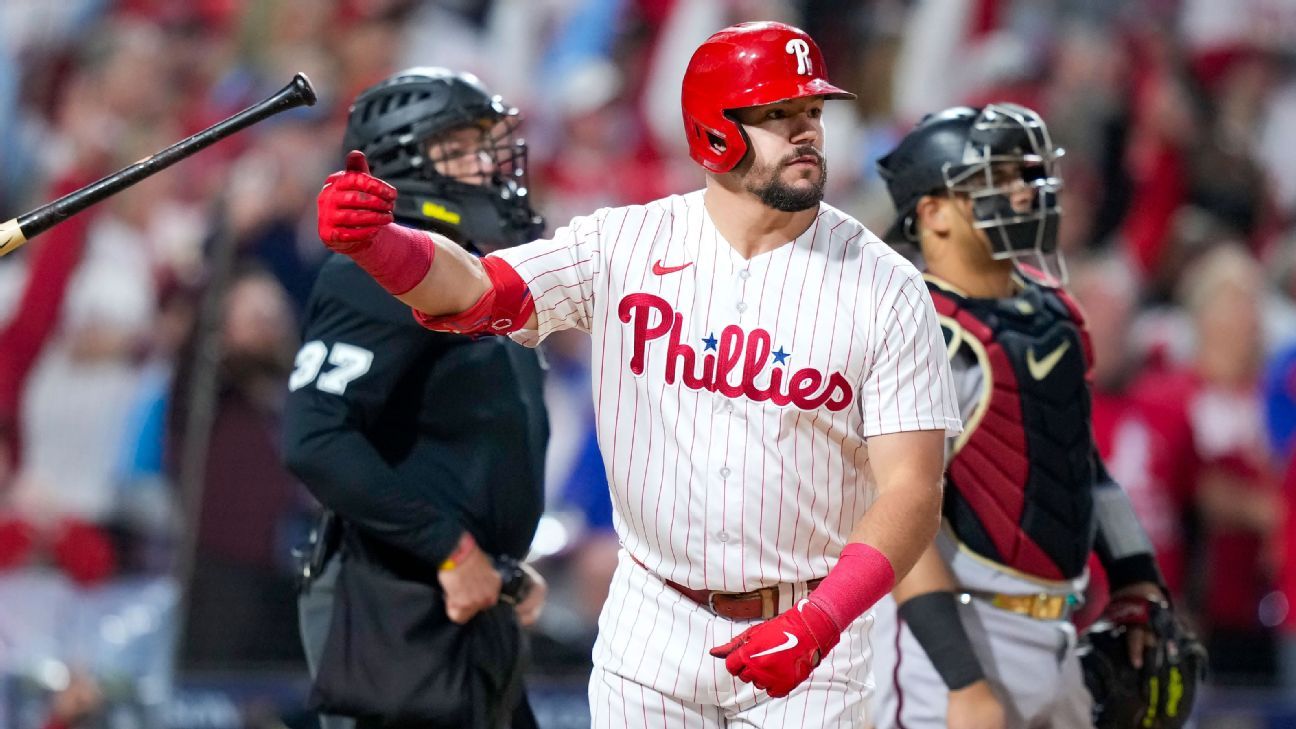 David Schoenfield, ESPN Senior WriterOct 18, 2023, 01:08 AM ET

Covers MLB for ESPN.com
Former deputy editor of Page 2
Been with ESPN.com since 1995
PHILADELPHIA — In Philadelphia, everyone refers to this month as Red October.
The exact definition is a little hazy, but let's settle on this one: It means home runs — lots of home runs. Lots of loud home runs that increase in decibel level as the home fans realize the ball is soaring over the outfield fence.
Kyle Schwarber belted two of those blasts in Tuesday's 10-0 victory for the Philadelphia Phillies over the Arizona Diamondbacks, Trea Turner added a third and the Phillies tacked on a bunch of runs late in the game to move two wins away from returning to the World Series. Schwarber's first multihomer game of his postseason career gave him 18 postseason home runs — matching Reggie Jackson for the most ever by a left-handed batter.
For the Phillies, the burst of Red October continued: They've hit 15 home runs over four games, the most in a four-game span in postseason history.
Once again, they feasted on four-seam fastballs. After the Phillies hit three home runs off Zac Gallen fastballs in Game 1, Turner's first-inning blast against Merrill Kelly came off a four-seamer, as did Schwarber's shot in the third inning that landed in the first row of seats above the scoreboard in right field. His second home run, off a Kelly changeup, was a more conventional Schwarbomb: 427 feet to right-center with a 108.5 mph exit velocity.
Schwarber is one of the most unusual leadoff hitters in major league history. He hit .197 this season. He led the majors in strikeouts. He didn't steal a base. But he hits home runs — 47 of them in the regular season — and draws walks, and the Phillies have thrived since he moved into the leadoff spot in early June. The Phillies were 25-31 on June 2, when manager Rob Thomson started Schwarber, hitting .160 at the time, in the leadoff spot — as he would every game he played the rest of the season. The Phillies, 24th in the majors in scoring through June 1, climbed to fifth after the move. Including the postseason, the Phillies are 70-42 since June 2 with Schwarber leading off.
"As a catcher, I know what the opposing pitcher and catcher are thinking about all day long before a game, even the night before," Phillies backstop J.T. Realmuto said. "They're worried about that first at-bat, they're worried about the first pitch. They have anxiety. I know when we're facing [Ronald Acuna Jr.] or [Corbin] Carroll over there, when they can do damage from the first pitch, it's a very uncomfortable feeling, and Schwarbs is the best at making the opposing pitcher uncomfortable before a game starts. That's not fun as a pitcher. He's the best in the game at that, and he sets the tone for our offense."
Thomson's move was a return to last October for the Phillies, when Schwarber hit leadoff each game and blasted six home runs — three in the NLCS and three in the World Series. He might be unconventional but it works.
"Well, that was June-Schwarber, as they say around here," Thomson said. "I believe we were struggling at the time, and it was time to make a little bit of a change. And that was a recipe last year with Schwarber in the leadoff spot, and it just sort of clicked, and we started winning. We started scoring runs, and Schwarb got hot."
"I've had a lot of at-bats there," Schwarber said. "Don't get me wrong, I've sucked at it. I've had a lot of trial and error. It's more about making it your own. You have this conception. I've always said I had one of the best leadoff hitters in Dexter Fowler and I got to watch that for a long time when I was in Chicago."
Schwarber learned he had to play his game.
"For me, I've got an eye, I can walk, speed is definitely in play," he joked. "Taking away that conception and just making it my own. I've been pretty comfortable there the past three years and it fits for our lineup."
In tying Jackson's mark, Schwarber had an advantage with an extra round of playoffs. But he has hit his 18 in 60 games; Jackson needed 77.
The Phillies are now hitting .284/.366/.575 as a team in the postseason — and they're not mixing in many cheap home runs, either. Turner's first-inning blast was 421 feet and 13 of their 19 homers have been 400-plus feet. They just missed three others in Tuesday's game, as Alec Bohm flew out to the wall in deep center field, Bryce Harper flew out to the wall in left and Jake Cave doubled off the wall in center as a pinch hitter in the eighth. In all, the Phillies hit 14 balls in play at 95-plus mph and nine at 100-plus, among their highest totals of 2023.
Teams that outhomer their opponents are now 17-2 this postseason. The Diamondbacks are going to have to find a way to discover their slug like they did against the Los Angeles Dodgers, when they hit nine home runs in a three-game sweep.
"It's like having a team full of 3-pointers against somebody who can only shoot 2s," Diamondbacks manager Torey Lovullo said. "It happens quick and it builds up quickly. But we're built to beat you in a lot of different ways. We're built to compete every single night in a lot of different ways. Whatever recipe we can order up, we're going to try to find a way."