Sports news
No one expected a World Series with the Texas Rangers and Arizona Diamondbacks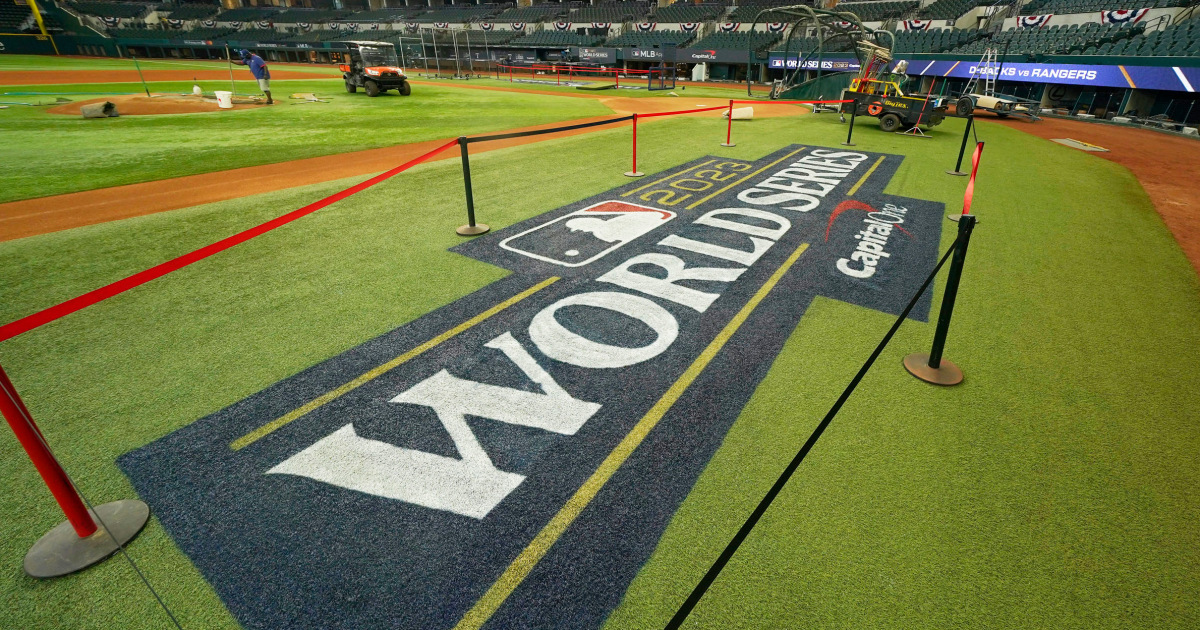 The Arizona Diamondbacks barely won more games than they lost, while the Texas Rangers stumbled in the regular season's final days to surrender their long-held division lead.
Few, if any, baseball prognosticators saw this World Series in their crystal ball.
The Diamondbacks and Rangers meet in the Fall Classic starting tonight, capping a wild playoff season where the month of October didn't reflect the action of April through September.
Game 1 of the best-of-7 series is set for 8:03 p.m. EDT (7:03 p.m. CDT) in Arlington with all games being televised on Fox and carried on radio by ESPN.
Diamondbacks outfielder Corbin Carroll, a leading candidate for Major League Baseball's rookie of the year, said he always knew Arizona was on the upswing — but winning the National League pennant this season still came as a shock.
"I won't speak for other people, but I thought it would take a little more time," Carroll told reporters after Arizona's Game 7 National League Championship Series win over the Philadelphia Phillies. "So to be able to do it in this first year just makes it all the more special."
On the rebound in 2023, with help from new rules
Not since 1991 has there been a World Series between two teams that had losing records the previous season.
The Diamondbacks and Rangers were 74-88 and 68-94, respectively, in 2022. The turnaround was particularly dramatic for Arizona which endured a thoroughly miserable 52-110 season in 2021.
In 2023, batters on both teams decreased their strikeout rates and benefitted from new MLB rules designed to reward contact.
The young, athletic Diamondbacks were also aggressive on the bases paths, stealing the second most bags in baseball. They swiped 166 bases in the regular season, seizing on new rules aimed at making thefts easier.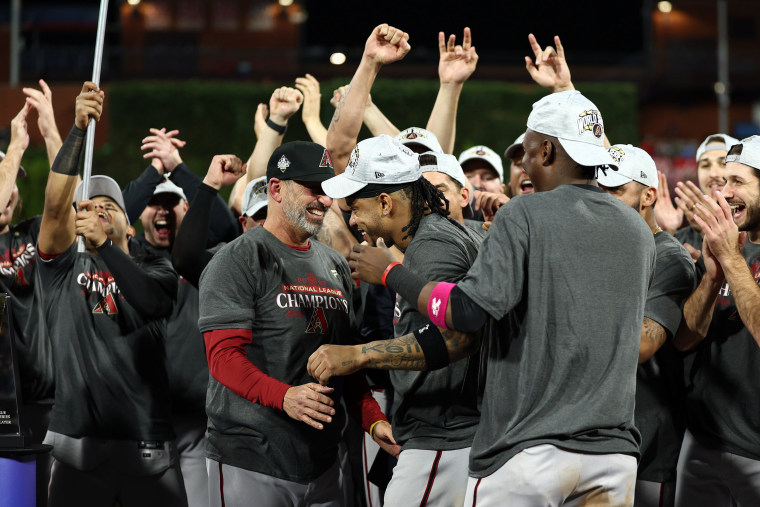 Arizona kept on running in October, stealing nine bases in as many attempts against Philadelphia in the NLCS.
The last World Series between teams under .500 the previous year came 32 years ago when the Minnesota Twins (74-88 in 1990) topped the Atlanta Braves (coming off 65-97) in a memorable seven-game clash.
October > April through September
Both the Diamondbacks and Rangers failed to win their respective divisions, making this the third all-wildcard Fall Classic.
And this World Series feels particularly wild as three powerful 100-win teams — the Los Angeles Dodgers, Atlanta Braves and Baltimore Orioles — didn't even make their league championship series in this expanded playoff structure.
Arizona's 84-78 and Texas' 90-72 records account for 174 total regular season wins, the fewest by two World Series teams, aside from truncated seasons. The previous low was in 1973 when the Oakland A's (94-68) outlasted the New York Mets (82-79) in seven games.
Old-timers not wild about wildcard
This is the second season of the 12-team playoff format, with six teams qualifying from each league. The D-Backs were the National League's No. 6 seed and the Rangers the American League's No. 5.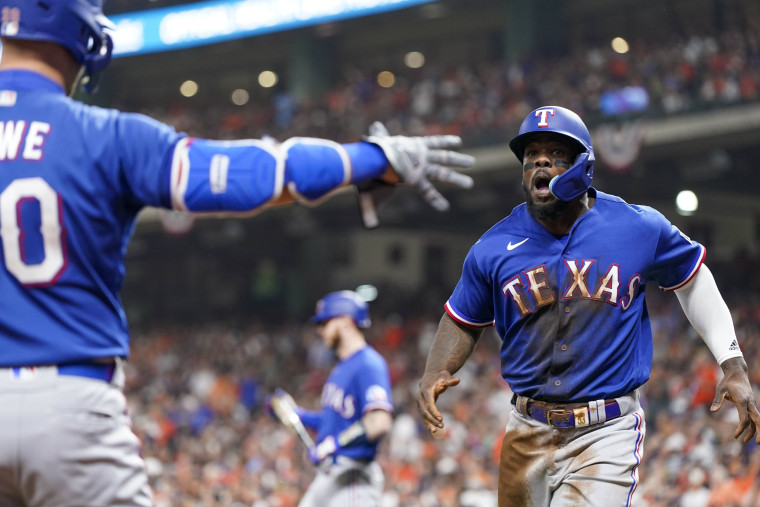 Before 1995, only teams that won their divisions qualified for postseason.
This wildcard-dominated postseason didn't sit well with many baseball old-timers, who insist that the regular season has been de-valued by the current system.
From 1903 through 1968, the World Series was the only postseason play, featuring just champs of the AL and NL regular seasons.
A rare visit to the winner's circle for one team
The AL and NL camps enter Friday with a grand total of one World Series title between them — Arizona's epic seven-game triumph over the New York Yankees in 2001, a season that was interrupted by the 9/11 terrorist attacks.
That combined title total hasn't been so low since 1980, when the Philadelphia Phillies and Kansas City Royals were both going for their first rings.
The Phillies, led by power-hitting third baseman Mike Schmidt, Cy Young Award-winning pitcher Steve Carlton and slugger-turned-BBQ connoisseur Greg "The Bull" Luzinski, won that World Series in six games.
Baseball and the great indoors
This will be the first World Series played by two teams who make their home in dome or retractable roof stadiums.
The Diamondbacks have called Chase Field, in downtown Phoenix, home since their birth in 1998, while the Rangers moved into Globe Life Field in 2020. Both stadiums have retractable roofs and cover could come in handy on Friday night with a slight chance of rain in Texas.
There are eight indoor facilities in MLB, all in rainy northern regions or the brutally hot Sun Belt: Tropicana Field (Tampa Bay Rays), loanDepot park (Miami Marlins), American Family Field (Milwaukee Brewers), Rogers Centre (Toronto Blue Jays). Minute Maid Park (Houston Astros) and T-Mobile Park (Seattle Mariners).
The era of indoor baseball dates back to 1965 when the Houston Astros' Astrodome opened. MLB's first retractable roof came into existence in 1989 when the Toronto Blue Jays christened the SkyDome, now called Rogers Centre.
Thumb or pinky finger for a possible fourth ring?
Texas manager Bruce Bochy, a Hall of Fame shoo-in with three world titles as the San Francisco Giants skipper, will be gunning for his fourth ring.
He's already in elite historical circles, particularly for those who never helmed the New York Yankees, North America's winningest major pro sports franchise with 27 world titles.
A fourth championship for Bochy would move him into a tie for fourth most managerial World Series titles with Brooklyn/Los Angeles Dodgers manager Walter Alston and former Yankees skipper Joe Torre.
Suit-wearing Philadelphia A's manager Connie Mack is at No. 3 with five titles, which trails only Joe McCarthy and Casey Stengel, who each led their Yankees teams to seven titles.
David K. Li is a senior breaking news reporter for NBC News Digital.