Sports news
NFL Week 9 picks and predictions: Cowboys stun Eagles, Ravens edge Seahawks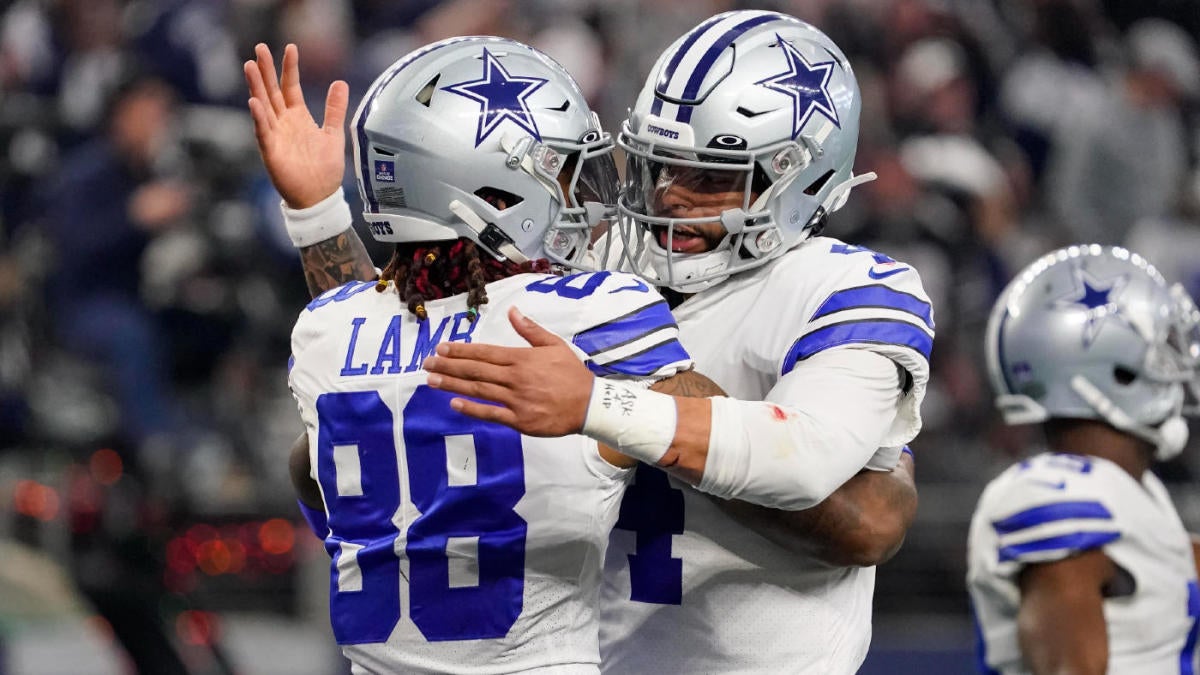 "Remember, remember, the fifth of November…."
I don't know how the rest of that goes, but I'm pretty sure that poem was written about Week 9 of this year's NFL season. I don't know how it's even possible that someone from 400 years ago would even know about Week 9 of this year's NFL season, but there's no other explanation, because the NFL is about to have the craziest slate of games ever this week and we're all going to remember, remember, because it's on the fifth of November, which is this Sunday.
If you have anything planned for this Sunday, you better go ahead and cancel it now because there's 14 straight hours of football on and you're going to want to watch it all.
Here's what the schedule looks like:
I will probably have to have a toilet installed in my office at some point this week, because these games are so good that I don't even want to take a bathroom break.
So who's going to win these games? Let's get to the Week 9 picks and find out.
Actually, before we get to the picks, here's a quick reminder that you can check out the weekly picks from every CBSSports.com NFL expert by clicking here. However, if you don't want to click over, I won't be offended. Whenever I click on something, I get sidetracked by the new thing and then I completely forget what I was originally doing and we don't need that.
What we do need, though, are some picks, so let's get to them.
NFL Week 9 picks
Tennessee (3-4) at Pittsburgh (4-3)
Thursday, 8:15 p.m. ET (Amazon Prime)
OK, let's just get this out of the way now. As I mention here every week, I'm horrible at picking Titans games.
The Titans are now officially living rent-free in my head. No matter what I do, my Titans pick always ends up being wrong. I pick them to lose and then they win. I pick them to win and then they lose. I've done the opposite of what my gut told me to do. I've done the opposite of the opposite of what my first instinct told me to do, which was to do the opposite of whatever my gut told me to do. As you can see, I have now completely psyched myself out and there's now a 99.3% chance that I'm never going to pick a Titans game correctly ever again.
Through seven weeks, I am 0-7 picking Titans games. I've picked them to win four times this season and they lost all four times. I've picked them to lose three times and they won all three of those games. At this point, I'm pretty sure that 61% of you are only reading my picks this week to see how badly I embarrass myself with my Titans pick.
In Week 8, I thought, "Surely, there's no way that a rookie quarterback making his first career start is going to win. The Falcons are the obvious pick, there's no way Tennessee will pull this off."And then we all know what happened: The Titans pulled it off.
Not only did they win, but Will Levis looked like Joe Montana out there, throwing for 238 yards and four touchdowns. Only three quarterbacks in NFL HISTORY have ever thrown four TD passes in their first career start and Levis is one of them. My reverse jinx isn't just winning the Titans games, they're winning in HISTORICAL FASHION. At this point, the Titans need to send me a thank you letter or a fruit basket each week. I don't care even what it is. I just need something to sulk in.
My Titans picks have gotten so bad that I might have to start fading myself. If I would have bet the opposite of my Titans' pick every week this season, I'd be a billionaire, I could retire from writing and I could move to Tahiti where I'd never have to pick any Titans games ever again.
So what am I doing this week? Let's be honest, it doesn't matter, Whatever I pick, the opposite will happen. In this case, we have Levis playing his first road game against a good Steelers defense, which makes me want to pick Pittsburgh. However, I don't know for sure who will be starting at QB for the Steelers. Kenny Pickett (ribs) got banged up in Week 8 and if he can't go, then Mitchell Trubisky will get the start.
In the battle of the Mikes, Mike Tomlin has never lost to Mike Vrabel and the Steelers have also won five straight prime-time games and this game is in prime time, so I'm taking Pittsburgh. Sorry in advance, Steelers fans.
The pick: Steelers 20-17 over Titans (Steelers win 20-16)
If you want a more analytical approach to your NFL picks, then I highly suggest that you check out the SportsLine Projection Model, which has been on fire this year. Check it out if you want to know which side to bet for every game in Week 9.
Miami (6-2) vs. Kansas City (6-2) in Germany
9:30 a.m. ET (NFL Network)
For the first time in NFL history, the city of Frankfurt will be hosting an NFL regular-season game and I will be celebrating by having a Frankfurter and a German beer for breakfast on Sunday. The good news for me is that's normally what I have for breakfast, so I won't have to change my routine at all this weekend.
When the schedule came out in May, I'm pretty sure this was the first game that Tyreek Hill circled on his calendar and if he doesn't own a calendar, I bet he programmed it into his phone calendar, and if he did, he's smarter than me, because I still haven't figured out how to use mine. This is a revenge game for Hill, who will be facing the Chiefs for the first time since he was traded from Kansas City to Miami in March 2022.
Hill has been nearly unstoppable with the Dolphins this year. Through eight weeks, he already has 1,014 yards receiving, making him the first player in the Super Bowl era to hit 1,000 yards in just eight games. Hill is on pace for 2,154 yards, which is insane when you consider that no player in NFL history has ever even finished a season with 2,000 receiving yards.
This game presents two problems for Hill, though: The Chiefs know him better than anyone and Kansas City's defense is actually good this year. Heading into Week 9, the Chiefs are only surrendering 15.1 points per game and 176.1 receiving yards per game this year, which both rank second in the NFL.
If the Chiefs are going to slow down the Dolphins passing attack, they're going to need to get pressure on Tua Tagovailoa, and putting pressure on the QB is something they're actually good at. The Chiefs have 28 sacks on the season, which is tied for the second-most in the NFL.
The Chiefs are also a good team, which I'm only pointing out because the Dolphins always seem to fall apart whenever they play a good team. The Dolphins have played two teams this year that currently have a winning record — Philadelphia and Buffalo — and they lost those two games by an average of 21 points.
The Dolphins can't beat good teams and I'm not sure if playing this game in a different country is going to change that. Also, if I have one rule here, it's that I never pick against Patrick Mahomes when he's coming off a loss. Mahomes has won eight straight games coming off a loss, which is the longest streak of any QB in the NFL.
The only thing that concerns me about picking the Chiefs is that Mahomes had the flu over the weekend and his teammates are going to be stuck on a plane with him for eight hours on the flight to Germany. If Mahomes gives the flu to all of his teammates, the Chiefs might lose, but for now, I'm rolling with Kansas City.
The pick: Chiefs 30-27 over Dolphins
Seattle (5-2) at Baltimore (6-2)
1 p.m. ET (CBS)
If I see that the Ravens are playing an NFC team, I don't even need to know who it is, I'm just going to automatically pick Baltimore to win because they have Lamar. Since he took over the Ravens' starting QB job in 2018, Jackson has gone 17-1 against NFC teams. That .944 winning percentage is the best by any QB against the opposing conference since the AFL-NFL merger in 1970. At first, I didn't believe this stat, but it's definitely true because I looked it up on the internet and internet has never been wrong about anything.
I'm not sure who should be in charge of organizing it, but all the coaches in the NFC definitely need to get together this offseason so they can brainstorm some ideas on how to stop Lamar.
In his 18 starts against NFC teams, Jackson has totaled 37 touchdowns and just seven interceptions. He basically turns into Super Lamar, which is kind of frightening to think about, considering he already looks super even when he's not super. My theory on why Lamar does so well against NFC teams is that they only get to see him once every four years and it's a total shock to their system when they see him up close and realize what kind of speed he plays at.
The problem for the Seahawks is that even if they bottle him up, that won't guarantee them a win. In Week 8, Jackson totaled just 174 yards, but the Ravens still won handily because they have one of the best defenses in the NFL. The Ravens have surrendered the fewest points per game this year and the third-fewest passing yards, and Geno Smith hasn't done quite enough to make me think he can be productive against a defense like that.
If the Seahawks lose, I won't be surprised if Pete Carroll takes it upon himself to organize that offseason meeting of NFC coaches where everyone tries to figure out how to beat Lamar.
The pick: Ravens 19-16 over Seahawks
Dallas (5-2) at Philadelphia (7-1)
4:25 p.m. ET (Fox)
Do you know who won the last time Dak Prescott faced Jalen Hurts? Probably not, because it's only happened one time ever. Although these two teams have faced each other six times since Hurts was drafted in 2020, there's only been one game that saw Hurts face Prescott
For the past three years, the Football Gods have been mocking us by not giving us Hurts vs. Prescott. I've been mocked by a lot of people, but let me just say that nothing is more painful than being mocked by the Football Gods. They've been mocking me every week with the Titans, and now we have this.
Anyway, the one game where Dak and Jalen both played came back in 2021 and the Cowboys ended up winning 41-21. Prescott threw for three touchdowns in a game where he finished with a QB rating of 143.3. The only reason I'm bringing up this up is because if there's any team that Dak almost always plays well against, it's the Eagles.
In his last three starts against the Eagles, not only has Prescott gone 3-0, but the Cowboys have averaged 44 points per game. In those three wins, Prescott threw 11 touchdowns compared to just one interception. I don't know why, but the Eagles seem to bring out the best in Dak, which is extremely bad news for the Eagles, because Dak never loses when you bring out the best in him.
On the Eagles' end, Hurts is still hobbling around and I'm not sure how he's going handle the Cowboys' pass-rush. I won't be surprised if he struggles, but even if he does find time to throw the ball, the Cowboys have two corners (Stephon Gilmore and DaRon Bland) who are good enough to slow down A.J. Brown and Devonta Smith.
With this game in Philadelphia, I hate picking against the Eagles, but I'm going to do it anyway.
The pick: Cowboys 30-23 over Eagles
Buffalo (5-3) at Cincinnati (4-3)
8:20 p.m. ET (NBC)
If the Bills are smart, they will pay someone a lot of money this week to re-decorate the Bengals stadium so that it looks like Highmark Stadium in Buffalo. If you're wondering why they would do that, it's so Josh Allen thinks he's playing at home, because he's been nearly unstoppable in home games this year. However, that definitely hasn't been the case on the road.
In four games away from Buffalo, the Bills are 1-3 and Allen has turned the ball over eight times with six interceptions and two lost fumbles. Turnovers are always a huge deal in the NFL, but they're especially big for Allen, because when he starts turning the ball over, the Bills always seem to lose. In his career, the Bills are 9-14 when he has two or more turnovers in a game, but 48-13 when he has one or zero turnovers.
The problem for Allen is that he'll be facing a Bengals defense that forces turnovers at a higher rate than almost anyone. The Bengals have played seven games this year and they've forced multiple turnovers in five of those. They've forced a total of 13 turnovers on the season, which is tied for the fifth-highest total in the league. They've also picked off 10 passes, which ranks third in the NFL.
I think what I'm trying to say is that if you could design a defense to beat Allen, the Bengals are what you would design.
The other thing not working in Buffalo's favor for this game is that Joe Burrow finally looks like Joe Burrow again. The biggest thing Burrow is doing now that he couldn't do earlier in the season is extending plays. Before their Week 7 bye, Burrow rushed for a total of 15 yards in six games. That's 2.5 yards per game. In the Bengals first game after the bye, Burrow rushed for 43 yards AND he was doing things like this.
I just counted 11 different times there where I thought Burrow was going to be sacked, but instead of getting sacked, he converted a third-and-10. Let's watch it one more time, but from four different angles so that you can fully appreciate what Burrow did here.
If this play had happened in Week 2, Burrow would have been sacked for a 19-yard loss.
Although Burrow has completely reinvigorated the franchise, there's still one monkey he hasn't been able to get off the team's back: The Bengals still can't seem to win on "Sunday Night Football." Since NBC took over the Sunday night package in 2006, the Bengals have gone 0-9. Is Cris Collinsworth jinxing them because he used to play for them? I don't know, but I'm willing to entertain any theory at this point.
Cincinnati's last Sunday night win came all the way back in 2004. Burrow has ended a lot of droughts for the Bengals since taking over as QB and it only makes sense that this one is next.
The pick: Bengals 31-24 over Bills
NFL Week 9 picks: All the rest
Falcons 23-16 over Vikings
Browns 20-13 over Cardinals
Packers 23-16 over Rams (If Matthew Stafford doesn't play)
Rams 24-17 over Packers (If Matthew Stafford plays)
Patriots 19-16 over Commanders
Saints 27-17 over Bears
Buccaneers 20-16 over Texans
Colts 24-16 over Panthers
Raiders 24-17 over Giants
Chargers 19-16 over Jets
BYES: Broncos, Jaguars, Lions, 49ers
Last Week
Best pick: Last week, I predicted that the Jets would beat the Giants by exactly three points in a crazy game and guess what happened? The Jets beat the Giants by exactly three points in a crazy game. To be honest, I'm not sure if it was more crazy or ugly, but now that I'm looking with stats, I'm going to have to lean toward ugly.
Here are five facts from that game:
There were more punts (24) than points (23). The 24 combined punts was the most that two NFL teams have combined for in a game since 1998.

There were 16 combined three-and-outs, which was tied for most in a game since 2000.
The two teams went a combined 4 for 34 on third down, which was the worst combined third-down conversion rate since 2009 in a game where the two teams combined for at least 30 attempts.
The Giants finished with -9 pass yards, which was the fewest by any team since 2000 when the Browns had -9 in a 48-0 loss to the Jaguars.
Zach Wilson became the first QB since 2000 to win a game with multiple completions of 25 yards or more in the final 30 seconds of the fourth quarter. Wilson hit Allen Lazard for a 29-yard gain followed by another 29-yard throw to Garrett Wilson that set up Greg Zuerlein's game-tying field goal at the end of regulation.
The NFL needs to create a trophy for this game and they need to do it now. My suggestion would be to call this game "The Battle for the Big Apple" and the winning team would get a trophy, but it wouldn't actually be a trophy, it would just be one apple that they all have to split.
Worst pick: If the Titans played, then we can just go ahead and assume that was my worst pick of the week. Let me check the Week 8 schedule real quick. Yup, the Titans played. That was my worst pick.
Finally, if you guys have ever wondered which teams I'm actually good at picking, here's a quick look at my best and worst teams when it comes to picks this year.
Teams I'm 7-1 picking this year (Straight up): Cardinals, Giants, Panthers (6-1), Jets (6-1), Packers (6-1)
Teams I'm 0-7 or 1-6 picking this year (Straight up): Titans (0-7), Texans (1-6).
Every other team is somewhere in the middle.
Picks Record
Straight up in Week 8: 11-5
SU overall: 73-49 (1-13 picking the Titans and Texans, 72-36 picking everyone else)
Against the spread in Week 8: 6-9-1
ATS overall: 57-61-2
---
You can find John Breech on Facebook or Twitter and if he's not doing one of those things, he's probably downing his favorite breakfast: A warm German beer and a Frankfurter.