Sports news
NFL Week 8 takeaways: Kirk Cousins injury headlines Sunday's worth of quarterback carnage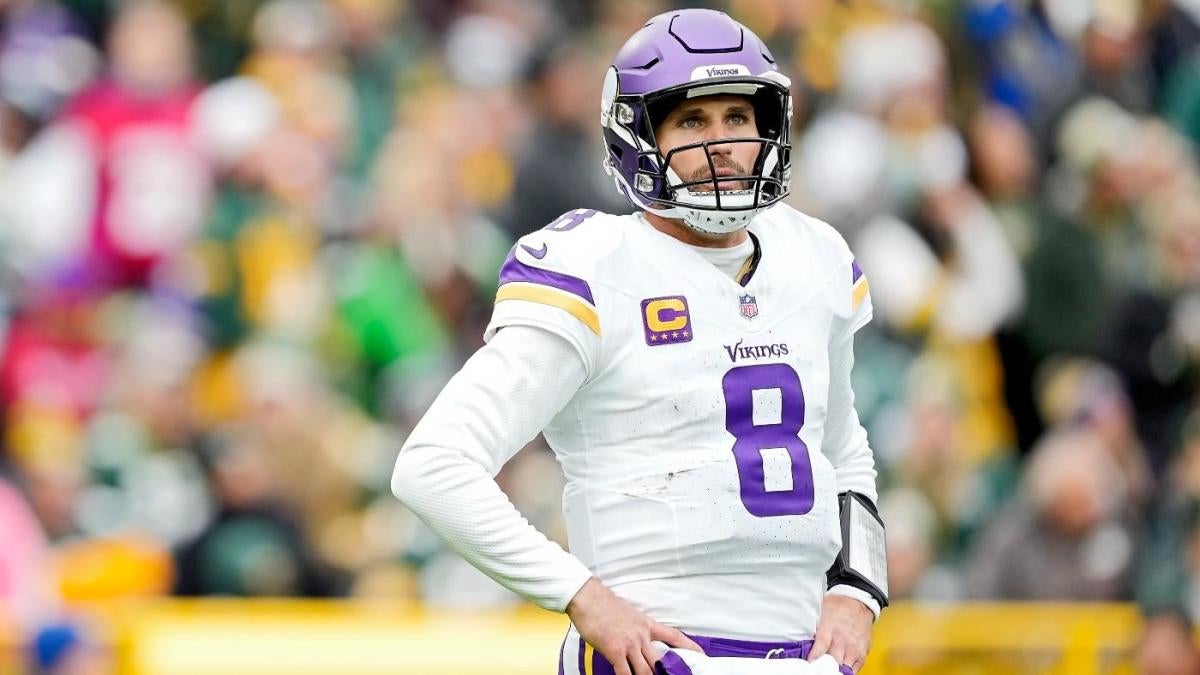 When asked about the struggles of his old team last week on his weekly Pat McAfee Show appearance, Aaron Rodgers deflected a bit and instead pointed to the Minnesota Vikings and their win the night before over the 49ers and how quickly a team's season can shift in this week-to-week league. He could just as easily make the same point after Week 8, with the Vikings recording one of the biggest pyrrhic victories of the season over Green Bay in a game that saw Kirk Cousins tear his Achilles and end his season.
The MRI coming seems largely perfunctory; the speed with which Cousins was ruled out, the way he was helped off the field, the images of Cousins sitting sullenly on the medical cart with a poofball hat covered a concerned and furrowed brow … it all seemed very obvious his season was toast.
Cousins, as the world found out during Netflix's "Quarterback" show, takes incredible care of his body which has led to incredible durability. Cousins took over as the full-time starter in Washington in 2015, played under multiple franchise tags and then left in free agency for Minnesota. During that time, he never missed a game for injury.
The injury comes at a time when the Vikings had turned their once-concerning season completely around. After starting 0-3, the Vikings rallied to .500 with their 24-10 win over the Jordan Love-led Packers on Sunday. Their fourth win in five weeks — and the only loss was a one-score defeat to the Chiefs — was a second-straight dominant performance by an oft-criticized Vikings defense. Harrison Smith indicated after beating the Niners that he felt like the Brian Flores scheme was finally starting to click with the players; it's possible the Vikings defense is starting to turn the corner, making the Cousins injury even more devastating.
Our SportsLine projection model only docks the Vikings 1.1 games on their season win total as a result of the Cousins injury, but that feels light to me. Rookie Jaren Hall replaced Cousins, and the pre-draft scouting report isn't exactly favorable for the Vikings to assume the offense will keep operating at maximum efficiency. Sean Mannion (on Minnesota's practice squad) and Nick Mullens (on injured reserve for at least one more week) could also be options for the Vikings if Kevin O'Connell thinks a veteran gives the Vikings a better chance at winning now. Colt McCoy in free agency or Case Keenum via trade are names to watch as well.
This injury will have some massive long-term effects as well. Cousins and the team restructured his deal over the offseason in order to free up cap space, That was in lieu of a contract extension, and it allowed Cousins to enter free agency this offseason. But his age — Cousins will be 36 when the 2024 season begins — and the nature of the injury — Achilles are always tricky, particularly with quarterbacks — could make it complicated to find suitors.
Minnesota could obviously be interested in bringing Cousins back, but it certainly felt like the Vikings were floating in purgatory already, unsure about what they would do at the position moving forward, whether they'd be in the mix for a high draft selection or whether they'd try and keep things going with Cousins, knowing their ceiling was likely capped out.
The Vikings went from an afterthought to a very interesting contender in two weeks, yet overnight they're an enigma again. The schedule is soft enough not to pack it up, but hearing quotes from various members of the Vikings offense and listening to O'Connell suggest Cousins was having the best season of his NFL career, so it's hard not to look at Sunday as a devastating victory for Minnesota.
Please check the opt-in box to acknowledge that you would like to subscribe.
Thanks for signing up!

Keep an eye on your inbox.

Sorry!

There was an error processing your subscription.

QB carnage
Cousins wasn't the only quarterback who dealt with injuries in Week 8, as we saw a slew of quarterbacks leave their respective games. Starters like Deshaun Watson, Ryan Tannehill and Daniel Jones were already missing from starting lineups. And then a bunch more guys got hurt:
Matthew Stafford — Stafford had his throwing hand thumb go ~into~ a defender's helmet trying to dodge a sack on his followthrough during a pass attempt. Stafford's tough as nails and stayed in the game initially but got pulled for Brett Rypien with the Rams being blown out by 20-plus points thanks to a career game from CeeDee Lamb. Stafford is EASILY the biggest headliner of the non-Cousins quarterbacks; if he's forced to miss any time or is severely limited by this thumb injury, it's a major blow to a promising Rams season.
Tyrod Taylor — Jones was already missing, and you could argue that Taylor, who has had just the WORST injury luck when he's been the starter over the last few years, was playing better and giving the Giants a better chance at winning football games. Tommy DeVito replaced him, and a matchup NFL on CBS announcer Andrew Catalon called "the ugliest, best game" only got uglier. The G Men losing that game is pretty brutal — Bob Wischusen included "and I'm not sure how" in his game-winning call on the Jets radio. Taylor will be spending the night in the hospital with a scary looking rib injury, so it's tough to imagine him being ready immediately.
Kenny Pickett — No clue how there wasn't a flag thrown on the Jaguars when Pickett got injured, and it was certainly controversial as to whether or not the Steelers should have gotten 15 yards for roughing after a previous call went against the Steelers for a similar situation. Mike Tomlin had no update on Pickett's status, but Mitchell Trubisky is a comparable replacement. Obviously the Steelers want to start their first-round pick, however.
Desmond Ridder — Falcons fans were probably thrilled to see Taylor Heinicke under center, although it wasn't for the reason everyone thought. Arthur Smith said he "didn't take him out for performance reasons" and instead it was a possible concussion concern. Ridder was evaluated for a head injury but cleared — Smith added he "didn't think Des was right" on the field. So it seems like Ridder's still the guy going forward for Atlanta and Smith, even though there's no way of telling when and how the Falcons are going to play on a given Sunday.