Sports news
NFL Week 12 picks: 49ers shut down Seahawks to cap three Thanksgiving blowouts, Texans shock Jaguars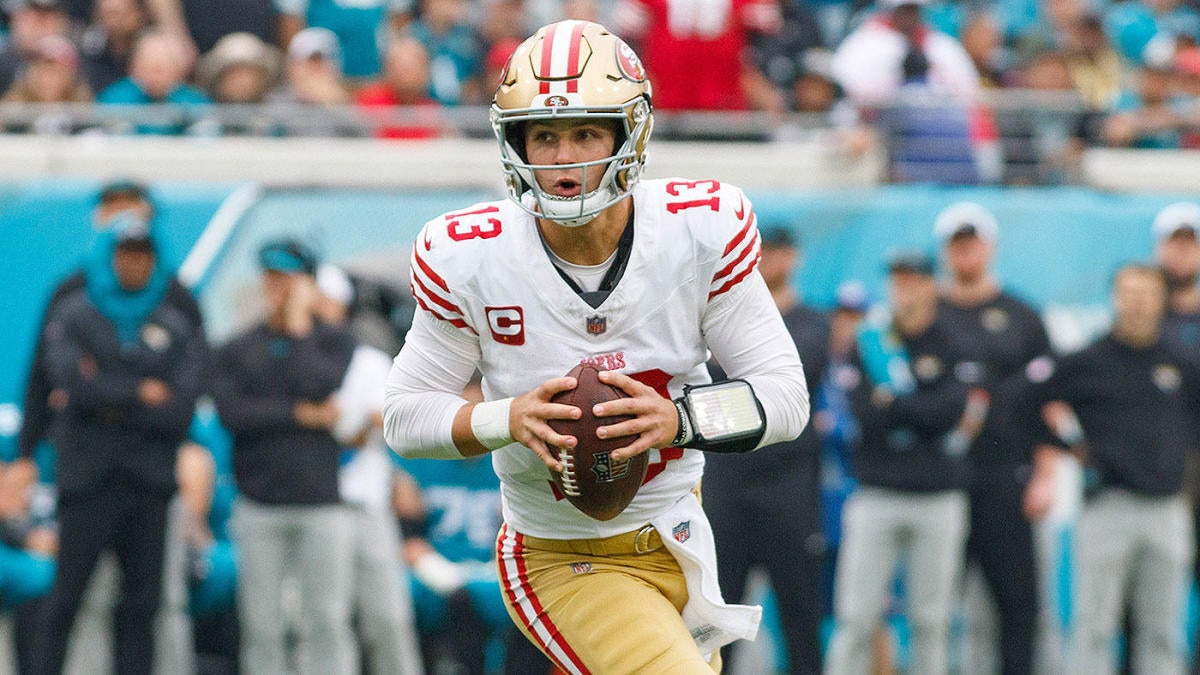 It's Thanksgiving Week and we all know what that means around here: Instead of giving you football picks today, I'm going to list off my 10 favorite Thanksgiving side dishes and I'm going to list them alphabetically by how much gluten they have. Just kidding, I don't even know what gluten is, so I couldn't do that if I wanted to.
Also, I see no reason to rank 10 side dishes when there are only two side dishes that I actually enjoy on Thanksgiving and one of those is potato vodka, which is way better than both mashed potatoes and sweet potatoes. My other favorite side dish is pumpkin pie, but I'm not sure that counts as a side even though I eat it only as a side.
Alright, let's get to the picks, because if we don't do it now, there's a chance I might stop writing to go drink some potato vodka and if that happens, I might not ever come back.
Actually, before we get to the Week 12 picks, here's a quick reminder that you can check out the weekly picks from every CBSSports.com NFL expert by clicking here. Also, as you may or may not know, I'm in charge of the NFL newsletter here at CBSSports.com, which I'm only telling you about because it makes the perfect holiday gift and it also brings people together. For instance, if you can't be with your family for Thanksgiving, then just sign them up for the newsletter and then you can read it together every day and it will feel like you're in the same room as them, except not really. To subscribe, all you have to do is click here and enter an email address.
Alright, let's get to the Turkey Day edition of the picks.
NFL Week 12 picks
Green Bay (4-6) at Detroit (8-2)
Thursday, 12:30 p.m. ET (Fox, Stream on fubo, try for free)
If you didn't get to watch the Lions on Sunday — and I'm guessing you didn't because I'm pretty sure their game was only shown to about 1.3% of the country — they pulled off the most improbable comeback of Week 11. They were trailing by 12 points with three minutes left to play against the Bears and somehow still won.
Sure, it was against the Bears, but it was still impressive, and this is how I know the Lions are different this year. The old Lions would have lost that game by 33 points because the Bears would have somehow scored three touchdowns over the final three minutes to complete the blowout. But these Lions are so good that they were able to sleepwalk through three and a half quarters and still win.
Speaking of sleepwalking through three and a half quarters, that's almost always what I used to do on Thanksgiving when the Lions were playing, but now that they're good, I'll probably end up watching this entire game.
After getting that wake-up call against the Bears on Sunday, I feel like the Lions are going to roll in this game. The biggest thing working in the Lions' favor is that they'll be going up against a Packers defense that is surrendering 134.7 rush yards per game this season, which ranks 28th in the NFL. On the flip side, the Lions have an offense that ranks fifth overall in rushing yards per game. I think what I'm trying to say here is that the Lions might not have to throw a single pass to beat the Packers, which would be fitting, since I'm pretty sure that's the same game plan they used to beat the Plymouth Pilgrims when they played on the first Thanksgiving back in 1621.
The last time the Lions started 8-2 came all the way back in 1962 and they improved their record to 9-2 with a Thanksgiving win over the Packers. I see history repeating itself this week. Time is truly a flat circle.
The pick: Lions 30-20 over Packers
If you want a more analytical approach to your NFL picks, then I highly suggest that you check out the SportsLine Projection Model, which has been on fire this year. Check it out if you want to know which side to bet for every game in Week 12.
Washington (4-7) at Dallas (7-3)
Thursday, 4:30 p.m. ET (CBS, Stream on Paramount+)
I'm not going to tell you how to plan your Thanksgiving, but I feel like this is the game where you're going to want to eat dinner because I feel like a blowout is coming. In Week 11, the Commanders lost to a quarterback (Tommy DeVito) who lives with his parents and if you can't beat a quarterback who lives with his parents, I have no idea how you're going to beat the Cowboys.
Here's what your plan should be while this game is on:
1. Turn all of your televisions to CBS
2. Eat dinner and chat with your family with the game playing in the background
3. Do NOT play the game where you take a drink every time the Cowboys score otherwise you will not be sober enough to watch the late game. And certainly don't play this game with potato vodka.
The reason I think this is going to be a blowout is because the game is in Dallas and the Cowboys have been blowing out everyone at home. Not only are the Cowboys 4-0 at home this year, but they've won all four of those games by at least 20 points.
The Cowboys have also won 12 straight home games dating back to last year and Dak Prescott hasn't lost a divisional home game since 2017. THAT WAS SIX YEARS AGO. Since then, he's won 14 straight divisional games at home, which is the fourth-longest streak in NFL history and if the Cowboys win on Sunday, he'll move into a tie with Troy Aikman for the third-longest streak ever (Tom Brady has the longest streak at 20 games). Also, Prescott has never lost to Washington at home (he's 5-0).
And let's not forget about the fact that Sam Howell is the most sacked quarterback in the NFL this year and he'll be facing a Cowboys defense that's extremely good at sacking the quarterback. That seems like a disaster waiting to happen.
The pick: Cowboys 31-17 over Commanders
San Francisco (7-3) at Seattle (6-4)
Thursday, 8:20 p.m. ET (NBC, Stream on fubo, try for free)
I'm not sure if I'm exaggerating here, but the 49ers might have the next Joe Montana on their hands. Every time I watch Brock Purdy play, I generally dismiss everything he does by convincing myself that he's a product of the system that he plays in, but I might have to stop doing that. Kyle Shanahan has coached a lot of quarterbacks in his career, but none of them have been able to do what Purdy is doing.
In Week 11, Purdy finished the game with a PERFECT PASSER RATING, which I'm only pointing out, because that's nearly impossible. Over the course of their franchise history, the 49ers have had some of the best quarterbacks to ever play in the NFL and those quarterbacks only combined for one game with a perfect passer rating.
Through 10 games, Purdy's numbers have been absurd. Not only does he lead the NFL in completion percentage (70.2%), but he also leads the league in yards per attempt (9.7). To put that second number in perspective, no one else in the league is even above 8.5 yards per attempt. Purdy is nearly throwing for a first down EVERY time he attempts a pass.
Only three other quarterbacks in NFL history have ever completed 70% of their passes while averaging at least nine yards per attempt and all three of them won MVP (Joe Montana in 1989, Tom Brady in 2007 and Aaron Rodgers in 2011). I think everyone might be sleeping on Purdy as an MVP candidate, except for me, and that's because I don't sleep. I have a toddler, so I haven't slept in three years.
The 49ers have won three straight games against the Seahawks and they did that by averaging 180 rushing yards per game in those three wins. If Seattle decides to finally try and stop the run, then Purdy will be waiting to make them pay.
One other thing that's working against the Seahawks is the health of Geno Smith. He got banged up in Week 10, which means the 49ers will either be playing against a hobbled Geno or Drew Lock and neither of those are good options for Seattle.
The pick: 49ers 27-16 over Seahawks
Jacksonville (7-3) at Houston (6-4)
1 p.m. ET (CBS, Stream on Paramount+)
If you would have told me before the season started that first place in the AFC South was going to be on the line in a Week 12 game involving the Houston Texans, I would have handed you a list of illegal drugs and asked you how many of them you were taking.
Back in August, the Texans were viewed as a total long shot to win the division. Actually, calling them a long shot would be an insult to long shots. The Texans' preseason odds to win the AFC South were +1100 while the favored Jaguars had odds of -155 (If you bet $155 on the Jags, you'd profit $100 if they won the division. If you bet that same $155 on the Texans, you'd make a profit of $1,705 if they won the division).
The Texans keep winning and the most impressive part if that they keep winning even with C.J. Stroud making some ugly rookie mistakes, especially over the past two weeks. In Week 9, Stroud turned the ball over three times, but then he made up for it by leading a game-winning drive against the Bengals. In Week 10, Stroud threw three interceptions, but he made up for it by also throwing for 336 yards and two touchdowns in a win over the Cardinals.
NFL teams are a combined 11-48 this year when turning the ball over at least three times and that record breaks down like this:
Texans: 2-0
The 31 other teams: 9-48
I think what I'm trying to say is that even when the Texans are bad, they somehow still win. That's usually the sign of a good team.
Stroud is currently having one of the best rookie seasons by any player ever. Over the past three games alone, he's thrown for 1,162 yards, which is the most passing yards ever for a rookie in any three-game span in NFL history, and now, he gets to face a Jaguars defense that can't stop the pass.
The Jaguars have lost three games this season and all three losses have come in a game where their opponent threw for at least 275 yards. I feel like Stroud is going to blow past that number on Sunday and the Texans are going to take over first place in the AFC South.
Also, I don't trust Trevor Lawrence, at least when he's facing the Texans. Lawrence is 1-4 in his career against Houston and I don't see that record improving on Sunday.
The pick: Texans 34-27 over Jaguars
Buffalo (6-5) at Philadelphia (9-1)
4:25 p.m. ET (CBS, Stream on Paramount+)
The Bills' 2023 season hasn't imploded yet, but there's certainly a chance that could happen over their next three games when they face the Eagles, Chiefs and Cowboys. The Bills' season could be on life support by the time they finish that brutal stretch. That gauntlet of death starts on Sunday in Philadelphia, which is not great news for a Bills team that has gone 1-4 in games played outside of Buffalo this year.
The upside for the Bills is that they're getting the Eagles at the perfect time. For one, Philadelphia will be coming into this game on a short week after beating the Chiefs on Monday night. Also, after playing Buffalo in Week 12, the Eagles have two key NFC matchups on deck with the 49ers in Week 13 and Cowboys in Week 14. If the Eagles are going to have one letdown spot in that stretch, the Bills' game would seem like the best candidate.
The other thing working in the Bills' favor is that they should be able to throw on the Eagles. Heading into Week 12, the Eagles are surrendering an average of 248.1 pass yards per game, which ranks at 28th in the NFL. If you can throw on Philly's defense, that almost guarantees that you'll be involved in a close game. The Eagles have surrendered at least 250 passing yards in five games this year and all five games were decided by one score (The Eagles defense did hold Patrick Mahomes to 177 yards on Monday, but his receivers also dropped five passes that would have added about 100 yards to his total).
The Bills are going to need a huge game from Josh Allen and most importantly, they're going to need him NOT to turn the ball over. Allen has been a turnover machine this year. If you want to make enough money so that you can retire early, just bet on Allen to throw an interception in a any game. Not only does he lead the league in interceptions with 12, but he's also thrown a pick in SEVEN STRAIGHT GAMES.
There are only three things guaranteed in life: Death, me eating seven pieces of pumpkin pie at Thanksgiving and Josh Allen throwing an interception in a game.
Although Allen doesn't always throw it to the right team, he has been producing touchdowns at an impressive pace this year. He leads the league in passing touchdowns and I think he adds to that total in an upset win over the Eagles. That's right, I'm circling the wagons with the Bills this week.
The pick: Bills 27-24 over Eagles
NFL Week 12 picks: All the rest
Dolphins 24-13 over Jets
Saints 23-20 over Falcons
Bengals 20-17 over Steelers
Titans 19-16 over Panthers
Colts 24-17 over Buccaneers
Patriots 20-13 over Giants
Browns 20-16 over Broncos
Rams 24-16 over Cardinals
Chiefs 27-20 over Raiders
Ravens 31-24 over Chargers
Vikings 24-21 over Bears
Last Week
Best pick: Last week, I predicted that the Broncos would win a thriller over the Vikings and guess what happened? The Broncos won a thriller over the Vikings. I have no idea how the Broncos keep winning, but they do and I'm just going to ride this train until it crashes. If the NFL kept track of ugly wins in a different part of the standings, the Broncos would already have a playoff spot clinched and they'd be the favorite to win the Super Bowl.
Last week, they beat Buffalo because the Bills can't count to 11.
In the Minnesota game, the Vikings lost because they refused to cover Russell Wilson's checkdown receiver a single time in the final five minutes. Wilson hit his checkdown guy four times for 40 yards on a game-winning drive that went 75 yards.
At the rate things are going, the Broncos are going to win this week because the Browns' bus is going to get lost on the way to the stadium. If you are the Browns' bus driver: Please don't get lost on the way to the stadium because I'm picking Cleveland this week .
Worst pick: When it comes to NFL picks, there's no worse feeling than taking the Chargers, because you know there's a 75% chance that the pick is going to backfire in your face in some wildly spectacular way and that's exactly what happened in Week 11. For some reason, the Chargers forgot how to catch a football on Sunday against the Packers, and because of that, they lost. Let's go ahead and take a look at just how bad it was so we can all feel my misery.
In that video alone, there's a fourth down drop, a third down drop, a drop in the end zone and a drop at the end of the game that might have gone for a 70-yard touchdown. Oh, and Austin Ekeler also lost a fumble inside the five-yard line. The Chargers should have won that game 51-23, but they didn't, because they're the Chargers.
Now I know why Brandon Staley was so mad after the game. If I had to coach that team, I'd probably be upset, too.
Finally, if you guys have ever wondered which teams I'm actually good at picking, here's a quick look at my best and worst teams when it comes to picks this year.
Teams I'm 9-1 picking this year (Straight up): Panthers, Jets
Longest winning streak: Jaguars (Five straight wins)
Teams I'm 2-8 picking this year (Straight up): Titans, Texans
Longest losing streak: Falcons (Four straight losses)
Every other team is somewhere in the middle.
Picks Record
Straight up in Week 11: 11-3
SU overall: 101-63 (4-16 picking the Titans and Texans, 97-47 picking everyone else)
Against the spread in Week 11: (6-8)
ATS overall: 78-80-6
---
You can find John Breech on Facebook or Twitter and if he's not doing one of those things, he's probably eating an entire pumpkin pie.