Sports news
NFL Week 11 Power Rankings: C.J. Stroud, Texans way ahead of schedule; top 2 teams set to battle in prime time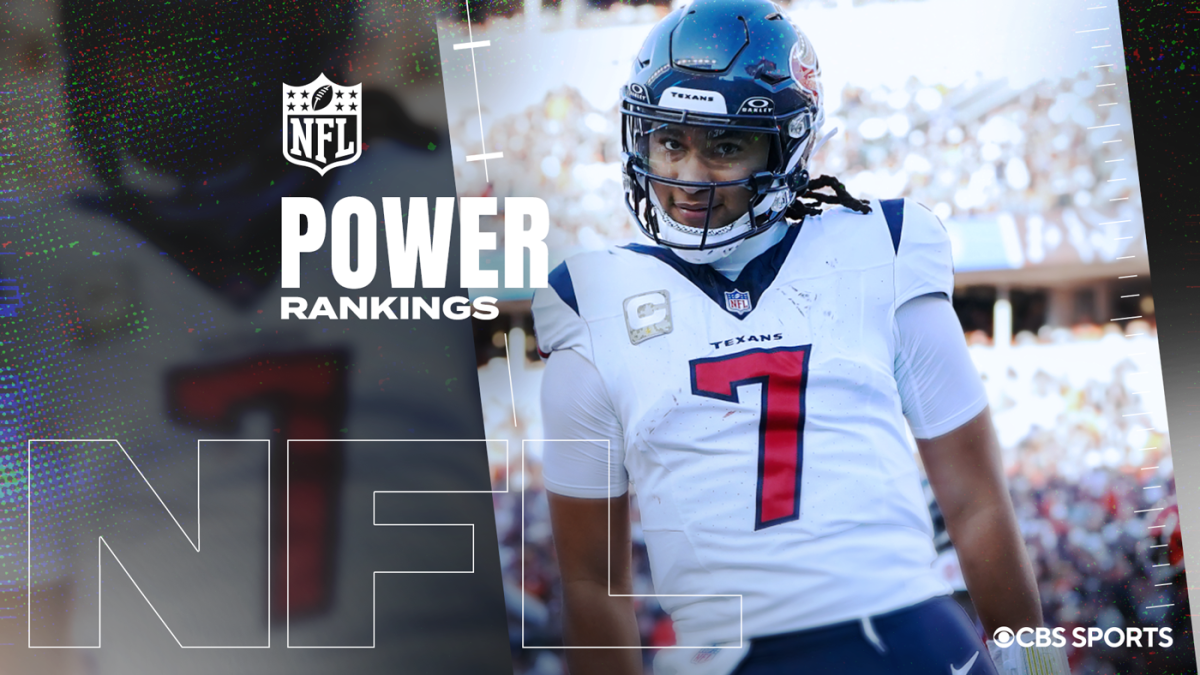 Pete Prisco says Houston, with its sensational rookie QB, is here to stay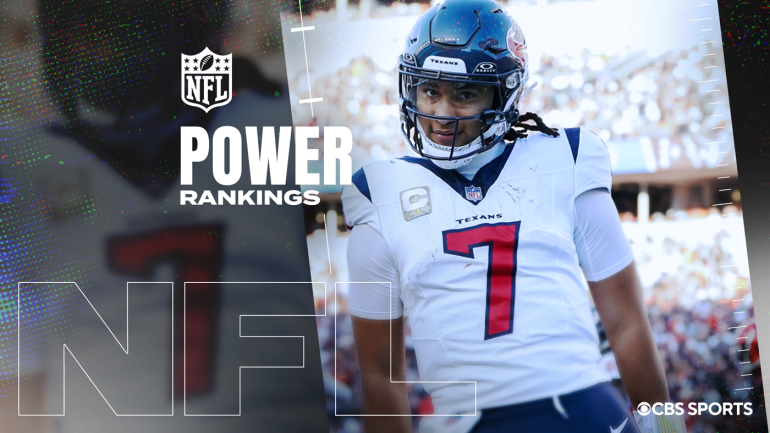 Kim O'Reilly, CBS Sports
When the NFL season started, I thought the Houston Texans would be a young, feisty, tough team with a first-year coach and a rookie quarterback who would win a few games and play tight ones in many of the ones it lost.
Looking back now, that was so misguided.
They are now far more than that, with head coach DeMeco Ryans a candidate to win Coach of the Year and rookie passer C.J. Stroud actually being mentioned in the MVP talks. After beating the Cincinnati Bengals with a game-winning field goal in the final seconds Sunday, the Texans are now 5-4 and one game out of first place in the AFC South. If the playoffs started today, the Texans would be in the party.
Who saw that coming?
Stroud is a big reason why. The second overall pick in the draft last April has far exceeded expectations for a rookie quarterback. In fact, he's been special, rookie or not. He threw for 356 yards and one touchdown against the Bengals, giving him 826 passing yards the past two weeks. He's on pace to throw for nearly 5,000 yards.
The thing that stands out when watching Stroud is that he makes it look so easy. He doesn't flinch. Even when he threw a bad late-game interception to get the Bengals back into the game, he still led the Texans on the game-winning drive in the final minutes. That's two weeks in a row he's done that, which shows how poised he's been this season.
Playing without Nico Collins, he turned to Noah Brown for the big plays. Brown had eight caches for 172 yards and had a big play to set up the game-winning field goal. Earlier this season, Stroud beat the Jacksonville Jaguars with four backup offensive linemen starting in front of him.
The kid is unflappable. That, coupled with an outstanding offensive system led by Bob Slowik and a defense that is getting better by the week, is why the Texans are up to 11th in my Power Rankings. With a soft schedule the next five games, they might be even higher. The only tough game in that stretch would appear to be a home game against the Jaguars on Nov. 26.
The Texans are the surprise team of the league so far, but the best thing is the long-term viability as a true contender is real. The have the right coach, but more than that, they have the right quarterback.
The future, though, might be now.
Biggest Movers
| Rk | Teams | | Chg | Rcrd |
| --- | --- | --- | --- | --- |
| 1 | Eagles | The bye had to come at a good time with Jalen Hurts a bit banged up. Now comes a really tough stretch of games starting Monday against the Chiefs. | — | 8-1-0 |
| 2 | Chiefs | They come off their bye as the top team in the AFC. But they still haven't clicked yet on offense, and now must try and get it going against the Eagles on Monday night. | 2 | 7-2-0 |
| 3 | Lions | The offense was special against the Chargers, but the defense didn't show up. At 7-2, they are in the thick of the chase for the top seed in the NFC. | 3 | 7-2-0 |
| 4 | Cowboys | They took out their loss to the Eagles two weeks ago on the Giants. The Cowboys looked dominant in that game. But it was the Giants. | 3 | 6-3-0 |
| 5 | 49ers | They beat up the Jaguars in every facet of the game. That's the 49ers team we've come to expect. It was a heck of a way to break a three-game losing streak. | 4 | 6-3-0 |
| 6 | Dolphins | They come off the bye with a home game against the Raiders. Let's see if they can get the offense going again now that they are back home. It wasn't good the last time out against the Chiefs. | 2 | 6-3-0 |
| 7 | Browns | That was a big-time comeback victory against the Ravens. Kevin Stefanski has done a nice job keeping this team together. | 6 | 6-3-0 |
| 8 | Ravens | Their four-game winning streak ended in the loss to the Browns. They led by 14 late and lost. Now comes another tough division game against the Bengals. | 6 | 7-3-0 |
| 9 | Seahawks | They didn't look great in edging the Commanders late on Sunday, especially on defense. That unit has to be better. | 2 | 6-3-0 |
| 10 | Jaguars | They have major concerns now for their offense. Trevor Lawrence hasn't been the same guy. Can he snap out of it? | 7 | 6-3-0 |
| 11 | Texans | Their schedule the next five weeks: Home against Arizona, Jacksonville and Denver and then on the road at the Jets and Titans. Here come the Texans. | 6 | 5-4-0 |
| 12 | Bengals | The defense was bad in losing to the Texans. They couldn't stop the run or the pass. That's a bad look as they ready for the Ravens. | 7 | 5-4-0 |
| 13 | Vikings | Josh Dobbs did it again in leading the Vikings to victory over the Saints. The defense has really come on in recent weeks for this 6-4 team. | 1 | 6-4-0 |
| 14 | Steelers | At 6-3, they are one of the surprise teams of the season. But they've lost the yardage battle in every game, which isn't a good sign. | 2 | 6-3-0 |
| 15 | Bills | They are a .500 team heading into the toughest second-half schedule in the league. They just don't look like a playoff team. Could heads roll after the season? | 5 | 5-5-0 |
| 16 | Colts | At 5-5, they are in the division race. They don't win pretty, but they are finding a way. | 2 | 5-5-0 |
| 17 | Saints | The good news is the division is wide open. The bad news is they looked awful in losing to the Vikings and suffered a bunch of injuries. | 3 | 5-5-0 |
| 18 | Raiders | The coaching change has amped up this team. They are 5-5 as they ready for a big game Sunday with Miami. | 5 | 5-5-0 |
| 19 | Chargers | The defense is bad right now, which shouldn't be the case with the supposed stars on that side of the ball and a defensive-minded head coach. They are in a hole now in the playoff chase. | 4 | 4-5-0 |
| 20 | Commanders | That was a tough loss on the road to Seattle, but there was a lot of good. Sam Howell is improving by the week. | 1 | 4-6-0 |
| 21 | Jets | They just don't score enough. That begs this question: Should they have made a move for a veteran quarterback after Aaron Rodgers went down? | 1 | 4-5-0 |
| 22 | Broncos | They are 4-5 and somehow in the playoff chase. That's unreal. Sean Payton has turned this thing around. | 4 | 4-5-0 |
| 23 | Buccaneers | They looked good on defense against Tennessee after that horrible showing against the Texans. They needed it. | 2 | 4-5-0 |
| 24 | Titans | The move to Will Levis didn't pay off against Tampa Bay, but he didn't get much help. They have a lot of issues right now. | 3 | 3-6-0 |
| 25 | Falcons | That was a tough loss on the road to Arizona, but the division is still wide open. At least they got Bijan Robinson involved. | 3 | 4-6-0 |
| 26 | Rams | They come off their bye with a tough division game against Seattle. Matt Stafford is expected to play, and they will need him. | 2 | 3-6-0 |
| 27 | Packers | They had their chances at Pittsburgh Sunday, but just couldn't get it done late. This season is cratering. | 1 | 3-6-0 |
| 28 | Bears | They are showing signs of progress, but it's time to get Justin Fields back on the field to see if he can be the guy in the long run. | 1 | 3-7-0 |
| 29 | Cardinals | Kyler Murray came back and did a lot of good things in his first start back after tearing an ACL last year. They face a tough road game this week against the Texans. | 2 | 2-8-0 |
| 30 | Patriots | This thing is over. The question now is whether Bill Belichick will be around for the rebuild — or whether he should be. | 3 | 2-8-0 |
| 31 | Giants | Will they win another game? Should they? They could land one of the top-2 quarterbacks if they don't. That would be smart. | 1 | 2-8-0 |
| 32 | Panthers | The offense seems to get worse by the week. The design isn't good, the receivers don't win, the line is struggling and Bryce Young looks bad. | — | 1-8-0 |