Sports news
NFL Week 11 odds, expert picks, best bets, teasers, spreads, survivor picks, how to watch, TV, streaming, more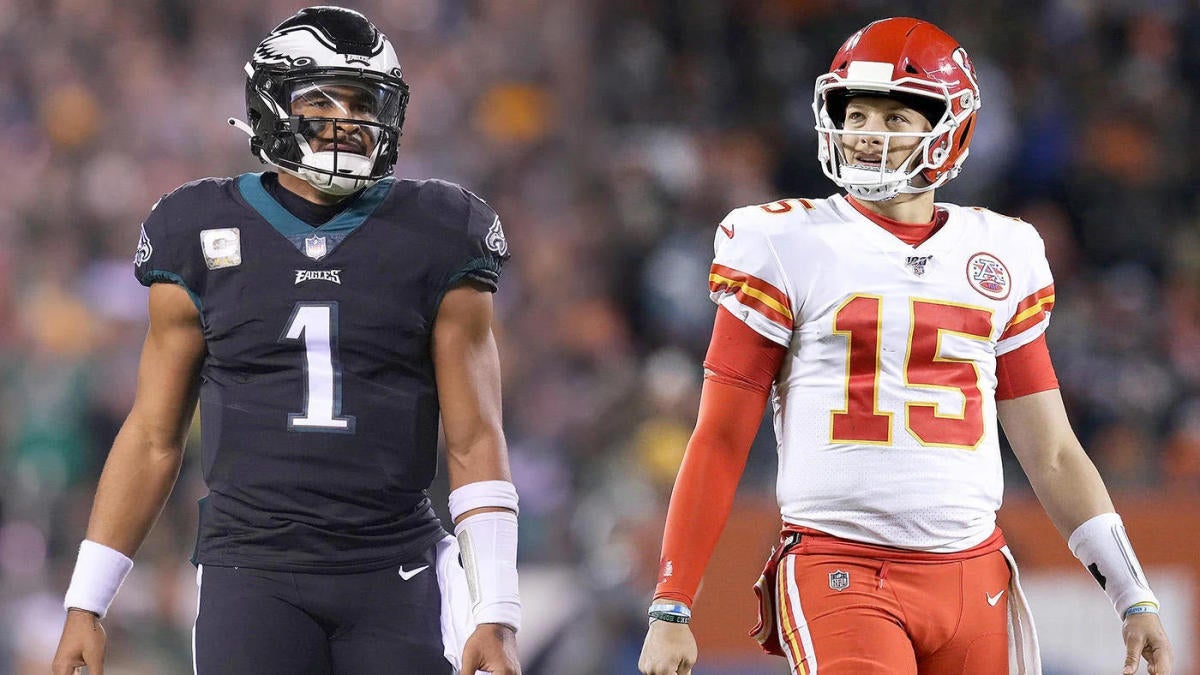 Week 11 kicked off with the Baltimore Ravens defeating the Cincinnati Bengals 34-20, and it's the beginning of what could be another wild week in the NFL. On Sunday, the Cleveland Browns begin life without Deshaun Watson, C.J. Stroud looks to build on his budding MVP campaign and Zach Wilson's Jets look to sweep the season series with the Buffalo Bills. Then on Monday night, we get a Super Bowl rematch between the Philadelphia Eagles and Kansas City Chiefs.
As we do every week, we've collected all of the best picks and gambling content from CBSSports.com and SportsLine and put them in one place, so you can get picks against the spread from our CBS Sports experts as well as additional feature content for each game, including plays from top SportsLine experts and the SportsLine Projection Model, best bets from our staff, survivor picks and more. Ready? Let's jump in.
All NFL odds via SportsLine consensus odds.
Which picks can you make with confidence in Week 11? And which Super Bowl contender goes down hard? Visit SportsLine, as its incredible model simulates every NFL game 10,000 times and is well over $7,000 for $100 players on top-rated NFL picks since its inception.
Arizona Cardinals at Houston Texans

Time: Sunday, 1 p.m. ET (CBS), stream on Paramount+ (click here)
Open: Texans -3.5, O/U 46.5
Featured Game | Houston Texans vs. Arizona Cardinals
"It's not easy for a rookie to win MVP, but it feels like Stroud is now in the conversation after leading a game-winning drive in each of the past two weeks. If Stroud were somehow able to win MVP this year, it would be historical. You can count on one hand how many times a rookie has won the MVP. Actually, you can count on one finger. Jim Brown is the only rookie to have won the award. He did it in 1957, and since then, only one rookie has even finished in the top-3 of voting over the past 35 years (Randy Moss in 1998).
"Stroud is doing things that rookies almost never do. Not only is he putting up huge numbers, but he's not making very many mistakes. With 2,626 passing yards and just two interceptions, Stroud has the fourth-most passing yards in NFL history by a QB with two or fewer interceptions through 9 games (And we're not talking about just rookies here, we're talking about every NFL QB ever).
"The Texans rookie QB has also been clutch. Not only has he led two game-winning drives over the past two weeks, but over the course of the season, he's thrown for 306 yards and three touchdowns with zero interceptions in the fourth quarter of Houston's one-score games this year.
"As good as Stroud has been, he's going to get a test this week from a Cardinals defense that has been surprisingly good against the pass. The Cardinals offense also just got a boost with the return of Kyler Murray in Week 10. The offense also got a boost because the Cardinals remembered you're allowed to throw the ball to your tight end (Trey McBride finished with 131 yards in Week 10, becoming the first Cardinals tight end to hit the 100-yard mark SINCE 1989).
"The Texans lost to the Panthers two weeks ago, so an upset here against a frisky Cardinals team wouldn't be a total shock, but I'll say they win thanks to another game-winning drive from Stroud."
John Breech has the Cardinals covering the spread against the surging Texans. To check out all his Week 11 picks, click here.
Chicago Bears at Detroit Lions
Time: Sunday, 1 p.m. ET (FOX), stream on fubo (try for free)
Open: Lions -8.5, O/U 45.5
Featured Game | Detroit Lions vs. Chicago Bears
"This line has dropped into teaser range with the news that Justin Fields is expected back, and his return should likely cause the Lions to take this game more seriously than they may have otherwise. I still worry a bit about the lookahead spot for Detroit with the Thanksgiving game on tap, but they should still be able to win this game when all is said and done."
NFL expert R.J. White suggests teasing the Lions down this week. To check out his other Week 11 teaser legs, head on over to SportsLine.
Dallas Cowboys at Carolina Panthers
Time: Sunday, 1 p.m. ET (FOX), stream on fubo (try for free)
Open: Cowboys -9, O/U 40.5
Featured Game | Carolina Panthers vs. Dallas Cowboys
"This line is inflated off of Dallas' destruction of Tommy DeVito. Carolina's offense is bad, but not as bad as that offense we saw last week. Defense actually playing well, four touchdowns allowed in their last three games. Dallas averaging 17 points in their last four on the road. They can win in a blowout if they're focused, but again, sleepy spot. Road game against that awful Arizona team, it was the same situation, they didn't have to take them serious and they lost that game by double digits. Then you point out double-digit home dogs are 29-1 against the spread in the last 30, and then this year, road favorites of seven-plus are 0-7-2 against the spread. It's just not a great spot for the Cowboys."
That's R.J. White's take from the Pick Six Podcast, where he, Will Brinson, Katie Mox and Alex "PropStarz" Selesnick broke down every game on the slate, and gave out best bets. Listen below and be sure to subscribe for the best NFL content you can find.
Los Angeles Chargers at Green Bay Packers
Time: Sunday, 1 p.m. ET (FOX), stream on fubo (try for free)
Open: Chargers -3, O/U 41.5
Featured Game | Green Bay Packers vs. Los Angeles Chargers
CBS Sports Fantasy and gambling editor R.J. White has twice cashed big in the world's most prestigious handicapping tournament, the Westgate Las Vegas SuperContest. His Vegas content picks are 376-290-24 (56.5 percent). And he shares those five weekly picks on SportsLine. We can tell you he's leaning in favor of the Packers, but you'll wanna head over to SportsLine for a complete breakdown of his Week 11 contest picks. Here's a sneak peek:
"The Chargers defense folded against a good offense last week as expected, and though this week's matchup should be much easier, the Packers did average 6.1 yards per play in Pittsburgh with Jordan Love hitting several 30-plus yard passes. He then gave the game away at the end with a pair of interceptions, but it was overall a solid step forward. The Packers secondary was beat up for that game, and if they have better health here, it will make defending the one-WR offense of the Chargers easier. I believe the market is wildly overrating the Chargers still, and when you throw in the Packers' top-tier home-field advantage, this line should be well south of 3."
Las Vegas Raiders at Miami Dolphins
Time: Sunday, 1 p.m. ET (CBS), stream on Paramount+ (click here)
Open: Dolphins -9.5, O/U 48
Featured Game | Miami Dolphins vs. Las Vegas Raiders
"I'm going to try not to think too hard about this. The Dolphins are 4-0 SU and ATS at home this season, AND 3-0 ATS as double-digit favorites under Mike McDaniel. The Dolphins are also coming off of their bye week while the Raiders are on the road. Miami is 6-1 ATS in its last seven games following its bye week.
"If you take away the Dolphins' absurd 50-point victory against the Denver Broncos earlier this year, Miami is still winning its home games by an average of 16.6 points."
Jordan Dajani likes the Dolphins to destroy the Raiders on Sunday. To read his Week 11 column, click here.
New York Giants at Washington Commanders
Time: Sunday, 1 p.m. ET (FOX), stream on fubo (try for free)
Open: Commanders -7.5, O/U 36.5
Featured Game | Washington Commanders vs. New York Giants
"Enough people likely have the Commanders remaining in their pool of available options that I expect them to be the top play in any survivor format this week, especially after the Giants offense showed zero life against the Cowboys as expected. My worry is that the Washington defense is the furthest thing from the Dallas defense, and there's certainly a world where they give up 20-plus points to this Giants team and a healthier New York defense helps deliver the upset. It may involve Tommy DeVito getting benched for Matt Barkley, either during the week of practice or in game, or it may involve Saquon Barkley rolling for 200 yards, but anything is on the table with this poor defensive unit.
"The benefit to using the Commanders now if you have them is that there will be no other weeks in which it's a good idea moving forward. They're at the Cowboys on Thanksgiving, then they host the Dolphins before a Week 13 bye. After the bye, they have road games against the Rams and Jets before closing the season by hosting the 49ers and Cowboys. But if you do pass on them, it's possible the Cowboys will be resting players for that Week 18 game if the division is out of reach, so the Commanders may make for a sneaky good play in that matchup. It's hard to project that this far out, but at least that gives you one reason to save them."
NFL expert R.J. White lists the Commanders as a good survivor pick this week, but they aren't the only team he's considering. To read his Week 11 survivor pool strategy column, head on over to SportsLine.
Pittsburgh Steelers at Cleveland Browns
Time: Sunday, 1 p.m. ET (CBS), stream on Paramount+ (click here)
Open: Browns -4.5, O/U 38
Featured Game | Cleveland Browns vs. Pittsburgh Steelers
"This line will keep falling with Deshaun Watson out for the season. I liked Pittsburgh on the money line even if he was playing. I was hoping Watson would get cleared and the value would keep growing on Pittsburgh. This was a bad matchup even for a banged-up Watson and P.J. Walker (actually Dorian Thompson-Robinson) will have no shot against this defense. It will be a race to 40 rushes, and if the Steelers can build a two-score lead, bank on another defensive score from Pittsburgh. Mike Tomlin owns the Browns. The Steelers have been awesome straight up as a road dog (five straight wins), and they beat Browns in the first meeting of the season. This might be closer to a pick 'em by the weekend. The Pittsburgh defense is too much for the Cleveland offense. The Steelers have found a running game with Jaylen Warren leading the way. The Browns have worst the QB production in the NFL and are without their top two or three tackles against T.J. Watt and the elite pass rush. The Steelers are on a 4-0 run vs. the AFC North, and a Browns team that is 30th in yards per play and 27th on third down will sputter badly here. The Browns haven't won three in a row since the start of 2021 season. Browns QBs have been sacked 13 times in their last two games vs. the Steelers. Don't get fooled by what they did in Baltimore; the injuries will be a major factor Sunday."
NFL insider Jason La Canfora likes the Steelers on the moneyline this week. To read his best bets for Week 11, head on over to SportsLine.
Tennessee Titans at Jacksonville Jaguars
Time: Sunday, 1 p.m. ET (CBS), stream on Paramount+ (click here)
Open: Jaguars -6, O/U 40.5
Featured Game | Jacksonville Jaguars vs. Tennessee Titans
"Trevor Lawrence and the Jaguars were downright bad in Week 10. The offense couldn't move the ball against San Francisco and Lawrence wilted with three turnovers. That said, this is a good bounce-back opportunity for Jacksonville. The Titans also suffered a blowout loss in Week 10, but I think that's more who they are with a rookie quarterback under center in Will Levis than being a team that simply laid an egg. In his last two starts, Levis is 0-2 and has thrown zero touchdowns with two interceptions, and is completing just 52.6% of his passes. The Jaguars defense — which has played well for most of this season — should be able to contain Levis rather easily. Meanwhile, Lawrence has dominated AFC South opponents as of late. He's 5-1 against his division rivals and his teams are averaging 28.7 points in those games. If Jacksonville sniffs that point total, I don't see how Tennessee meets them there. The Titans have also failed to cover in five straight games outside of Nissan Stadium."
Tyler Sullivan likes the Jaguars to bounce back after their terrible showing at home in Week 10. To check out his Week 11 picks, click here.
Tampa Bay Buccaneers at San Francisco 49ers

Time: Sunday, 4:05 p.m. ET (FOX), stream on fubo (try for free)
Open: 49ers -10, O/U 42.5
Featured Game | San Francisco 49ers vs. Tampa Bay Buccaneers
"This is a long trip for the Bucs against a team that is coming off an impressive blowout of the Jaguars. Tampa Bay's offense will struggle here against a good 49ers defense that is even better with Chase Young. Brock Purdy has a big day. San Francisco big."
CBS Sports Senior Writer Pete Prisco isn't afraid to lay the big number with San Francisco. To read his breakdown of every game this weekend, click here.
New York Jets at Buffalo Bills
Time: Sunday, 4:25 p.m. ET (CBS), stream on Paramount+ (click here)
Open: Bills -7, O/U 40.5
Featured Game | Buffalo Bills vs. New York Jets
"Two struggling AFC East teams face off in Buffalo this week. I'll take the home favorite with revenge on the mind. Remember, the Jets beat the Bills in overtime in the season opener.
"New York had a players-only meeting this week to voice frustrations internally, while the Bills fired offensive coordinator Ken Dorsey after a gross showing vs. Denver. Which squad is going to come together, and which one will further fall apart?
"The Bills offense has turnover issues and Josh Allen needs to get Stefon Diggs the ball more often, but Buffalo is still top eight in the league in scoring. The Jets' scoring offense on the other hand ranks in the bottom three, and their issues are more serious. The Jets have gone 11 quarters, 36 offensive drives and 186 plays from scrimmage without scoring a touchdown. Yikes.
"The 5-5 Bills are 4-1 in Buffalo this season, and are 4-0 SU and 3-1 ATS in their last four games following back-to-back losses. This is not a small number, but I don't have any faith in the Jets."
Jordan Dajani likes the Bills to rebound at home vs. a divisional opponent this week. To read his Week 11 column, click here.
Seattle Seahawks at Los Angeles Rams
Time: Sunday, 4:25 p.m. ET (CBS), stream on Paramount+ (click here)
Open: Seahawks -2.5, O/U 44
Featured Game | Los Angeles Rams vs. Seattle Seahawks
"The formula for Los Angeles is as simple as this: when Matthew Stafford plays, this team is good. When he doesn't, this team is bad. Stafford is back now and the Rams are a one-point dog at home to a very good Seahawks team, but a Seahawks team that the Rams have been good against since Sean McVay took over. Aaron Donald is still Aaron Donald and he'll create problems for Geno Smith. Stafford and McVay know this game is critical to keeping any playoff hopes alive. The Seahawks, at 6-3, look locked into a playoff spot. The Rams, at 3-6, are being counted out. But the Rams have 4-5 very winnable games left on their schedule. If they can pull off a small upset at home in Week 11, the postseason is very much back on the table."
CBS Sports Senior NFL Writer Will Brinson has made the Rams a best bet in Week 11. To check out his picks this week, click here.
Minnesota Vikings at Denver Broncos

Time: Sunday, 8:20 p.m. ET (NBC), stream on fubo (try for free)
Open: Broncos -2.5, O/U 43
Featured Game | Denver Broncos vs. Minnesota Vikings
Before you make any Vikings vs. Broncos picks or NFL parlays, you need to see what SportsLine senior analyst Larry Hartstein has to say, considering his mastery of picks involving Minnesota.
A former lead writer for Covers and The Linemakers, Hartstein combines a vast network of Vegas sources with an analytical approach he honed working for Pro Football Focus. Hartstein tied for 52nd place (out of 1,598 entries) in the 2022 Westgate Las Vegas SuperContest, going 53-34-3 against-the-spread. Those selections form the basis of his SportsLine NFL best bets, which are 53-39-1 ATS since the start of last season. Hartstein has a read on the pulse of the Vikings. In fact, he is 36-17-2 (+1720) on his last 55 against-the-spread picks in games involving Minnesota.
We can tell you he's leaning Under the point total, but to check out his official against-the-spread pick, head on over to SportsLine.
Philadelphia Eagles at Kansas City Chiefs
Time: Monday, 8:15 p.m. ET (ESPN), stream on fubo (try for free)
Open: Chiefs -3.5, O/U 50.5
Featured Game | Kansas City Chiefs vs. Philadelphia Eagles
"This is the game of the week, a rematch of last February's Super Bowl. The Chiefs won that won, despite an amazing game by Philadelphia quarterback Jalen Hurts. He hasn't looked healthy this season. The Chiefs defense is playing really good football. That will be the difference as they slow down the Eagles offense. Patrick Mahomes wins this battle again."
That's Pete Prisco's take on Monday's massive Eagles-Chiefs showdown; you can see all of Pete's picks here.
Before you make any Eagles vs. Chiefs picks or any other NFL predictions, you need to see which side Emory Hunt is on.
Hunt is the founder and CEO of Football Gameplan, which has been supplying analysis of all levels of football since 2007. He is a former running back for the Louisiana Ragin' Cajuns and knows the game from a player's perspective. Hunt's dedication to analysis of all levels of college and professional football helped him finish 48-38 on all XFL and USFL spread picks in 2023, and he's off to a 49-35-1 start in the CFL this year. Hunt has a read on the pulse of the Eagles. In fact, he is a blistering 40-25-1 (+1141) on his last 66 picks in games involving Philadelphia!
We can tell you he's leaning Under the total, but to see his official pick, head on over to SportsLine.