Sports news
NFL Week 10 bold predictions: C.J. Stroud ends Bengals' win streak, Falcons feed Bijan Robinson on goal line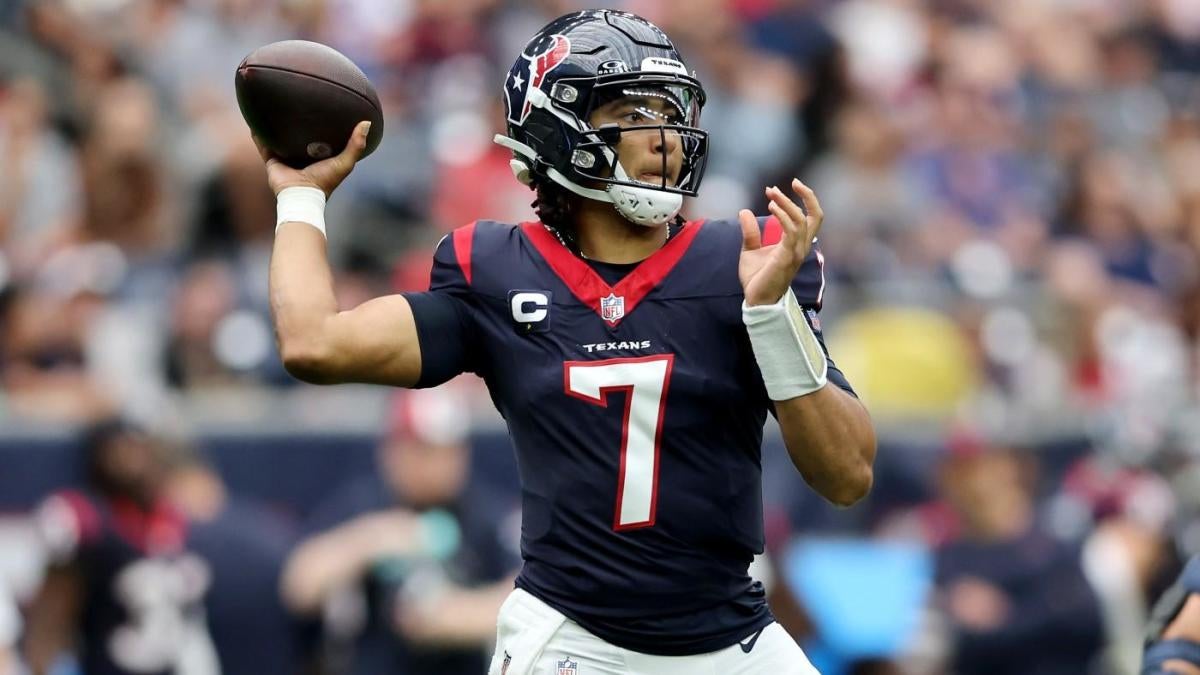 Week 10 of the 2023 NFL season is underway, and the only big surprise in the Bears' 16-13 win over the visiting Carolina Panthers on "Thursday Night Football" was that the game didn't go overtime. Panthers kicker Eddy Pineiro's 59-yard field goal attempt with 1:40 left in the game looked as if it was going to sneak through the upright, but the football knuckled too far to the left at the very end of the ball's trajectory.
Since anything can happen when it comes to the NFL, what's next you ask? Well, here are five bold predictions for this weekend's Week 10 slate.
Texans snap Bengals' four-game winning streak
The midseason NFL Offensive Rookie of the Year is hands down, without a doubt Houston Texans quarterback C.J. Stroud, the second overall pick of the 2023 NFL Draft. Stroud threw for 470 passing yards and five touchdown passes on 30 of 42 passing Sunday in the Texans' 39-37 Week 9 victory over the Tampa Bay Buccaneers, a performance that put him in sole possession or as a co-owner of multiple NFL rookie milestones. That made him the NFL single-game, rookie record-holder for the most passing yards in a game, and he also joined Ben Roethlisberger (2014) and Pro Football Hall of Famer Y.A. Tittle (1962) as the only players in NFL history with 470 or more passing yards, five passing touchdowns and no interceptions in a single game.
His next rookie milestone will be halting the Cincinnati Bengals' four-game winning streak with a stunning road win back in the state of his college home, Ohio State. Stroud isn't some one-week wonder either, he's been letting it rip all season. His 8.5 air yards per pass attempt are the fifth-most in the NFL entering Week 10, his 14-1 touchdown-to interception ratio leads the NFL entering Week 10 and his 102.9 passer rating is the fourth-highest in the league entering Week 10.
The Bengals were able to hold on for a 24-18 win in Week 9 against the Buffalo Bills thanks to winning the turnover battle as their defense forced Josh Allen into an interception while also adding another takeaway on a fumble by rookie tight end Dalton Kincaid. The Texans are the cleanest offense in the NFL: their five giveaways this season are the fewest in the NFL meaning they won't be as prone to those types of mistakes. Sure, Bengals quarterback Joe Burrow's 111.2 passer rating is the highest in the league during Cincy's four-game winning streak since Week 4 as he has thrown 10 touchdowns and only two interceptions while completing 75.8% of his passes. However, if he attempts to squeeze a pass wide receiver Ja'Marr Chase's way with Tee Higgins expected to miss Week 10 with a hamstring injury, Houston could steal not only a takeaway but also a victory.
Titans end eight-game road losing streak
Not too much has gone right for the Tennessee Titans since Week 12 of the 2022 season, their first defeat of what would be seven in a row to conclude that campaign with a 7-10 record. Overall since that game, the Titans have lost 12 of their last 15 games, including their last eight on the road — five of which have come this season. Their road misfortunes will turn around against the Tampa Bay Buccaneers in Week 10.
The Buccaneers are on a four-game losing streak themselves right now, a stretch in which their 24.8 points per game allowed since Week 6 rank as the fourth-most allowed in the NFL while their 426.0 total yards per game in this stretch are the most in the NFL. All four opposing quarterbacks they have faced during this run of defensive futility — Jared Goff, Desmond Ridder, Josh Allen and C.J. Stroud — have thrown for 250 or more yards while averaging eight or more yards per pass attempt, a figure that would rank inside the top five for an entire season. Titans rookie starting quarterback Will Levis, a second-round pick in the 2023 NFL Draft, follows in his draft classmate Stroud's footsteps and shreds Tampa Bay's secondary, powering Tennessee to its first road win in nine games.
The Atlanta Falcons made rookie running back Bijan Robinson the eighth overall pick in the 2023 NFL Draft, a draft slot that would indicate a team has huge plans to utilize the running back ASAP. That hasn't always been the case in 2023: his 131 touches rank 16th in the NFL, but he hasn't been a huge part of the offense lately.
Robinson only has 25 touches over the last three games, two of which were losses including a 31-28 home defeat against the Minnesota Vikings, who were forced to insert quarterback Joshua Dobbs into the game even though he didn't know the playbook after joining them at the trade deadline a few days earlier. That figure simply doesn't make sense given Robinson's 5 yards per carry rank as the sixth-best in the NFL while his 35 tackles avoided are the fifth-best in the league.
It feels like Falcons head coach and offensive play-caller Arthur Smith is gaslighting the football world about Robinson's usage saying Monday, "sometimes his impact away from the ball can open things up. For any rookie, the seasons are long. You're going to have ebbs and flows. He still has a huge impact on the game."
Robinson's impact this week increases against the 1-8 Arizona Cardinals. It just has to, and Atlanta should be able to move the football. He only has one goal line carry this season, and on Sunday, Robinson will have multiple goal line carries and his first goal line touchdown.
The NFL's longest active streak with a sack doesn't belong to Myles Garrett, Micah Parsons or T.J. Watt. It belongs to second-year Seattle Seahawks edge rusher Boye Mafe, a 2022 second-round pick out of Minnesota. His streak is also tied for the longest sack streak in team history, along with Michael Sinclair's six straight games with a sack across the 1997-1998 seasons. Mafe has the fortune of facing Washington Commanders first-time starting quarterback Sam Howell in Week 10, the NFL leader in pass attempts (353) and sacks taken (44).
However, Howell has now become more accustomed to passing while being pressured as he leads the NFL in passing yards when pressured (262) in the last two weeks. The bold prediction here is Howell gets the ball off quickly enough while under pressure to avoid being sacked by Mafe.
San Francisco 49ers Pro Bowl running back Christian McCaffrey has scored a touchdown in 17 consecutive games, tied for the longest streak in NFL history. Philadelphia Eagles wide receiver A.J. Brown has the most games with over 100 yards this season with six. What he, McCaffrey and Denver Broncos wide receiver Courtland Sutton all have in common is hauling in a receiving touchdown in each of the last three games, tied for the longest active streak in the NFL. He's facing a Bills defense that got shredded by Joe Burrow and Tee Higgins a week ago. Sutton's six receiving touchdown this season are two more than the four he had in 2021 and 2022 combined.
Bold prediction here is Sutton keeps that NFL-best receiving touchdown streak going in Week 10 against a normally stout Bills defense.