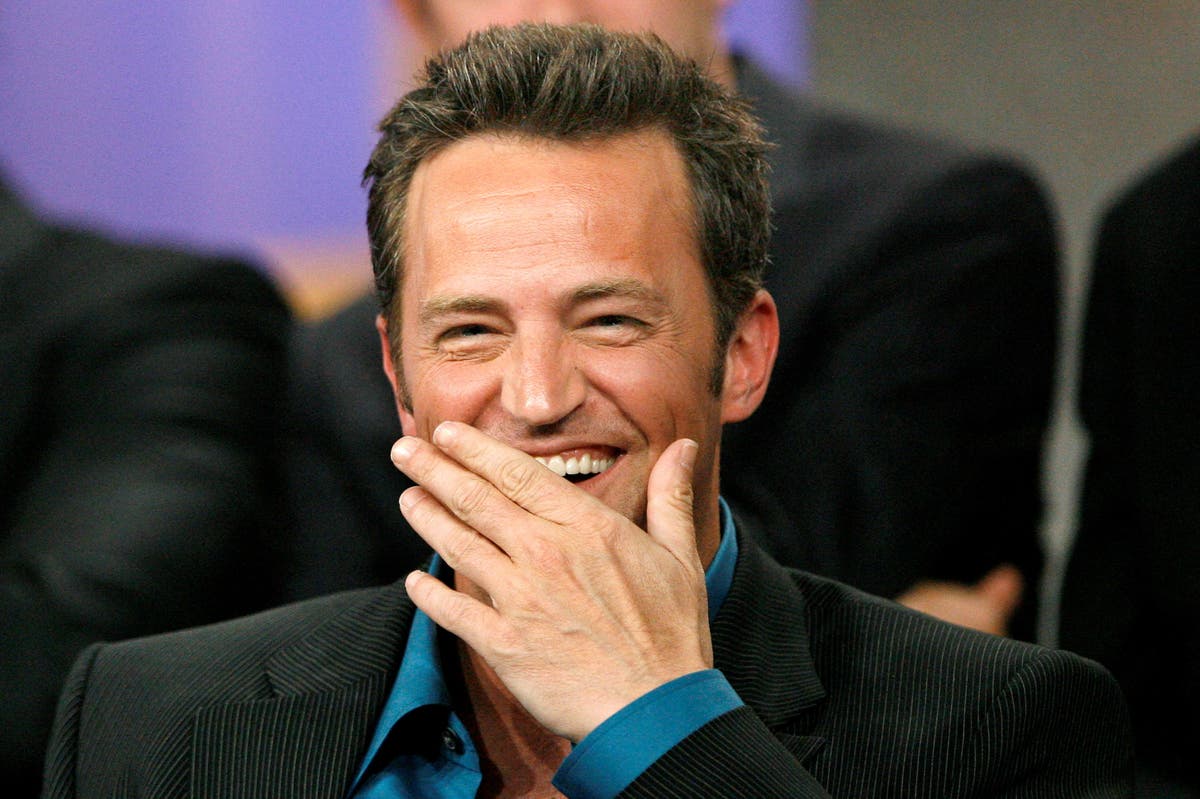 Sign up to our free IndyArts newsletter for all the latest entertainment news and reviews
Sign up to our free IndyArts newsletter

After struggling to fall asleep on Saturday night, Shaun Hedden did what many people do on insomnia-riddled evenings: he put on Friends.
Mr Hedden, 41, grew up watching the show. He developed a particular fondness for Matthew Perry, both for his comic timing and their shared experience with substance use addiction. Perry's shock death at 54 devastated him.
"I really wanted the chance to go to a book signing and shake his hand and thank him because his book definitely kept me sober," Mr Hedden told The Independent.
For two decades, Perry spoke openly about his experiences with substance use disorder, and worked to help others looking to recover. Since his death, a viral mishmash of quotes from Perry has been shared online amongst fans, showing his hopes that he'd be remembered more for his work combating the stigma of addiction than for his role on Friends.
"I've had a lot of ups and downs in my life and a lot of wonderful accolades," Perry said in a 2015 interview with The Hollywood Reporter, "but the best thing about me is that if an alcoholic comes up to me and says, 'Will you help me stop drinking?' I will say, 'Yes. I know how to do that.' "
His brutally honest 2022 memoir, Friends, Lovers, and the Big Terrible Thing, detailed his sobriety and relapses with substance abuse.
"I wanted to share when I was safe from going into the dark side of everything again," Perry told People ahead of the book's release. "And the main thing was, I was pretty certain that it would help people."
And it did.
Mr Hedden, who has been sober since 2006, said that around this time last year, he was going through a "rough stretch" of his recovery when he decided to pick up Perry's memoir and read it in one sitting.
Reading Perry's words made Mr Hedden feel inspired to keep going to Alcoholics Anonymous (AA) meetings and working on himself.
Access unlimited streaming of movies and TV shows with Amazon Prime Video
Sign up now for a 30-day free trial
Access unlimited streaming of movies and TV shows with Amazon Prime Video
Sign up now for a 30-day free trial
"His openness and honesty really impacted me," Mr Hedden said.
He's not alone. Many fans online have shared stories of Perry's openness helping them.
One 28-year-old woman, who asked to remain anonymous, told The Independent that when she was admitted to a hospital last year after overdosing, Perry's book helped her understand and accept substance use disorder.
Prior to her hospitalisation, she said she would not have considered herself someone with an addiction issue.
"When I was first admitted, I thought that I was so different to everyone else who had been admitted," she said. "I have a degree, I have a job, I'm a teacher, I'm well-respected within the community – I just slipped up."
A friend gave her Perry's memoir knowing she was a fan of Friends. She read it in the days after her overdose while recovering in the hospital and said it made her feel "seen" and "heard".
Specifically, she felt comforted when Perry spoke about relapsing, which although a common part of recovery, is also somewhat of a taboo.
"When you get admitted for an overdose, they overload you with pamphlets and information about percentages of relapse and they remind you so frequently that relapse is a part of recovery," she said.
Feeling like the constant reminders were serving as a prediction, she wondered if recovery was pointless until reading Perry's book.
"Hearing the story of someone who continually got up over and over again was very, very reassuring and very healing," she said.
In 2013, Perry turned a home he owned in Malibu into Perry House, a sober living facility for men. He also campaigned for people arrested for non-violent drug offences to be offered treatment instead of being imprisoned.
Following Perry's death, William C Moyers, the Vice President of Public Affairs and community relations for Hazelden Betty Ford—where Perry received treatment in 1997—praised Perry's role in offering a frank portrayal of addiction.
"In the end Matthew's legacy is his recovery and how he turned the adversity of his own life's struggles into the opportunity to inspire others never to give up, to get up and keep striving a step at a time and a day at a time," Mr Moyers told The Independent.
He praised Perry for inspiring "thousands of people like us to never give up, to keep coming back and he proved that recovery is not a destination, it is an imperfect journey."
Also in 2013, Perry's advocacy work earned him a Champion of Recovery award from the Office of National Drug Control Policy, a branch of the Executive Office of the President.
In a blog post that appeared on the White House website, per The Hollywood Reporter, Perry spoke out against people who suffer from substance use disorders being sent to prison. "Many of these individuals require treatment, not a jail cell, and drug courts provide them a means of getting the treatment they need," he wrote.
Famously, Perry defended the use of drug courts in a heated debate with conservative tabloid columnist Peter Hitchens, who claimed addiction was a choice, not a disease.
"You're making a point that is as ludicrous as saying Peter Pan is real," Perry told Hitchens.
Two years later, Phoenix House, a treatment centre, also recognized Perry's efforts with the Phoenix Rising Award. Perry explained that he had toured a part of Phoenix House aimed at young people with substance use disorders, and that he had "hope on the faces of the kids."
"I shouldn't be getting an award," he told The Hollywood Reporter at the time. "Phoenix House should be getting an award."
In the wake of Perry's death, Alice Gleghorn, President, and Chief Executive Officer of Phoenix House California, praised Perry's advocacy work, calling his passing "a profound loss to the recovery community".
"The stigma attached to drug addiction continues to be a key barrier to people who need help and treatment for substance use disorders," Ms Gleghorn told The Independent. "Matthew Perry's struggles were public due to his career, but he showed incredible courage in openly sharing his recovery journey for the benefit of others."
Perry's impact is palpable. The day after he died, Mr Hedden said he was the talk of his AA meeting.
"We're taught in AA that when the hand of addiction reaches out anywhere, we're responsible for helping people," Mr Hedden said.
"I wish I could thank Matt for helping me."
If you or someone you know is suffering from drug addiction, you can seek confidential help and support 24-7 from Frank, by calling 0300 123 6600, texting 82111, sending an email or visiting their website here.
In the US, the Substance Abuse and Mental Health Services Administration can be reached at 1-800-662-HELP.