Entertainment
Matthew Perry remembered: Friends, colleagues and fans react to death of beloved actor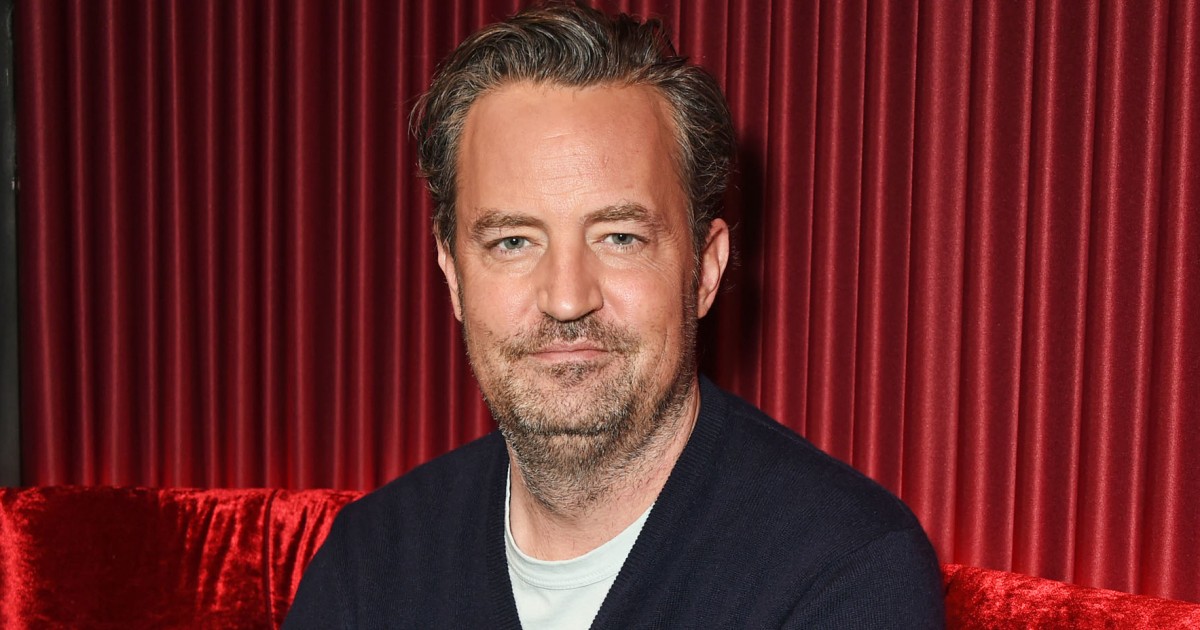 News of the death of actor Matthew Perry on Saturday night triggered an immediate outpouring of shock and grief.
Best remembered for his now-iconic role as Chandler Bing on beloved '90s sitcom "Friends," Perry was found dead on Saturday of an apparent drowning at his Pacific Palisades home. He was 54.
There was no indication of foul play and no confirmed cause of death, a law enforcement source told NBC News. An investigation is ongoing.
The massive success of "Friends" and Perry's indelible performance as the sweetly sarcastic Chandler earned him a legion of admirers. He also garnered admiration for publicly discussing his struggles with drug and alcohol addiction.
Fans of the iconic show gathered outside the Grove Street building in New York City that was used as the exterior for the famed "Friends" apartment building.
Yessy Gutierrez was at dinner when news broke about Perry's death and left to go to the building. She's spent many sleepless nights watching "Friends" over the past few years.
"He really fought to have a great life, and so it's kind of sad that he made it out on the other side and he passed away," Gutierrez told NBC New York.
A 50-year resident of Grove Street, Richard Weigle has seen "Friends" fans flock to the apartment building and decided to walk the half a block with his husband to light a candle for Perry.
"We're in our 70s, so when you're 54 it's so young," Weigle said. "We just look at it as such a tragedy. He had so much more to give and so much more life to live. And he's been through a lot. It's just sad."
Notable public figures of all stripes paid tribute.
Canadian Prime Minister Justin Trudeau called Perry's death "shocking and saddening." Perry's mother, Suzanne, served as press secretary for Trudeau's father during his time as prime minister.
"I'll never forget the schoolyard games we used to play, and I know people around the world are never going to forget the joy he brought them," Trudeau wrote on X. "Thanks for all the laughs, Matthew. You were loved — and you will be missed."
Actor Michael Rappaport — who had a recurring role on "Friends" as Gary, one of Phoebe's boyfriends — said on X that Perry was "so nice, cool, chill & talented. You are a part of American Culture and will live on forever."
Maggie Wheeler, who played Chandler's girlfriend Janice, posted a tribute to Perry on Instagram.
"What a loss. The world will miss you Mathew Perry," Wheeler wrote. "The joy you brought to so many in your too short lifetime will live on. I feel so very blessed by every creative moment we shared."
Soap opera star Morgan Fairchild guest starred as Perry's mother on "Friends." She wrote on X that she was "heartbroken" over Perry's untimely death.
"The loss of such a brilliant young actor is a shock," Fairchild said. "I'm sending love & condolences to his friends & family."
The official "Friends" Instagram account posted that it was devastated to learn of Perry's death. "He was a true gift to us all," it said.
Actor Selma Blair posted a selfie of her and Perry to her Instagram, calling him her "oldest boy friend."
"I loved him unconditionally. And he me," Blair captioned the photo. "And I'm broken."
Castmates from Perry's sitcom series, "The Odd Couple," also shared tributes. Actor Thomas Lennon called Perry "the best shoulder to lean on."
Yvette Nicole Brown said in a post on X that the show's family had suffered a great loss.
"The entire entertainment world has," Brown wrote. "I am too sad about the news to say more than this: @mattyperry4 was a sweetheart who deserved more peace in this life. 54 is too young to go."
Wendell Pierce, who also starred on the show, said Perry was "my boss, my colleague, and a giving, kind, funny man."
"I pray and hope he is at peace," Pierce said.
Actor Rumer Willis, daughter of Bruce Willis — who costarred with Perry in the movies "The Whole Nine Yards" and "The Whole Ten Yards" — wrote on Instagram: "I'm so sad to hear about Matthew Perry passing. When I was a kid and I was on set … he was so kind and funny and sweet with my sisters and me … I know he had many challenges in his life and brought a lot of joy to people with his comedy. I hope he can rest peacefully."
Actor Olivia Munn wrote on Instagram, "He struggle so much with addiction and was brave enough to be open and honest about it. I'm so sorry to his family and friends who are getting this news today. Nothing short of heartbreaking. Rest in love, Matthew Perry."
Former NFL quarterback Robert Griffin III said on X, "Matthew Perry was more than Chandler Bing. He was what made Friends go. Sad to hear of his passing, but thankful for the memories he gave us. Rest in Peace."
Gavon is a breaking news editor for NBC News Digital.
Doha Madani is a senior breaking news reporter for NBC News. Pronouns: she/her.