Technology news
Google Maps Gains Immersive View for Routes and Other AI Features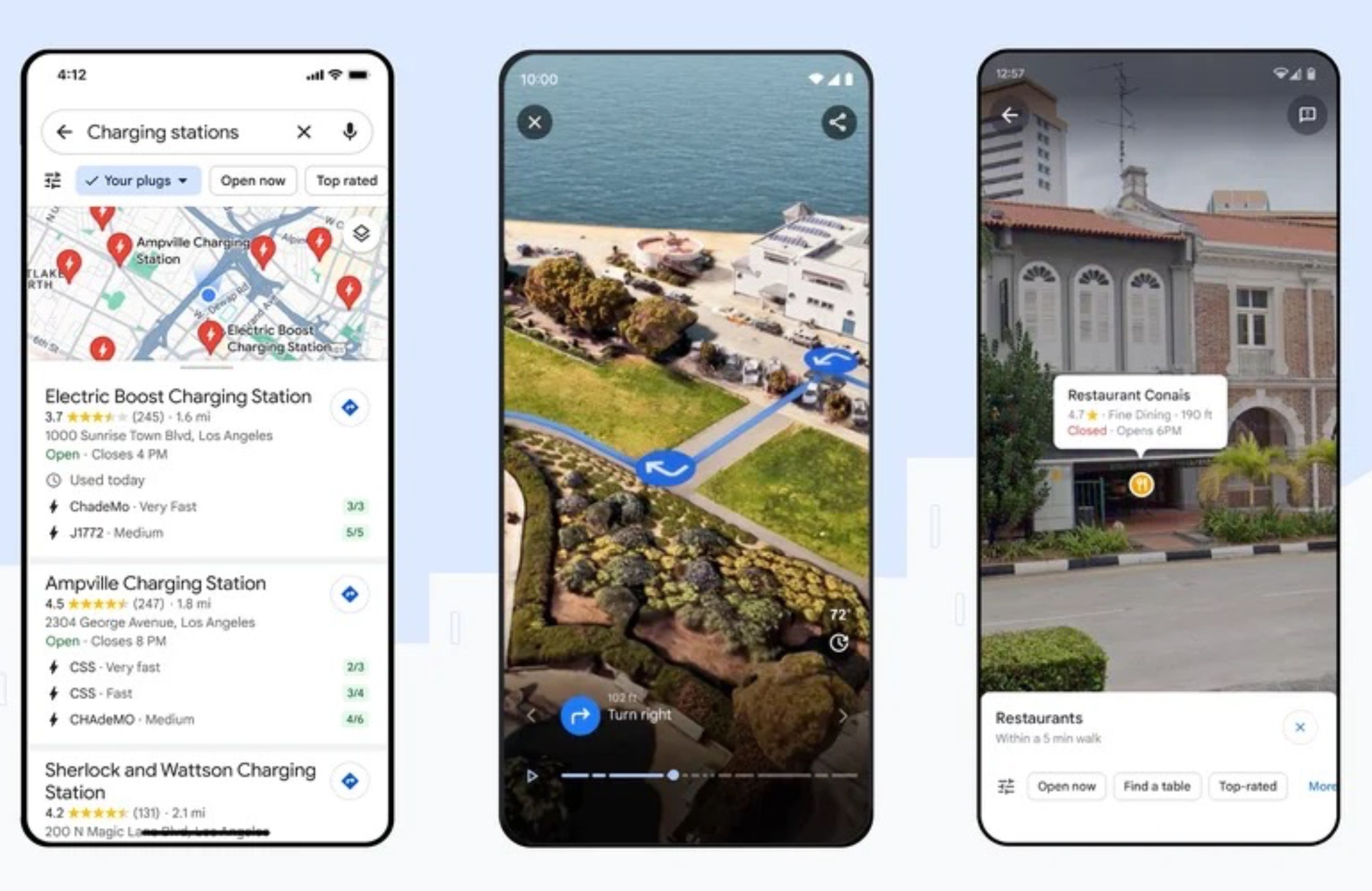 by Tim Hardwick
Google Maps is getting a new Immersive View for routes that uses artificial intelligence, Street View, and aerial images to preview every step of a journey ahead of time.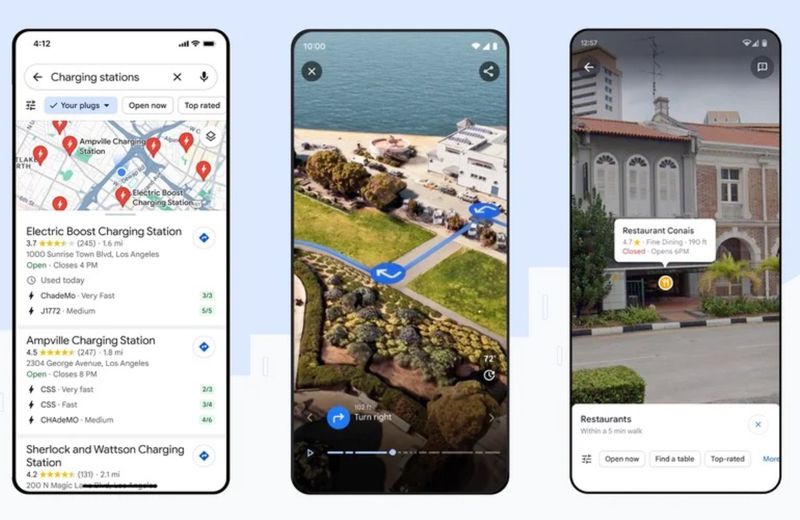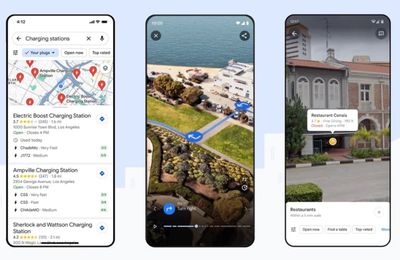 When users get directions for driving, walking, or cycling, Google Maps now offers a "multidimensional experience" that can be used to preview bike lanes, sidewalks, intersections, and parking along the route, according to Google.
A time slider can be used to see air quality information and how the route looks as the weather changes throughout the day, while AI and historical driving trends simulate how many cars might be on the road at a given time.
Immersive View for routes is rolling out in Amsterdam, Barcelona, Dublin, Florence, Las Vegas, London, Los Angeles, Miami, New York, Paris, San Francisco, San Jose, Seattle, Tokyo and Venice on Android and iOS.
In addition to Immersive View for routes, Search with Live View is being replaced with Lens in Maps, which uses AI and augmented reality to help users orient themselves in a new neighborhood.
Tapping the Lens icon in the search bar and lifting your phone now gives you AR-delivered information about nearby ATMs, transit stations, restaurants, coffee shops, and stores. Google says Lens in Maps is rolling out to more than 50 new cities including A​​ustin, Las Vegas, Rome, São Paulo and Taipei.
Elsewhere, the navigation map is getting updated colors, more realistic buildings, and improved highway lane details. These updates start rolling out in the coming months in 12 countries, including the U.S., Canada, France and Germany.
Meanwhile, the U.S. is also set to get information about high-occupancy vehicle (HOV) lanes along a route, and in Europe, AI-powered speed limit information is expanding to 20 countries. Both features start rolling out on Android, iOS, and for cars with Google Built-in in the coming months.
Lastly, Google says EV drivers on Android and iOS will now see even more helpful charging station information, including whether a charger is compatible with their vehicle and whether the available chargers are fast, medium, or slow. This also includes the ability to see when a charger was last used so you know it's not a broken charger. These updates start rolling out globally on iOS and Android this week wherever EV charging station information is available.
Popular Stories
Tuesday October 24, 2023 9:01 am PDT by Juli Clover
Apple today announced its second fall event of 2023, with the online event set to be held on Monday, October 30 at 5:00 p.m. Pacific Time. Apple's October event will be about the Mac, and the company is expected to refresh several Macs in the lineup. Apple's Events website features an Apple logo on a black background that morphs into the Mac Finder icon, confirming the event's Mac focus. As …
Tuesday October 24, 2023 11:05 am PDT by Juli Clover
Apple plans to overhaul the TV app in an effort to consolidate its Apple TV+ streaming service and its standalone movie and TV show purchase options, according to Bloomberg's Mark Gurman. A tvOS update in December will introduce the changes that Apple has planned. To push users to the Apple TV app, Apple plans to remove its standalone Apple TV apps that are available for renting and…
Monday October 23, 2023 10:24 am PDT by Juli Clover
Apple's iOS 17.1, iPadOS 17.1, macOS Sonoma 14.1, tvOS 17.1, watchOS 10.1, and HomePod Software 17.1 updates are expected to be released to the public tomorrow following several weeks of beta testing. We are expecting the software to go live at 10:00 a.m. Pacific Time, which is when Apple typically releases updates. Last week, Apple seeded release candidates (RCs) for all of the upcoming…
Tuesday October 24, 2023 10:43 am PDT by Juli Clover
Apple's upcoming "Scary Fast" event will focus on the M3 series MacBook Pro models, according to Apple analyst Ming-Chi Kuo. Kuo's wording suggests that he is expecting multiple M3 chips rather than just a single M3 chip, hinting at the possibility of M3, M3 Pro, and M3 Max chips. If Apple does release M3, M3 Pro, and M3 Max chips at once, we can expect to see the new chips introduced in…
Wednesday October 25, 2023 2:45 am PDT by Tim Hardwick
An image allegedly showing the box for a new unreleased MacBook Pro has emerged on Chinese social media platform Weibo. The picture, re-shared on X by ShrimpApplePro, shows what looks like Apple packaging featuring a MacBook Pro image with previously unseen wallpaper on the display. The wallpaper bears a passing resemblance to the one Apple used for the iPhone 15 Pro. It's unclear whether…
Wednesday October 25, 2023 6:46 am PDT by Joe Rossignol
Apple today announced that it is increasing the prices of some of its subscription-based services, including Apple TV+, Apple Arcade, and Apple News+, for new and existing subscribers in the U.S. and many other countries around the world. The price changes in the U.S. are as follows:Apple TV+: $6.99 per month → $9.99 per month Apple Arcade: $4.99 per month → $6.99 per month Apple News+:…
Wednesday October 25, 2023 2:13 pm PDT by Joe Rossignol
Apple yesterday announced that it will be holding an online event on Monday, October 30 starting at 5 p.m. Pacific Time, and there are several reasons to believe that gaming on the Mac will be one of the major focuses of the event. Below, we have recapped Apple's recent gaming-related efforts on the Mac and other clues heading into the event next week. Hardware-Accelerated Ray Tracing…
At WWDC 2022 last year, Apple previewed the next generation of CarPlay, promising deeper integration with vehicle functions like A/C and FM radio, support for multiple displays across the dashboard, personalization options, and more. Apple said the first vehicles with support for the next-generation CarPlay experience would be announced in late 2023, but it has still not shared any…