Sports news
College football winners, losers in Week 7: USC not title contender, Michael Penix Jr. delivers Heisman buzz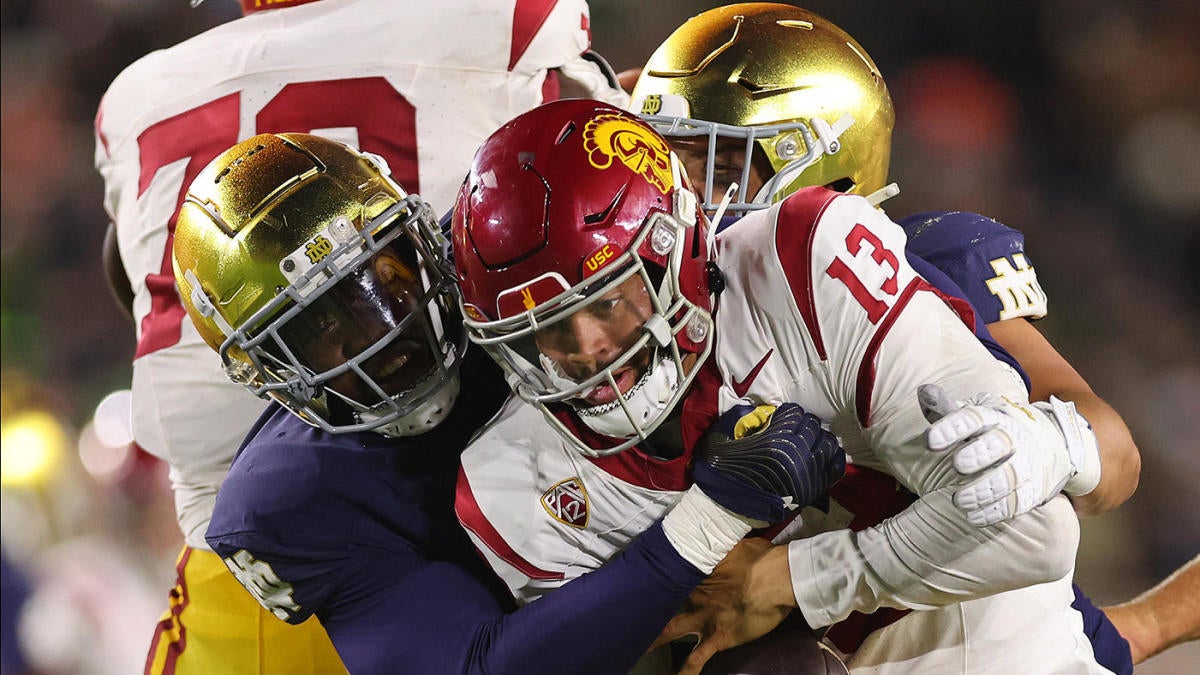 All eyes were on the Pac-12 in Week 7 with the conference's three biggest powers all playing — two against one another in an already heated rivalry. After the weekend, only one remains undefeated: The No. 7 Washington Huskies, who edged No. 8 Oregon in a thrilling 36-33 game that was a neon billboard for the greatness of West Coast college football.
From the weekend, a new Heisman Trophy favorite emerged. Another fell behind as Caleb Williams and USC fell to Notre Dame in a decisive 48-20 beating. Down the board, Rutgers and Colorado played games that could control bowl eligibility to end the season. Two long-tenured coaches continue to win their way. Others wilted under new pressure.
Here are key winners and losers from Week 7 of college football.
Needing a touchdown with under two minutes remaining against Oregon's tough defense, Washington pulled its trump card: Michael Penix Jr. The quarterback needed just two plays – a 35-yard pass to Ja'Lynn Polk and an 18-yard touchdown throw to Rome Odunze – to win the game.
The final drive capped off an impressive day for Penix in Washington's biggest moment of the year. Penix threw for 302 yards and four touchdowns despite missing one of his elite trio of receivers, Jalen McMillan, and being noticeably hobbled. He won at every level of the field, hitting on big plays and keeping the Huskies on schedule.
Penix deserves to be the new leader in the race for the Heisman Trophy. Washington is now the only undefeated remaining in the Pac-12 and its best case for the College Football Playoff. Everything is on the table.
Loser: USC
The Trojans flew by the seat of their pants for much of the season, and it nearly cost them in a triple-overtime win over Arizona one week ago. Against Notre Dame on Saturday, the Trojans' luck finally ran out as the Fighting Irish put USC's high-flying offense into a straitjacket.
Williams threw three interceptions in his worst single-game performance. The Trojans proved completely unable to block Notre Dame's physical front, which left Williams running for his life mere seconds after every snap.
The defense played reasonably well despite the shocking final score, but the issues shown in the loss to Notre Dame are more existential. There are no answers on the roster for USC's offense to block high-powered defensive lines in 2023. USC is not a real title contender.
Rumors of coach Mike Gundy's demise, once again, may have been overstated. After losing to South Alabama and Iowa State in consecutive weeks, Oklahoma State suddenly sits at 2-1 in Big 12 play after shocking Kansas 39-32 behind 15 unanswered points in the final 21 minutes of the game.
Three games ago, Oklahoma State mustered seven points and 208 total yards against South Alabama. The Cowboys put up 554 yards of offense against the Jayhawaks – 336 through the air, 218 on the ground – keyed by 284 yards and two touchdowns from running back Ollie Gordon. The offense that once looked lost has suddenly found its rhythm, and the Cowboys are now right back into the Big 12 race.
Oklahoma State now has tiebreakers over both Kansas and Kansas State after consecutive wins. Games against West Virginia and Cincinnati look perfectly winnable before Bedlam on Nov. 4. And, by the way, keep an eye on Iowa State. That loss to the Cyclones, now 3-1 in Big 12 play, doesn't look nearly as bad.
The Hurricanes desperately needed a win after an embarrassing clock management snafu cost them a win over Georgia Tech last week. Unfortunately, everything went wrong for Miami in a 41-31 loss to No. 12 North Carolina in a game that wasn't as close as the final score.
After nailing a field goal to end the first half, Miami allowed 24 unanswered points to completely take itself out of the game. The 'Canes had an interception, a fumble, a turnover on downs and a punt during the run. On one notable play, coach Mario Cristobal declined a penalty that would have made it second-and-20. One play later, UNC quarterback Drake Maye threw a 33-yard touchdown.
Miami at least fought in the fourth quarter to make it a game again, but the Hurricanes are now one of just four ACC teams without a win in conference play, joining Wake Forest, Syracuse and Virginia. That's not quite the collection any aspirational program hopes to join.
Winner: Rutgers
The Scarlet Knights trailed 24-6 entering the fourth quarter against Michigan State in a supremely disappointing effort at home. The final 15 minutes were another story. Rutgers hit a scoop-n-score and a pair of offensive touchdowns (one passing, one rushing) over a five-minute stretch to rally for a 27-24 win.
The win was a strong reward for Rutgers, led by running back Kyle Monangai's 148 yards and game-winning touchdown. More importantly, the Scarlet Knights are 5-2 and seem poised to capture elusive bowl eligibility. Rutgers plays Indiana next week and has a game against a disappointing Maryland team to end the year. It's on the table.
Of course, Rutgers technically earned a bowl bid in 2021 thanks to a high APR score. Earning a real six-win season for the first time since 2014, Rutgers' first year as a Big Ten member, would be a solid accomplishment for coach Greg Sciano and his staff. The fourth quarter against the Spartans could end up being a season-defining moment.
Loser: Colorado
Teams leading by 28 or more points at halftime were 248-0 since 2019, per Tru Media… until Colorado played Stanford on Friday. The Buffaloes blew a 29-0 advantage, the fourth-biggest blown lead in Pac-12 history, in a 46-43 loss in double overtime.
Losing is tough enough, but Stanford set some big records. Receiver Elic Ayomanor posted a program-best 294 yards and three touchdowns. The comeback was also the largest in Stanford history.
The lasting concern for the Buffs is a look at the rest of the schedule. Stanford would have been win No. 5, but now the Buffaloes need two to be bowl eligible. Four of the five remaining teams on the schedule are ranked in the AP top 20. The job has suddenly become much more difficult.
The Hawkeyes lost tight end Erick All to an injury, joining quarterback Cade McNamara and tight end Luke Lachey. Quarterback Deacon Hill threw for 37 yards and the Hawkeyes scored 15 points. Naturally, that was enough to beat Wisconsin, reach 6-1 and firmly take control of the Big Ten West race. How does Iowa keep doing this? Few teams are as committed to the bit, but it's hard to argue with the results, even if reaching the contractually mandated 25 points per game appears all but impossible.
The Wazzu curiosity is now officially over after the No. 19 Cougars dropped a 44-6 stinker to Arizona. Wazzu posted just 234 yards against an inconsistent Arizona defense and allowed the Wildcats to explode for 516 yards. Washington State still sits at 4-2 with a number of winnable games left on the schedule, but the pathway to remaining in the AP Top 25 feels bleak. The Cougars will have to quickly regroup as Oregon is on the schedule next week. Otherwise, the race to the Pac-12 Championship Game feels all but over for this team.
The Falcons were undervalued entering the year, picked first-place on MWC ballots by just two of 37 voters. However, Air Force has now zoomed out to a 6-0 start after John Lee Eldridge's 58-yard run iced the game against Wyoming and is the prohibitive favorite in the Mountain West. Air Force ran for 356 yards and three touchdowns against a physical Wyoming defense and showed legitimate national upside. After the win, it's time to rank Air Force and maybe start nudging them towards the Group of Five New Year's Six discussion.
Loser: West Virginia
The Mountaineers lost a stunner to Houston by being on the wrong end of a Hail Mary. It hurts the Mountaineers not only because it's a bad loss — the Cougars were previously winless in conference play — but also because it came against Dana Holgorsen. West Virginia coach Neal Brown needs to have a big year if he's going to keep his job. Beating Pitt helped, beating Houston would have been even better.
The loss itself came on a 49-yard Hail Mary, but Houston held an 11-point advantage with just 7:28 remaining. A miracle 50-yard touchdown with 12 seconds left gave the Mountaineers what appeared to be an iron-clad comeback for the ages.
Houston's win over West Virginia was the first win by any of the new Big 12 additions over a legacy member. The Mountaineers have plenty of winnable games remaining, but almost every remaining opponent rates better than the Coogs.