Sports news
College Football Best Bets: 7 Afternoon Picks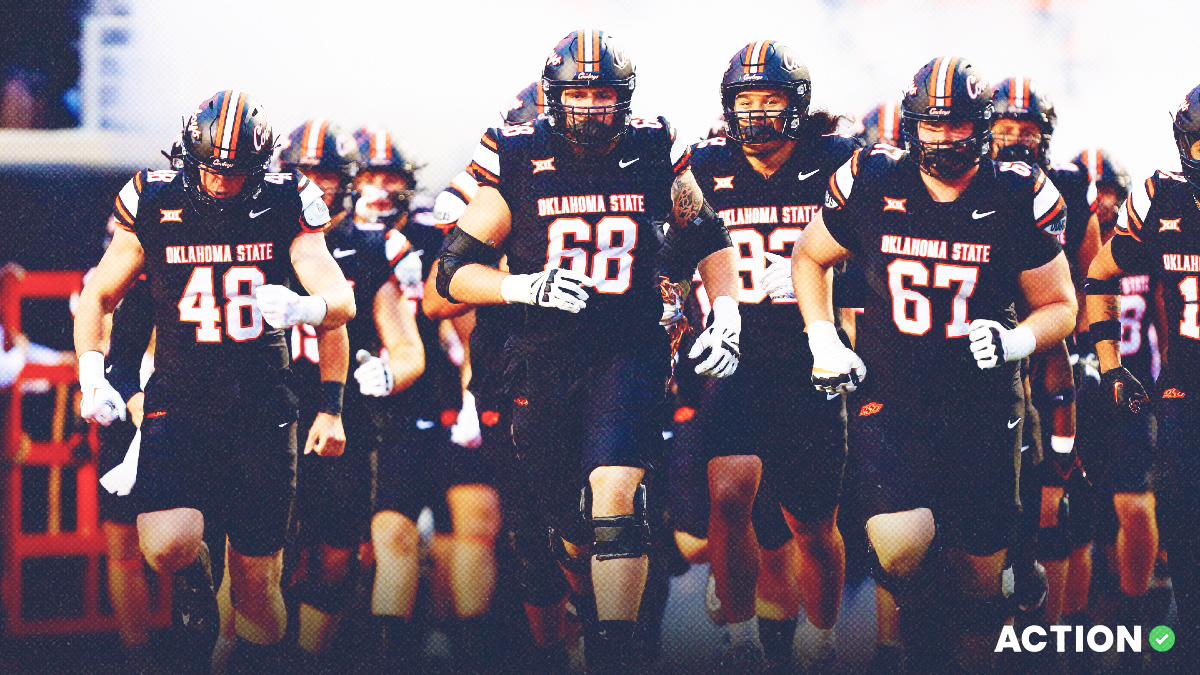 Saturday's Week 10 college football slate rolls on as we turn our attention to the afternoon slate.
Our staff loves this kickoff window this week. Our writers came through with seven picks — including two picks for both Oklahoma State vs. Oklahoma in the final edition of Bedlam and Air Force vs. Army in a service academy showdown.
So, let's keep the beautiful November Saturday going.
Read on for all seven of our Saturday afternoon college football best bets — and be sure to check out our other best bets for Saturday's noon and evening slates.
---
Saturday Afternoon College Football Best Bets
The team logos in the table below represent each of the matchups that our college football betting staff is targeting from Saturday afternoon's slate of games. Click on the team logos for any of the matchups below to navigate to a specific bet discussed in this article.
---
By John Feltman
The Air Force Falcons are one of the most explosive teams in the nation on offense, which is quite impressive for a triple-option offense. Standing in this offense's way is an Army defense that's one of the worst teams in the nation in Defensive Line Yards and Rushing Success Rate.
However, I would not put too much stock into these numbers for this particular matchup. As we saw with Air Force/Navy a few weeks ago, the Falcons really struggled to move the ball.
Yes, they had that one explosive 98-yard touchdown pass on a blown coverage, but the Falcons were mostly gifted pristine field position due to Navy's ineptitude on offense.
I believe Army is a much more formidable opponent than Navy, so I believe it'll be able to at least move the chains with some methodical drives.
It's important to note that Army is 67th in Defensive Pass Success Rate, so that should eliminate any type of explosive aerial attack from the Falcons. The offense is good enough to control the clock and limit Air Force's possessions.
Simply put, this is way too many points in a Service Academy game. I was floored to see the number open up this high.
I think Air Force should be able to take care of business and come out of here with a home victory.
However, the Black Knights should be fired up for this matchup, and I think the scheme familiarity should even the playing field.
Pick: Army +18 (Play to +17.5)
The must-have app for college football bettors
The best NCAAF betting scoreboard
Free picks from proven pros
Live win probabilities for your bets
---
A service academy catching 18 points on the road? Sign me up, all day, every day. Now, this isn't going to be an easy afternoon for the Golden Knights by any stretch of the imagination, but this is a rivalry game. I expect Army to give an excellent effort as they look to reclaim the Commander-in-Chief's Trophy.
The crux of this bet is that Army is going to be able to keep it close with pride on the line. The last time that Army had a win over a ranked opponent was in 2016 when it defeated then-No. 25 Navy.
I think Army has a low probability of winning outright, but it should be able to keep this game much closer than No. 17 Air Force would like.
Army has won four of the last six meetings between the two programs. With a total of 32 points for this game, the implied final score of this game is Air Force winning 25-7.
Given that both teams have a heavy run emphasis and the high level of familiarity between the respective offensive schemes, I expect Army head coach Jeff Monken to game plan well enough to keep the Air Force offense in check.
Army has a young squad and started four freshmen last week against UMass. Having an inexperienced offense isn't ideal, but two things do jump out to me that offer a situational edge for Army.
First, the Black Knights have faced a much tougher schedule than Air Force this season, with respective strength of schedule rankings of 69th and 127th, per PFF.
Secondly, Army isn't as reliant on the run game as it has been in years past and can look to throw occasionally to break up the pace of what will be a heavy ground affair.
I think a final line of 14 to 15 points is more appropriate in this game and recommend betting this game at 17.5 or better, with a hard stop at 17 if the market gets there prior to kickoff.
If Army can put 10-15 points on the board, we should be able to cash a ticket in this low-scoring rivalry game.
Pick: Army +18 (Play to +17)
---
---
A 3-1 start in AAC play has FAU positioned to make a run at the conference's title game next month.
Standing in its way on Saturday is a lifeless UAB team that's just 2-6 in Trent Dilfer's debut.
The Blazers' defense is horrific, grading out as the 132nd-ranked unit in terms of Success Rate. Numerous advanced metrics would identify the Blazers as the worst run defense in the country, and that's meaningful in this matchup.
Florida Atlantic is well-balanced offensively and can rely on senior tailback Larry McCammon III to consistently get it into second and manageables.
When Daniel Richardson isn't pressing, he can be a highly effective passer, evidenced by recent performances with QBRs of 94.3 and 79.6. He struggles against teams that can get to the quarterback, but UAB has one of the most lackluster pass rushes in all of college football (118th in sack rate).
With a clean pocket and no need to force the football, he should continue to find LaJohntay Wester, who has five games of at least 10 receptions this season.
Toss in some injury issues on UAB's offensive line and a quarterback coming out of the concussion protocol, and it's easy to envision a sweat-free cover for the Owls on the road.
Pick: FAU -1 (Play to -3.5)
---
---
Darius Taylor missed the last game against Michigan State and is questionable to play in this game, but if last week showed us anything, the system is still incredibly effective.
Backup running back Jordan Nubin ran for 204 yards on 40 carries. That's really important in this game because Minnesota is a rush-heavy offense that runs the ball on 63% of offensive plays.
It's also important because Illinois has really struggled to stop the run this season.
The Illini are 100th in EPA/Rush Allowed, 96th in Rushing Success Rate Allowed and 117th in Offensive Line Yards.
Luke Altmyer has been bad under center for Illinois this season. There are 143 quarterbacks who have attempted at least 100 passes this season, and of those 143, Altmyer ranks 135th in EPA.
His main problem is the offensive line has done a very poor job protecting him, as he's been under pressure on 40.2% of his dropbacks this season. When he's under pressure, he has a completion percentage of just 37.3% and a 38.2 PFF passing grade.
Even without its starting running backs, Minnesota should be able to run the ball effectively and control the clock here at home, so I like the value on the Golden Gophers at -1.5.
Pick: Minnesota -1.5 (Play to -3)
---
---
A Power Five team coming off a devastating loss against an 8-0 Power Five team that's been on a hot streak offensively? Sign me up for this rare Action Analytics situational play.
We have this line at 20, and I'm more than happy to back Pitt in this spot. The Panthers have shown previously this season that they can string together some great football, as evidenced by their 17-point upset of Louisville.
A quarterback change helped there, with Christian Veilleux throwing two touchdowns and no interceptions in back-to-back games. High-profile transfer Phil Jurkovec has struggled this season, and the quarterback change looked great up until the Notre Dame game.
I expect Pitt to attempt to keep the ball on the ground against Florida State, chew clock and keep the ball away from Jordan Travis. I think the Panthers will come out and play their best football in response to the embarrassment last week. They will at least be able to keep it close.
The Seminoles are also no stranger to letting teams back in the game, just ask Virginia Tech.
I like the Panthers to stay within striking distance of the spread all game and maybe sneak in a backdoor cover.
Pick: Pitt +21.5 (Play to +21)
---
---
Oklahoma vs. Oklahoma State
No team has evolved more from September to November than the Oklahoma State Cowboys.
The Pokes were dominated at home from start to finish against South Alabama in Week 3, and many began to wonder if the 18-season bowl streak under Mike Gundy was coming to an end.
The turnaround has been crazy, and the market still hasn't caught up yet.
OSU enters the final chapter of Bedlam on a four-game winning streak, with victories against both Kansas schools, a road win at West Virginia and a demolition of Cincinnati last week.
Gundy going with Alan Bowman as the full-time QB has added consistency, and an adjustment to the run scheme has led to an outbreak for Ollie Gordon II.
In his last two games alone, the sophomore has run for 553 yards and six touchdowns.
Meanwhile, the Sooners have looked rather poor ever since the upset win over Texas in the Red River game.
Oklahoma's defense has been gashed for big plays in recent weeks, and the Sooners may be without their best linebacker on Saturday in Danny Stutsman.
If the signal caller for Brent Venables' defense is unable to play, look for Gordon to have another monster day on the ground.
Lastly, sometimes there's just a bit of a karma in certain spots throughout a college football season. Oklahoma bolting to the SEC has altered an in-state matchup that's been played going back to 1904.
The Cowboys would love nothing more than to end OU's CFP hopes on their home turf and send the Sooners home with a loss in the final regularly-scheduled edition of Bedlam.
Could that put a little extra pressure on Gundy's team? Sure, but I think the Pokes are up to the task, and I expect them to not only cover, but win this one outright behind a raucous Boone Pickens Stadium.
Give me the Cowboys +6, with a sprinkle on the ML.
Pick: Oklahoma State +6 (Play to +5)
---
By Greg Liodice
It's always intriguing when the Oklahoma Sooners and Oklahoma State Cowboys face off. Traditionally, the Sooners have had the Cowboys' number with OU coming on top 82 out of 109 meetings.
Today's game takes place in Stillwater, where the last time these teams met in 2021, OSU came out on top. However, it's the tale of two teams. The Sooners started off red hot, and dropped off a bit, sneaking two wins prior to last week's loss against Kansas. Oklahoma State, on the other hand, started the season off on a rough note, and now are riding a four game win streak.
Alan Bowman has taken the reins under center, and formed a good chemistry with Jaden Bray. Ollie Gordon is having a dynamic season in the backfield, getting a ton of carries and averaging 7.7 yards per carry.
For Oklahoma, the Sooners have a powerful attack through the air. Dillon Gabriel has completed 71% of his passes, and his top three targets in Jalil Farooq, Andrel Anthony, and Nic Anderson have created an insane amount of separation. Don't be surprised to see a few explosive plays from OU, as the Cowboys are one of the worst at preventing them.
I look at the total for this game of 61.5 and can definitely see this game going over. Oklahoma consistently finds itself in high scoring games, and OSU is finally figuring out itself. I definitely see Gordon making a dent in the Sooners, as they too are very capable of allowing explosive plays on the ground.
Look for this to be a shootout in Stillwater.
Pick: Over 61.5 (Play to 65.5)