Sports news
Bold predictions and NFL picks for Week 6, plus Deshaun Watson out again and grading Broncos-Chiefs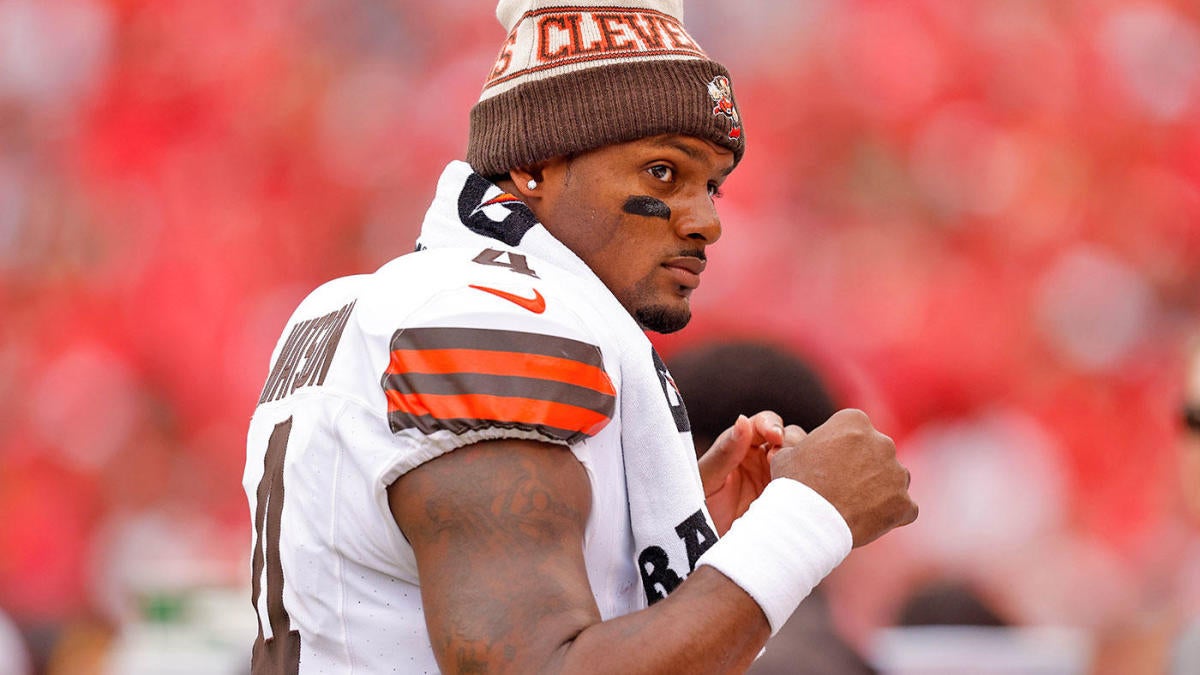 Welcome to the Friday edition of the Pick Six newsletter.
Today is not just Friday, it's Friday the 13th, which means it's the perfect time to watch something scary. Usually, I'd suggest watching a Jason movie or two, but instead, you could probably just rewatch last night's game because there is nothing more frightening than watching the Broncos play. It's literally scary how bad they are. I'm still trembling just thinking about it.
In today's newsletter, we'll be handing out grades for last night's game, plus we'll be making some picks and bold predictions for Week 6.
As always, here's your daily reminder to tell all your friends to sign up for the newsletter. To get them signed up, all you have to do is click here.
1. Today's show: Best bets for Week 6
If you're a regular listener of the "Pick Six NFL" podcast or a regular reader of this newsletter, then you know what we do on Fridays: We make picks. And then just when you think we're done making picks, we make more picks.
For today's show, Katie Mox was joined by Will Brinson along with R.J. White and Alex "PropStarz" Selelnick — two of our gambling gurus over at SportsLine — and the four of them offered some of their best bets for Week 5.
The crew spent an entire hour handing out picks, and we're going to go over a few of their best bets here:
Will Brinson (1-1-1 in picks we shared here last week, 8-6-1 on the season)
Falcons (-2.5) to cover against Commanders
Texans (+1.5) to cover against Saints
Lions (-3) to cover against Buccaneers
R.J. White (1-2 in picks we shared here last week, 5-10 on the season)
Dolphins (-13.5) to cover against Panthers
Bears (+3) to cover against Vikings
Giants at Bills OVER 44.5 total points
Katie Mox (1-2 in picks we shared here last week, 7-8 on the season)
Seahawks (+3) to cover against Bengals
49ers team total over 22.5 points (at Cleveland)
Rams (-7) to cover against Cardinals
As for PropStarz, he handed out a few of his favorite props for the weekend, because when your nickname is PropStarz, that's what the people expect.
PropStarz went 2-1 last week and is now 7-8 on the season, including 6-3 over the past three weeks.
To hear what the rest of the best bets are for Week 6 — and there are quite a few — be sure to click here so you can listen to the entire episode of the podcast. You can also watch the episode on YouTube here.
2. Thursday night grades after Chiefs' 19-8 win over Broncos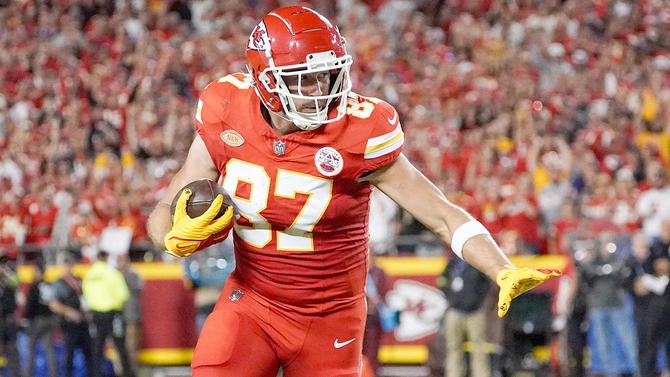 It's starting to feel like the Broncos might not ever beat the Chiefs again. With their 19-8 win on Thursday night, the Chiefs have now won 16 in a row against the Broncos, which is the third-longest streak in NFL history for any team against a single opponent. The NFL record is held by the Dolphins, who beat the Bills 20 straight times from 1970 through 1979. The Chiefs could tie that record by the end of next season if they keep winning.
Anyway, here are our grades from Kansas City's win:
BRONCOS GRADE: D
The Broncos looked totally lost on offense and a big reason for that is because Russell Wilson continues to struggle. On Denver's opening possession of the game, Wilson made a costly mistake when he took a sack on fourth down on a play where he could have easily gotten a pass off. After the failed fourth down, Denver's next seven possessions ended with either a punt or an interception. Although it's easy to blame Wilson — he threw for just 95 yards — Sean Payton's play-calling didn't help much. The Broncos averaged 5 yards per carry on the ground, but Payton seemed to give up on the run way before he should have. The Broncos defense kept Denver in the game, but the offense wasn't able to capitalize. Through six weeks, it's starting to look like the Broncos might actually be worse than they were last year.
Broncos notes
Rough start. The Broncos are now 1-5, which is notable, because it marks the team's worst record through six games in nearly 30 years. The last time the Broncos started 1-5 came all the way back in 1994. This year's team will be hoping it can rebound like that 1994 team. After the 1-5 start, they went 6-4 down the stretch to finish 7-9.
CHIEFS GRADE: B-
With Taylor Swift in attendance, Travis Kelce put on a show with nine catches for 124 yards. Although Kelce had a big day, the same can't be said for the rest of the Chiefs offense. The unit was plagued by uncharacteristic mistakes: They couldn't convert on third down (4 of 13) and they couldn't score in the red zone (they got just one touchdown on five trips). The offense was far from perfect, but Harrison Butker and the defense more than made up for it. Chris Jones led a Chiefs pass rush that sacked Russell Wilson four times. Not to mention, the defense also forced three turnovers. As for Butker, he drilled four field goals, including a 60-yarder just before halftime. Yes, the offense struggled at times, but the Chiefs still won by double-digits, so for now, you probably don't need to worry about Kansas City. The defense is playing at a high level and the offense will almost certainly catch up to it eventually.
Chiefs note
Patrick Mahomes owns the Broncos. The Chiefs quarterback is now 12-0 in his career against Denver, which is tied for the best record in NFL history by a QB against one team. Mahomes tied a mark that was originally set by Otto Graham, who went 12-0 against the Cardinals during his career, which spanned from 1946 to 1955. Mahomes will get a chance to break Graham's record in Week 8 when the Chiefs travel to Denver.
If you want to check out more of our takeaways from the game, be sure to click here.
3. Deshaun Watson out for Week 6, other Browns starters could miss 49ers game
The Browns will be playing one of their most difficult games of the season on Sunday when they play host to the 49ers and even if they were at full strength, it would be a tough game to win. However, they won't be at full strength and that's because multiple starters are expected to miss the game.
Here's a look at what's going on in Cleveland:
Deshaun Watson to miss 49ers game. Watson is dealing with a shoulder injury and was officially ruled out by the Browns on Friday. The Watson situation has actually been kind of bizarre. The quarterback was medically cleared to play in Week 4, but he still ended up sitting out. Since he was medically cleared, though, the assumption was that he would definitely be ready to play in Week 6 after getting a Week 5 bye, but that is not the case. If the Browns cleared him two weeks ago and he still can't play, it seems like there's a disconnect between Watson and the team doctors or it's also possible that the injury is worse than originally thought. Whatever the case, it will be interesting to see what happens with Watson going forward.
PJ Walker to start on Sunday. With Watson out, the Browns will NOT be turning to rookie QB Dorian Thompson-Robinson. Although DTR started in Week 4, the Browns have decided to roll with Walker this week. Walker has seven career NFL starts under his belt and all seven of those came with Panthers. He's 4-3 in those starts.
Two other key starters could miss Week 6. Besides Watson, the Browns likely won't have All-Pro left guard Joel Bitonio (knee) and possibly tight end David Njoku, according to Cleveland.com. The loss of Bitonio could be crushing and that's because the short-handed Browns offensive line is going to be facing one of the best defenses in the NFL. The potential loss of Njoku will also hurt. The tight end was Cleveland's leading pass catcher in Week 4. Njoku is still recovering from some serious burns he suffered in September and although he was able to play in Week 4, it's not clear if he'll be on the field this week.
The oddsmakers in Vegas have taken notice of all the Browns injuries. The line for this game opened with the 49ers favored by 5.5, but with the Browns expected to be missing up to three key starters, the 49ers are now favored by +10.
4. NFL Week 6 picks: Jets, Pats pick up close wins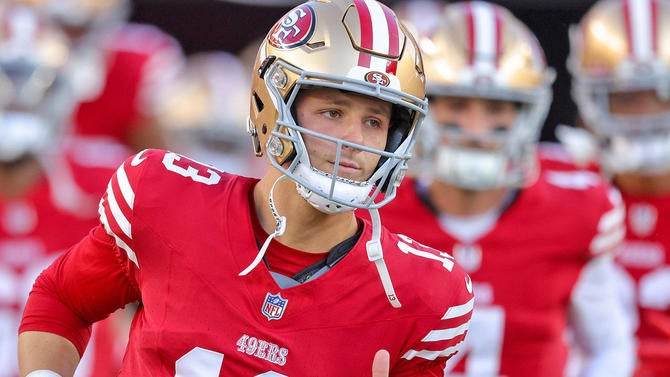 I hope you're not tired of reading our picks yet, because we have even more of them coming at you right now. This batch will be coming from NFL senior writer Pete Prisco, along with Will Brinson, Jordan Dajani, Tyler Sullivan and myself. After going 4-1 in each of the past two weeks, we fell back to earth in Week 5, going 3-2. Heading into Week 6, we're a combined 16-8-1 against the spread with our picks that have been featured in the newsletter.
Here's how things are going to work: I'm going to give you one pick from each guy and then direct you to the rest of their picks. That way, if you like their pick, you'll be able to read the rest of them, but if they pick against your favorite team, you can ignore the rest of their picks and move on.
For more Week 6 NFL picks, you can check out out our CBSSports.com picks page here.
5. Bold predictions for Week 6: Bears get first NFC North win in two years
Since you're probably tired of picks at this point, we're going to spice things up by giving out some bold predictions, which are like picks, except better. Garrett Podell has five bold predictions for Week 6 and we're going to share three of them below. Last week, he predicted that Joe Burrow would finally get his deep ball back and that's exactly what happened. Garrett also predicted that the Colts would upset the Titans, so let's see what he has in store for us this week.
Bold predictions for Week 6:
1. Bears snap 10-game losing streak in NFC North by beating Vikings. "The Vikings are 1-4 with 2022 NFL Offensive Player of the Year, Justin Jefferson, on injured reserve, and their defense is allowing 24.4 points per game this season. This feels like a spot where Chicago can win its first game against an NFC North team since Thanksgiving Day 2021."
2. Kyle Pitts goes over 100 receiving yards for first time since 2021. "Pitts hasn't broken the century mark in receiving since his rookie year, making this prediction bold, but against a Commanders defense that allowed D.J. Moore to total 230 yards in Week 5, anything is possible. Pitts seems to be inching closer to this number as he totaled 87 receiving yards on seven catches in Atlanta's 21-19 win over Houston last week."
3. C.J. Stroud throws his first career interception. "The Texans quarterback is going up against a Saints defense that is allowing the fourth-fewest points per game in the NFL this season (15.2) and they're also a unit that has hauled in seven interceptions, tied for the third-most in the NFL. The prediction here is that Stroud's interception-free streak, the best in NFL history, will come to an end."
Garrett has five bold predictions for Week 6, and you can check out all of them by clicking here.
6. Extra points: Daniel Jones ruled out for Sunday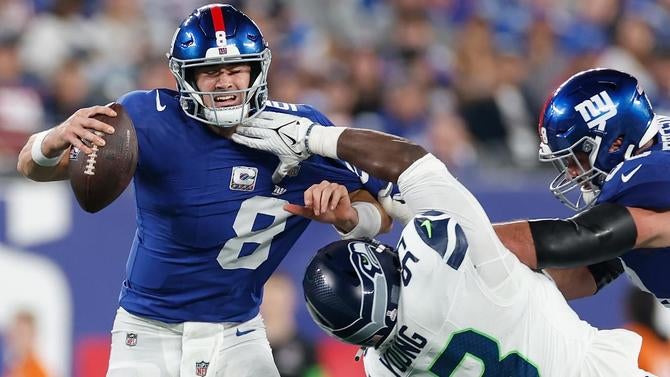 It's been a busy 24 hours in the NFL, and since it's nearly impossible to keep track of everything that happened, I went ahead and put together a roundup for you.