Technology news
Apple slides from 2013 skewer Android as "a massive tracking device"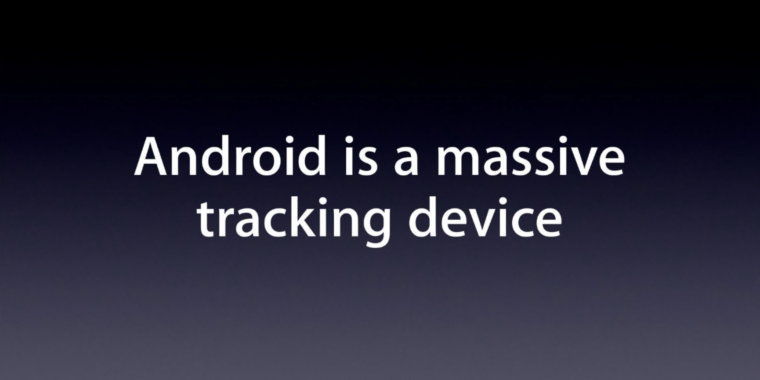 Google antitrust trial —

But Apple also wanted to know what results users clicked on Google from iPhones.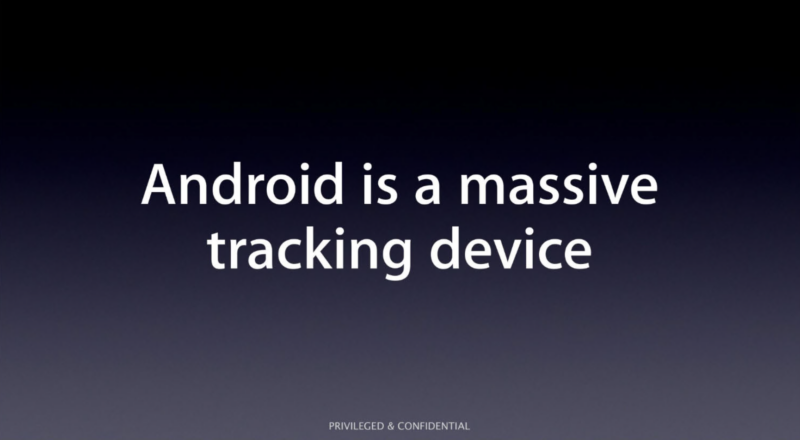 "Here is [sic] the latest slides we have on privacy," Senior Vice President of Services Eddy Cue wrote to CEO Tim Cook and then-SVP of Marketing Phil Schiller in January 2013. "Still a lot more work to do but good start."
Those slides, newly made public as an exhibit in the Department of Justice's ongoing antitrust trial against Google, on "The State of Privacy," cast a dim light on Apple's competitors, particularly Google. They quote former CEO Eric Schmidt's notorious remarks on Google's policy to "get right up to the creepy line but not cross it." They unfavorably compare Apple and Google's approaches to account data combination, voice search privacy, maps, and search. And most notably, they give over an entire slide to a summary: "Android is a massive tracking device."
The exhibit is, as noted, redacted for public filing and abridged, so slides not pertaining to Google's search dominance and other issues at trial are missing. Still, Apple's presentation offers a rare glimpse into the company's perception of Google, particularly Android, and how its own devices and services might stand apart.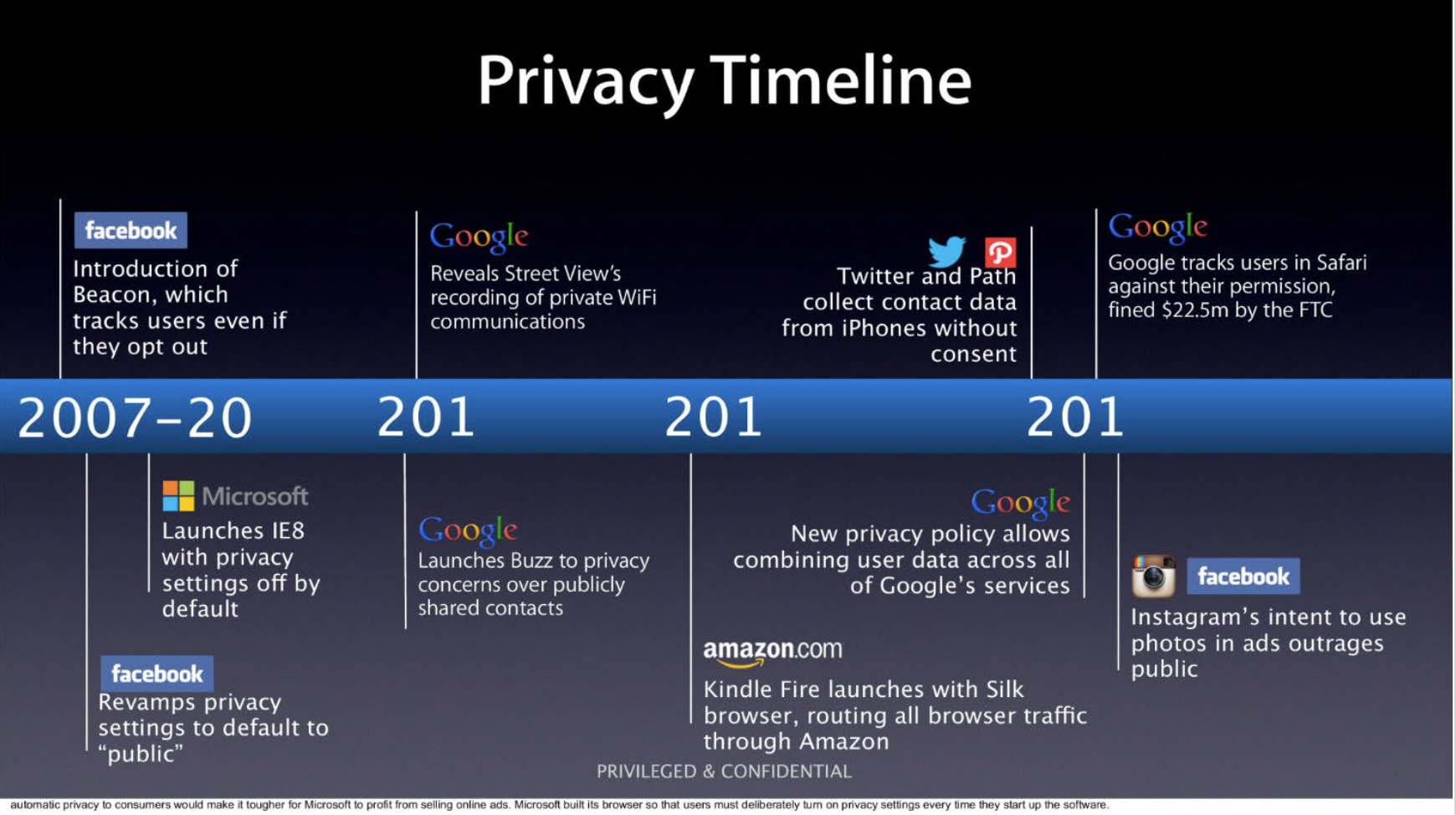 The slide starts with an abridged "Privacy Timeline," with certain years cut off by accident or strange redaction. The slide notes items like Facebook's 2007 "Introduction of Beacon, which tracks users even if they opt out," and Microsoft's launch of "IE8 with privacy settings off by default." There's a curious and blunt, tiny-text note underneath this slide: "Automatic privacy to consumers would make it tougher for Microsoft to profit from selling online ads. Microsoft built its browser so that users must deliberately turn on privacy settings every time they start up the software." Internet Explorer 8 was a fraught product for Microsoft, with internal debates about advertising privacy.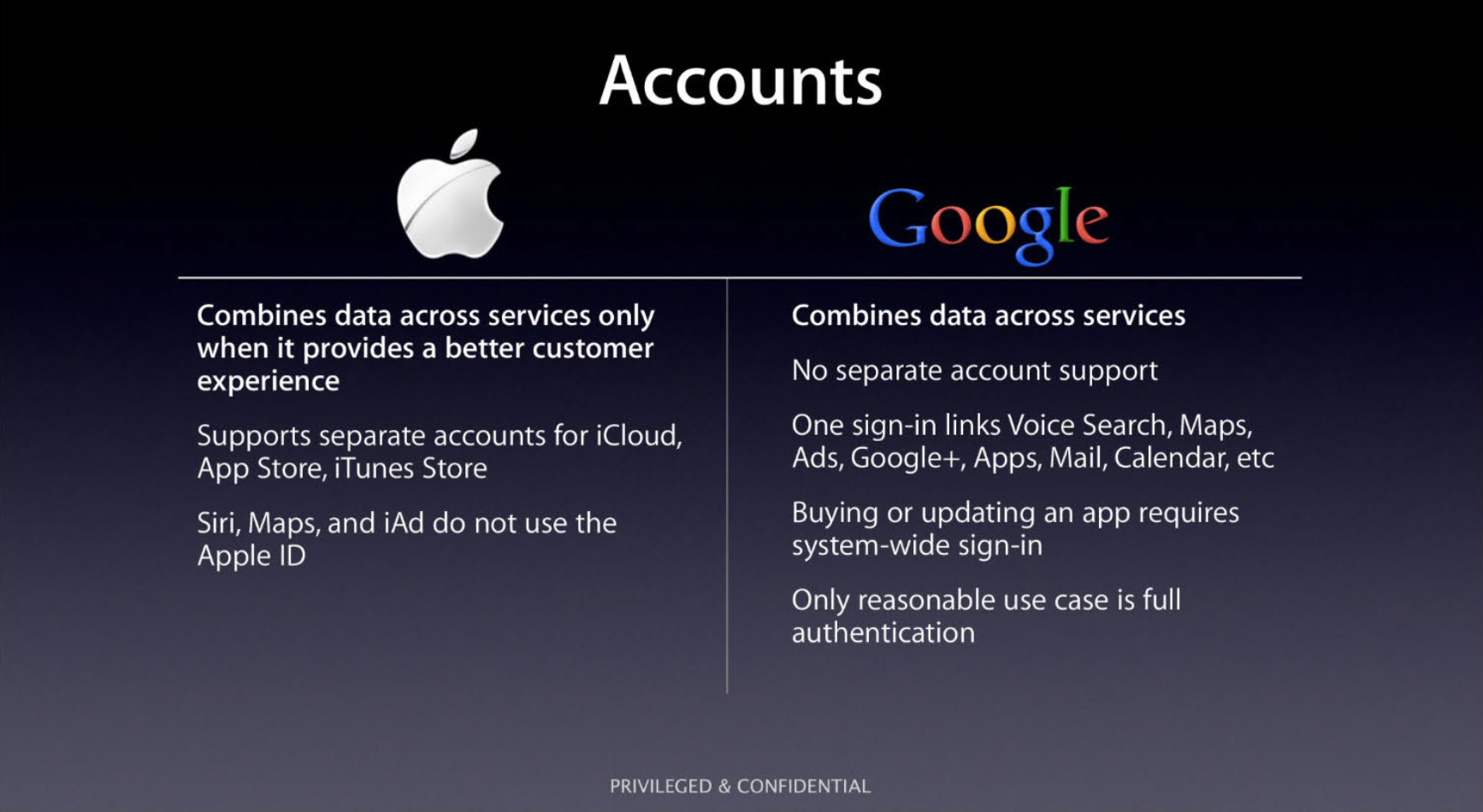 On a slide for "Accounts," Apple notes that its own devices allow for separate accounts for iCloud, the App Store, and iTunes Store on a device, and that Siri, its Maps app, and iAd advertising service "do not use the Apple ID." Google, by comparison, "Combines data across services," with no support for separate accounts, and the "Only reasonable use case is full authentication."
Apple makes similar points about "Siri and Voice Search" but takes a particular swing at Samsung's Android phones. Once Samsung's since-discontinued S-Voice is used, "subsequent Voice Search data is sent to Vlingo (backend for S Voice) and cannot be disabled … Transcription, contacts, location, etc."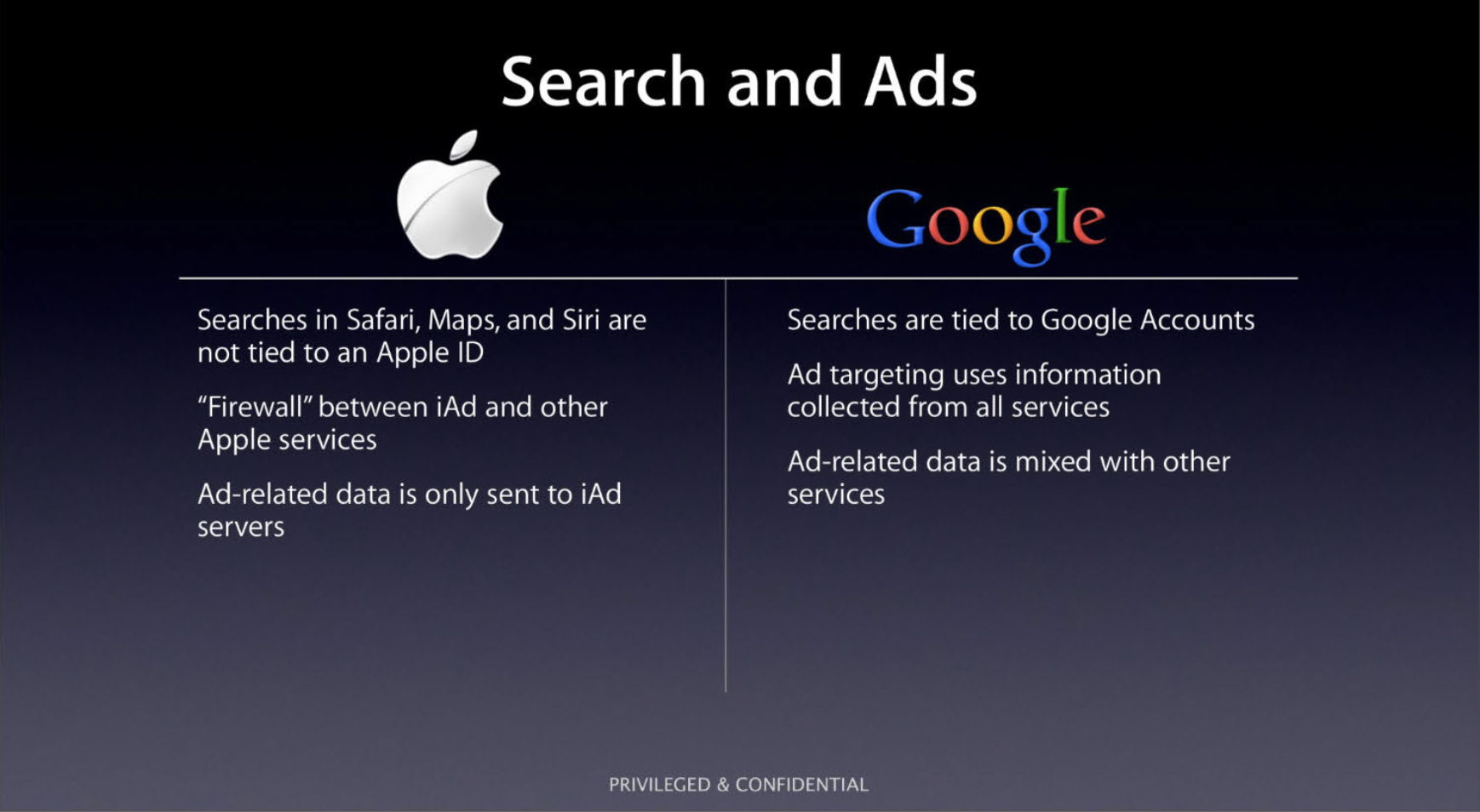 On a slide about Maps, Apple simply notes that "No ads service in Maps," and no association between the app and your Apple ID or iAd. Ads are served in Maps, and "All Maps activity is associated with a Google account and is commingled with ad data." A similar construct is set up for "Search and ads," though surprisingly not in much detail, given the trial from which these slides were made public. "Searches are tied to Google Accounts," and it's all mixed with other services, Apple notes.
The slides end, at least in the exhibit, with "Apple's Approach to Privacy," which here is simply a 2010 quote from Steve Jobs about Apple taking privacy "extremely seriously" and how "people in the Valley think we're really old-fashioned about this."
As noted by Jason Kint of Digital Content Next, the same batch of exhibits made public by the DOJ reveals that Apple wasn't entirely averse to gleaning some insight into their customers' search habits.
A Google internal email chain from 2016 summarizes a meeting with Apple, which Daniel Alegre summarizes as having "had a new request on the data set request section—they wanted it to be reciprocal, meaning that they want to know which links on Google.com results were clicked on, or how long it took to satisfy the user's query on Google. Their rationale is that they wanted to improve the user experience with this information."
Alegre, president of global and strategic partnerships at the time—who left Google to be Activision Blizzard President and COO, then later CEO of Bored Apes NFT provider Yuga Labs—notes that his team gave Apple "the clear heads up that we don't share this information as it is key to our 'secret sauce.'"
John Giannandrea, senior vice president for engineering at Google at the time and currently senior vice president of machine learning at AI strategy at Apple, asked in response, "[W]hat are they trying to learn exactly? [T]hey know which queries they hand off to us, so what data are they asking for? [If it's] which web pages people ultimately visit for a query we would *not* share that ranking signal."
Ars has reached out for comment to Apple and Google.
Listing image by Department of Justice