Sports news
Alabama vs. LSU score, takeaways: No. 8 Tide, Jalen Milroe make statement taking firm grasp of SEC West lead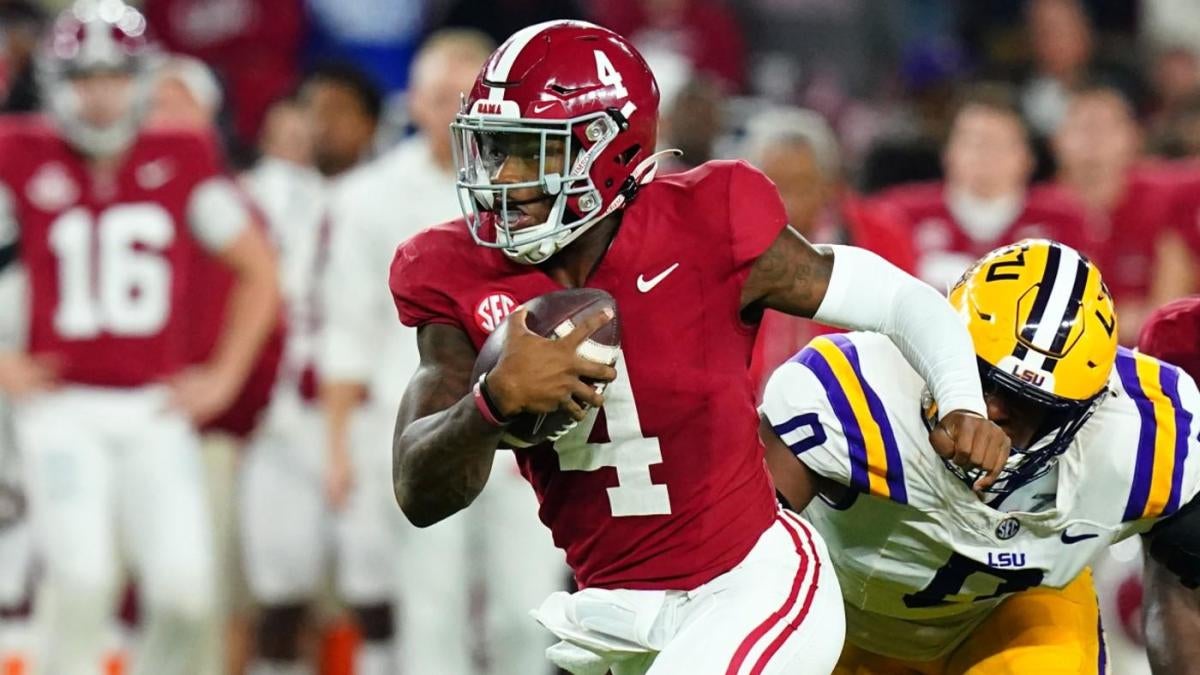 After a rough start to the season, Alabama is putting it together at exactly the right time

No. 8 Alabama solidified its grip on the SEC West and kept its College Football Playoff hopes alive behind the play of quarterback Jalen Milroe in a 42-28 win over No. 14 LSU on Saturday night at Bryant-Denny Stadium in Tuscaloosa, Alabama. The redshirt sophomore scored four rushing touchdowns while tallying 155 yards on the ground along with 219 through the air as he played his best game of the season in the high-stakes rivalry showdown.
LSU QB Jayden Daniels matched Milroe through three quarters before he was knocked out due to concussion protocol early in the fourth. He accounted for three touchdowns in the game and was again the engine for the Tigers offense. The Crimson Tide defense eventually came up with some key stops in a high-powered offensive showdown that featured 49 first downs and nearly 1,000 yards of total offense.
In particular, an interception by Terrion Arnold early in the fourth quarter helped set up an Alabama touchdown that put the Tide ahead 42-28. Dallas Turner created the takeaway by tipping Daniels' pass at the line of scrimmage.
Milroe became the first quarterback in Alabama history to rush for four touchdowns in a game.
Milroe's 155 yards rushing were the most by an Alabama QB since Tyler Watts ran for 162 yards against South Carolina in 2001.
The Crimson Tide have won 35 of their last 36 SEC home games,with their only loss in that stretch coming against LSU in 2019 when the Tigers won the national title.
LSU wide receiver Malik Nabers surpassed 100 yards receiving for the sixth time this season with 10 receptions for 171 yards and a touchdown.
Alabama kicker Will Reichard entered with a perfect 15 for 15 mark on field goal attempts but missed two field goals in the win.
Keep on reading for takeaways from the Alabama vs. LSU game.
See New Posts
What the win means for Alabama
Even with a quality win over a top-15 opponent, it appears unlikely that Alabama will move up in the new College Football Playoff Rankings on Tuesday given no one ranked ahead of the Tide lost Saturday. While No. 7 Texas looked shaky in the second half of a dramatic win over No. 23 Kansas State, the Longhorns own a head-to-head road win over the Tide. That result will make it difficult for Alabama to jump Texas in the rankings so long as both are one-loss teams.
But Saturday's win all but assures the Tide of a spot in Atlanta for the SEC Championship Game on Dec. 2. At 8-1 (6-0 SEC), Alabama has just two league games — both on the road against Kentucky and Auburn. As long as it wins one — Bama will be favored heavily in both — it will represent the SEC West in the league title game. Alabama's closest challenger in the division race is No. 10 Ole Miss (8-1, 5-1 SEC), and the Tide own a head-to-head win over the Rebels, who must play at No. 2 Georgia next week. But even if Ole Miss upsets Georgia, it would need Alabama to lose both of its remaining league games since the Tide own the head-to-head advantage against the Rebels.
Quarterback battle cut short
Daniels and Milroe were locked in a legendary quarterback duel when Daniels was forced to exit early in the fourth quarter after taking a big hit from Alabama EDGE Dallas Turner. Daniels appeared to slam his head on the field as he was driven to the turf. He returned for one play but then exited for good due to concussion protocol. Turner was whistled for roughing the passer on the play, which zapped LSU of its most reliable offensive playmaker.
Even with the injury cutting his night short, Daniels finished with 219 yards passing, 163 yards rushing and three total touchdowns. It marked the first time in the last 25 years that two quarterbacks each posted 200+ yards passing and 140+ yards rushing, according to ESPN. The Tigers trailed 42-28 when Daniels exited, but they had nearly 13 minutes left to respond. Ultimately, they couldn't do it without their star.
Jayden Daniels injury: LSU star QB forced to exit game vs. Alabama after brutal hit from Tide's Dallas Turner
Will Backus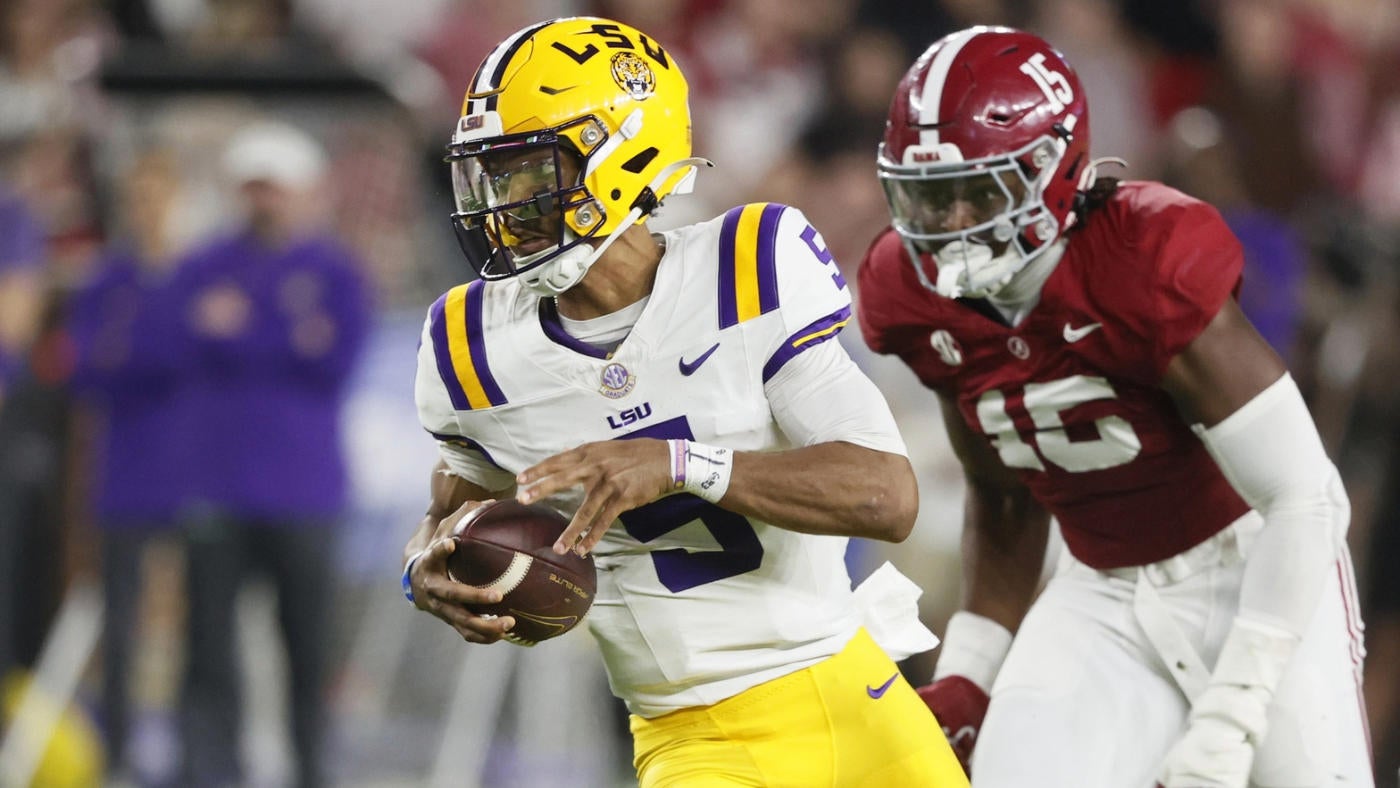 LSU's outlook going forward
Though the loss all but ends LSU's chances of winning the SEC West, the Tigers can still match their 6-2 league record from coach Brian Kelly's first season if they are able to win their final two league games against Florida and Texas A&M. Daniels' status will loom large for those contests. He entered Week 10 as the highest-rated passer in the sport and ranked as the No. 8 quarterback in the CBS Sport 2024 NFL Draft Prospect Rankings. If Saturday night's injury and/or a desire for self-preservation ahead of the draft limits Daniels or keeps him out for the season's final three games, it will change LSU's outlook.
Ultimately, Nussmeier is regarded as one of college football's more capable backup QBs. The redshirt sophomore completed 52 of 84 passes last season for 800 yards with five touchdowns and four interceptions; he was particularly impressive while stepping in for an injured Daniels against Georgia in last year's SEC Championship Game. It could be time for the Tigers to begin passing the baton to Nussmeier, who has long been expected to succeed Daniels as the program's starter in the 2024 season.
Penalty problems crush LSU

With the game tied at 28 and LSU facing a second-and-7 from its own 40-yard line in the third quarter, Daniels took off for a 25-yard rush only for the play to get called back because of a holding penalty against left tackle Will Campbell, leaving the Tigers in a second-and-17. LSU failed to reach the sticks on the next two plays and was forced to punt.
Then, on LSU's next possession, center Charles Turner III was flagged for an illegal snap when he jumped early, which put LSU into passing situation to begin the fourth quarter. Daniels was promptly intercepted on a tipped pass, which set Alabama up with a short field. From there, the Crimson Tide found the end zone with the help of a horse-collar tackle penalty against LSU linebacker Harold Perkins that negated a third-down stop.
That wasn't the end of the penalty problems for LSU, though, which was whistled for two more false starts after falling behind 42-28. The miscues came on the possession early in the fourth quarter when Daniels exited due to injury. The first forced backup QB Garrett Nussmeier to operate out of passing situations second and third down. The second came on fourth down and led LSU coach Brian Kelly to send his punting unit onto the field after the Tigers initially planned to go for it.
In the end, the Tigers were penalized eight times for 60 yards, and many of those penalties proved particularly costly for a team attempting to win on the road as an underdog. These are simply mistakes a team like LSU cannot make on the road battling a formidable opponent like Alabama.
Alabama championship aspirations are alive and well
Final: Alabama 42, LSU 28
No. 8 Alabama solidified its grip on the SEC West and kept its College Football Playoff hopes alive with a 42-28 win over No. 14 LSU behind the play of quarterback Jalen Milroe. The redshirt sophomore scored four rushing touchdowns while tallying 155 yards on the ground along with 219 through the air as he played his best game of the season in the high stakes rivalry showdown.
LSU quarterback Jayden Daniels matched Milroe through three quarters before he was knocked out due to concussion protocol early in the fourth after accounting for three touchdowns.
Not done yet
Alabama kicker Will Reichard, who was perfect on the season entering the game, has missed twice tonight. The second miss leaves the door open for LSU with under five minutes to play as the Tigers operate down 42-28 with backup quarterback Garrett Nussmeier in the game. If nothing else, Alabama did drain several minutes of clock on that possession, which puts LSU's back against the wall with just one timeout remaining.
Jayden Daniels out for game after hit
Jayden Daniels is out for the game due to concussion protocol, according to sideline reporter Jenny Dell of CBS Sports. Here's how it happened: Dallas Turner was whistled for roughing the passer on Daniels as he blasted the star LSU quarterback while he took a downfield shot. Daniels remained down on the field for quite a bit after appearing to slam his head on the field on the way down. The Tigers have a capable backup in Garrett Nussmeier, who entered for one play. Then, Daniels returned for a play before Nussmeier re-entered with Daniels returning to the injury tent. The possession ended in a punt with Daniels on the sideline and Nussmeier unable to move the chains after coming in cold during a key moment.
Dallas Turner makes a play
It had been a relatively quiet game through three quarters for Alabama edge rusher Dallas Turner, but he made his presence felt to start the fourth by deflecting an LSU pass attempt at the line of scrimmage, leading to an interception by Terrion Arnold deep in LSU territory. From there, a personal foul penalty for a horse collar tackle against LSU helped the Crimson Tide keep their drive alive and score on a 10-yard run from Jase McClellan.
A familiar third quarter
Start 4Q: Alabama 35, LSU 28
The third quarter felt distinctly familiar to the first. LSU struck first in both frames before the Crimson Tide roared back with 14 unanswered. Thus, we head to the fourth with Alabama leading 35-28 and LSU facing a second-and-9 from its own 27-yard line. The crowd at Bryant-Denny Stadium is fully engaged as the quarterbacks continue to duel in what has been a legendary battle. Both players have reached the 200-yard mark through the air and are well over 100 each on the ground.
Four for No. 4
Jalen Milroe just ran for his fourth touchdown of the game. He is up to 142 yards on the ground on 17 carries. But, once again, it was his passing ability that complimented the ground attack and helped facilitate a go-ahead score for the Crimson Tide. He hit Jermaine Burton and Isaiah Bond for first-down passes on that drive to make it 14 unanswered for Alabama here in the third quarter. Four rushing touchdowns marks a school record for an Alabama quarterback.
Costly LSU miscues
Alabama just got a precious stop on defense, although it was practically gift-wrapped in a pair of LSU blunders. First, a holding call on the Tigers set them behind the chains on second down. Then, a drop over the middle by Mason Taylor on a good throw led to a third-and-17. The Tigers couldn't get the sticks and were left with little choice but to punt from deep in their own territory. That ended a streak of three straight touchdown drives for the Tigers.
Ja'Corey Brooks and Jayden Key out
Jenny Dell reported on the CBS broadcast that Brooks, a wide receiver, and Key, a safety, are both out for the rest of the game for the Crimson Tide.
Touchdown, Touchdown to start the third
Faced with a third-and-10 at Alabama's 49, Jalen Milroe took off around the left edge for an 18-yard gain to extend the drive after it became apparent there was no obvious place to throw the football. The trick to Milroe's night running the football has been the success that his passing is commanding. He may not be Tua, Mac or Bryce in terms of the down-to-down accuracy, but the Tigers are dropping so many in coverage that he's finding space to take off once routes break down. His latest scrambling exploits led to a 16-yard touchdown run from Roydell Williams to tie the game at 28 midway through the third quarter.
Incredible catch by Malik Nabers
Jayden Daniels has been sufficiently lavished with praise, and that won't change. But how about some love for Malik Nabers, who somehow tapped his toe inbounds for a 30-yard gain down the right sideline to set up a go-ahead 2-yard touchdown run from Tigers running back Josh Williams. Nabers is up to 136 yards receiving on six grabs, and that catch here on the first possession of the third quarter was pure wizardry. The quarterbacks are great, but there is some really good receiver play out there in this battle, too.
Second half keys
"It's about getting stops, really," Brian Kelly told Jenny Dell at halftime. He also added that we should "buckle up." If that first half was any indication, we're in for a wild finish at Bryant-Denny Stadium. The Tigers will receive the third quarter kickoff and immediately put the onus on an Alabama defense that gave up touchdown drives of 71 and 75 yards to close the first half. This game features a similar feel to the LSU vs. Ole Miss game from earlier in the season, which almost became a "whoever has the ball last, wins" situation. The key in this one could be come who can force the other team to settle for field goal attempts. Both kickers missed in the first half, and it'll be on the defensive coordinators to figure out a run to contain the running quarterbacks on third downs to force the kickers onto the field.
Epic quarterback battle
Half: Alabama 21, LSU 21
Last season, this game provided a showdown between Alabama's Bryce Young, the then-reigning Heisman Trophy winner, and LSU's Jayden Daniels, who was busy surprising the country with a breakout season after transferring from Arizona State. This time around, Daniels is the established star and it's Alabama's Jalen Milroe who is breaking out in front of our eyes. Both quarterbacks carried their teams in the first half and proved lethal through the air and on the ground. Milroe has scored three rushing touchdowns and is 10 of 16 through the air for 165 yards. Daniels has scored as a runner and twice as a passer, and is already up to 137 yards rushing. What a half for both players.
Daniels is a magician
Jaylen Daniels just willed his team to a game-tying touchdown with five seconds left in the second quarter. He found Kyren Lacy for a 26-yard score over the middle. Lacy then fought and clawed his way into the end zone. That took just 56 seconds and and five plays as the Tigers traveled 75 yards behind Daniels' legs as he scrambled 40 yards to make the prospect of getting point practical for LSU.
Another Alabama secondary injury
Terrion Arnold is down for Alabama. The starting cornerback is the second member of the Crimson Tide's secondary to go down in this game after safety Jaylen Key exited early with an injury. He appears to be signaling that he's OK, but it's another injury issue to watch in the second half.
Update: Arnold returned to begin the third quarter
Jalen Milroe has all the answers
Jalen Milroe just scored his THIRD rushing touchdown of the half on a third-and-9 from the LSU 21-yard line. But that drive was about more than just his legs. In some instances, Milroe is showing a new level of touch and accuracy in the short and intermediate throwing game. He lofted a short pass over the head of a defender and hit his receiver in stride to extend that drive. Of course, he also missed an open Isaiah Bond. So his throwing accuracy remains a mixed bag, but it's generally trending in the right direction as he takes Nick Saban's advice of playing like a point guard to heart.
It's all Jayden Daniels for LSU
Daniels hit Malik Nabers for a 9-yard gain on third-and-5 to set LSU up with a first-and-goal. From there, Daniels ran it in himself to cap a 71-yard drive. Just like that, we're tied up again late in the first half as the Tigers respond with a heavy dose of their star quarterback. He's now accounted for scores on the ground and through the air and has more rushing attempts than any of the three LSU running backs who've toted the rock.
Big win for LSU's defense
Alabama kicker Will Reichard just missed for the first time this season, pushing a 47-yard attempt wide right and keeping the score at 14-7 in Bama's favor midway through the second quarter. Now, the kickers have traded misses on consecutive possessions as the scoring cools. That's a big win for LSU's defense, which stopped Roydell Williams for a loss of 5 yards on third down after a short completion from Milroe. The Tigers needed something good to happen after Alabama carved them up on consecutive possessions, and that stop may give a struggling defense some confidence.
Tigers come up empty
Justin Eboigbe stuffed Jayden Daniels on third-and-10 as Daniels tried to scramble after finding nowhere to throw the football downfield. It resulted in a loss of 4, which made Damian Ramos' attempted a 46-yarder. He missed it wide right as the Crimson Tide held LSU scoreless for the second straight series. The Tigers have moved the football well, but the Alabama defense is coming up with big plays when it counts in the first half.
Impressive first quarter response from the Tide
Alabama responded in impressive fashion during the first quarter after visiting LSU took an early 7-0 lead on a 46-yard bomb from Jayden Daniels to Malik Nabers. The Crimson Tide, which punted on the game's first possession, regrouped and rattled off a pair of touchdown drives to take a 14-7 edge into the second quarter. Jalen Milroe accounted for both scores on the ground as the Alabama quarterback thrived early in a marquee matchup with LSU's star quarterback Jayden Daniels. The Crimson Tide's defense also did its part by coming up with a fourth-down stop at the Bama 42-yard line.
Bama is seeking revenge for last season's 32-31 overtime loss to the Tigers. Both teams are entering off a bye week and should be feeling confident. LSU has scored 159 points over its three-game winning streak, while Alabama has rattled off six straight victories behind a stingy defense.
Jalen Milroe is on fire
Alabama's quarterback is playing the game of his life through 14 ½ minutes. He's got 35 yards rushing and a pair of touchdowns on the ground to go with a 6 of 9 clip through the air for 85 yards. The Crimson Tide have marched unimpeded on consecutive drives to rattle off 14 unanswered points and are thriving in all facets of the game offensively. LSU's defense is down bad, and you can see Milroe gaining confidence with every play.
Stuffed on fourth down
Brian Kelly made a relatively easy call by choosing to go for it on fourth-and-1 from the Alabama 42-yard line. But Alabama's Malachi Moore broke in front of the quick out route intended for Malik Nabers to return the football to Alabama in good field position. Big stop for the Crimson Tide. Any time you get a stop against this LSU offense, it's a win. That's especially true when it comes in a high-stakes fourth-down situation near midfield.
Jaylen Key down for Alabama
Alabama safety Jaylen Key is down and receiving attention after helping deflect a deep shot intended for Malik Nabers. Nick Saban was already concerned about his team at that position entering the game, so if Key is forced to miss action here, that could be something to watch.
Wasting no time
Alabama wasted no time in striking back as Jalen Milroe ran untouched 23 yards around the left end on a designed QB run for a game-tying score on the Crimson Tide's second possession. He was brilliant on that drive with his legs and connected on a pair of first-down completions. The LSU defense never had a chance on that drive as the Crimson Tide cruised 76 yards in just five plays.
Silencing the crowd
Bryant-Denny Stadium is in rare form tonight, but Jayden Daniels and Malik Nabers just turned it silent with a 46-yard touchdown connection. Nabers broke wide open down the middle of the field with no defenders within five yards. Perfectly thrown ball by Daniels hit Nabers at the 5-yard line, and he skipped into the end zone from there. A 15-yard personal foul penalty on Dallas Turner aided the LSU drive as the Tigers struck first.
Early deep ball goes awry, Perkins says hello
Alabama attempted an early deep ball on second-and-6 to begin the game, but the shot for Jermaine Burton was just a bit wayward. The Crimson Tide ultimately converted on third down but stalled from there as Harold Perkins converged on Milroe for a sack that forced the Crimson Tide to punt. It's not been the sophomore season many hoped it would be for Perkins, but he's off to a good start in this one.
Here we go from Bryant-Denny
LSU won the coin toss and chose to defer, meaning Alabama gets the football first as we prepare for kickoff at Bryant-Denny Stadium. It's been a crazy day in college football already, and the vibes are ripe for another thriller as these SEC West foes tangle. Ole Miss and Texas managed to keep their CFP hopes alive as one-loss teams, but Oklahoma was not so lucky. Can Alabama join the Rebels and Longhorns, or is this the night the division race gets thrown into chaos?
See More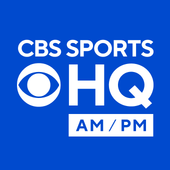 Please check the opt-in box to acknowledge that you would like to subscribe.
Thanks for signing up!

Keep an eye on your inbox.

Sorry!

There was an error processing your subscription.